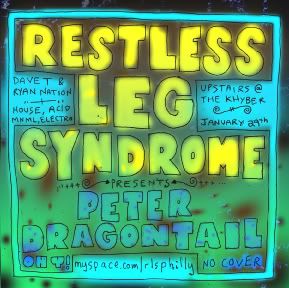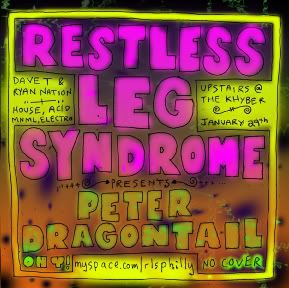 If you ever had the good fortune of sleeping in the same bed as me, you would know that I have struggled with a disease that seems to have come out of nowhere, Restless Leg Syndrome. Thanks to Philly dudes
Dave T and Ryan Nation
, I think that I will now be able to associate the phrase with one of the best parties in Philadelphia instead of my unbearable bed behavior. It's
Restless Leg Syndrome upstairs at The Khyber
, this one's dedicated to the music that matters - house, acid, minimal and electro. This is melt your face, change your life music, spun by guys who know what they spin of. Dave and Ryan have brought in a special guest tonight,
Peter Dragontail
makes his first ever DJ appearance after a string of rad remixes for Daft Punk, MGMT and Hot Chip. Don't sleep on this party people, once a month, make this a regular stop and support people and parties dedicated to our music. No cover, 21+.
-For even more dance music, you can head to
Sal's (200 S. 12th St)
for the
Girls Rule Boys Drool party
.
Scotty Ack and Diamond Girl
give you a night devoted to the indie dance, new electro and rock remixes each and every Tuesday, great young DJs, good space, cheap night to help you get through the week. No cover, 21+.
-I've said it before, this is one of my favorite parties in NYC. 205 Tuesdays, the basement of 205 Club with Jacques Renault and Justin Miller, disco paradise. Tonight is another special one, as Dangerous Dan from the Bang Gang Deejays is the special guest, here's your chance to catch if you missed him at the Tribeca Grand Friday. It's also the last night Jacques will spin, for a bit as he'll be gone until March, so get a final night together and say goodbye. No cover, doors at 11pm.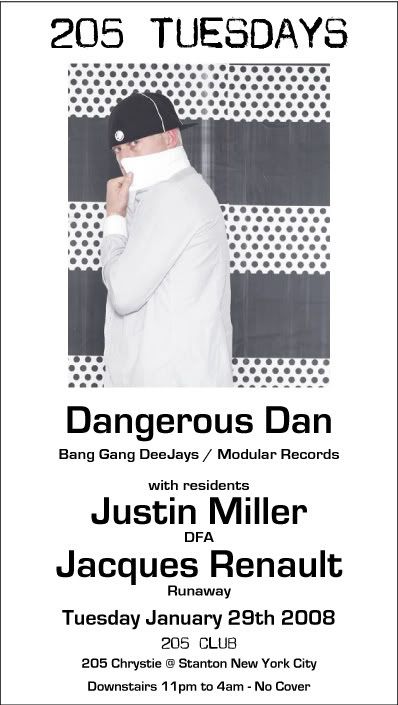 -Park Slope, how the hell are you? It's been too long since we have spoken. How's Rachel's? How's Suki? How's Maya? It's always nice to see something going on in the south side of Brooklyn, I'm hoping that this
Head N Tail party at Royale (506 Fifth Ave)
will be a regular night.
Carmine P. Filthy
will spin all night, expect lots of good electronic music from the darker end of the spectrum. No cover, 21+, awesome flier. Oh, I figured out that Flip Nite Tuesdays means that you buy your first drink at regular price, flip a coin and if you call it right, the second drink is free. Nice concept!
-On my end of town, it's Do It Tuesdays at Hugs (108 N. 6th St) with Carrie Whitenoise and Shinratek. Tonight, they are bringing in the Ladycreme duo from Hyptone Records; I haven't heard them before, but the Brooklyn duo definitely are worth checking out, releasing their own original productions that combine the modern electro sound with acid and italo influences. I expect their DJ sets will follow similar ground, a good compliment to the residents. No cover, 21+.
-It's always nice to see some of new parties start up in places we hope to cover better, and that's the case tonight in Providence, as the
Panic party at Club Hell (73 Richmond St)
.
Brad Rhodes and Michael Savant
will be the resident DJs, spinning recent club bangers , indie tunes, dance classics, everything and anything good since the 80s. Tonight, you get a guest DJ set by
Paper's E-Marce
, the Boston dude will spin an indie dance, electro rock set that will go over big. Plus, there's a live performance by Triangle Forest, making this a jammed packed opening night. $5, doors at 9pm and it goes until 1 am, 18.
-I'm not sure if this dANCE party has scared off all comers, but it seems to have become the dominant Tuesday night event in the LA area. Let me first say that this is by far my favorite flier they've done, love the orange, the muted colors and the space-y design. Tonight's edition at Arena (6655 Santa Monica Blvd) appears to pit the city vs. its suburban neighbor, LA vs OC. In from the OC - I feel sick writing that - are DJs Tony Long and Dax, who will hold it down for Ryan Atwood and Marissa Cooper. LA is represented by the residents, Paparazzi, Bip Jeffington and Joaquin, a battle for the ages. 2 rooms, 2 levels, free parking, $5 before 10:30 with a flier, 18+.