Okay, I need to run to check out some eyeglasses so I can get that chic nerd look going again and see things that are 20 feet away. Easy choice for top event, as a new monthly starts in Phill called Tomorrow's Radio and it features three of the best DJs anywhere in the world, Low Budget, Ian St. Laurent and Brendan Bring'em. They've been responsible for some of the city's best parties seperately, Hollertronix, Hands and Knees, Crescendolls, Soul Travelin'. Lucky for you Philadelphians, they've come together to form one great party at The Barbary (951 Frankford Ave), spinning rap, indie dance, reggae, party music, dance music, the music of the future. $5 cover, $1 well drinks and PBRs from 10-11pm, 21+.
-On the southside, the click. party returns to Fluid (613 S. 4th St.) after a break. Dave P and Adam Sparkle have a ton of new tunes to drop on you, you will dance the night away. I mean, it's the click. party, do this! No cover, $1 PBRs and $2 well drinks until midnight, $2 PBRs all night, you dancing until 2 am.
-It's great seeing Throne Of Blood's Dances With White Girls spinning out so much lately, even better to see him setting a new weekly party at Royal Oak (594 Union Ave) called Thirsty. While you enjoy the crazy drink specials, DWWG will spin real house music, club stuff, rap, good stuff only. No cover, insane drink specials and tacos, that's a night right there.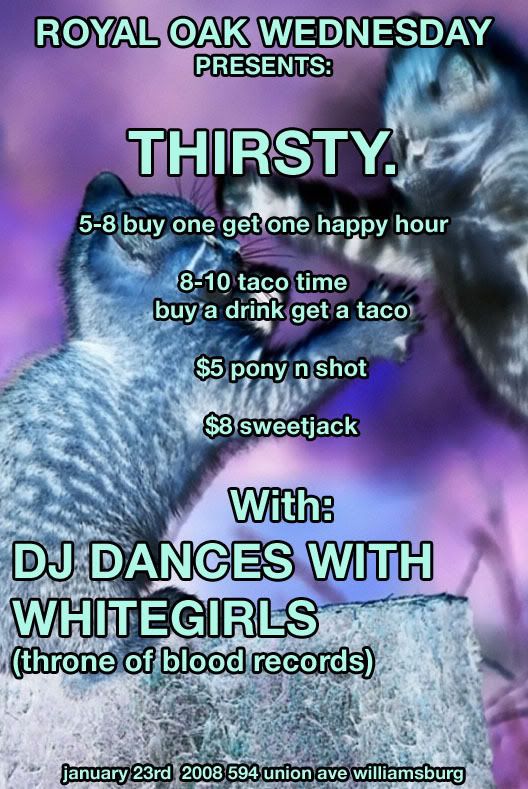 -It looks like a good night to hang out in Williamsburg bars and listen to good DJs. Head to the Huckleberry Bar (588 Grand Ave@Lorimer) to check out the Humpin' Around party with DJ Benny B. He's made a great choice bringing in Rezound and Workweek, who normally spend Wednesday night spinning at their Moonwalk party at Happy Ending. This one will stick to the rap and r&b end of the spectrum, lots of older stuff, should be good. No cover, $4 Bud and Bud Lites, 21+.
-Speaking of Happy Ending (302 Broome St), when Moonwalk isn't happening, Wednesdays feature Rev McFly and crew. Tonight's party is called Poppin' Bottles, Gettin Pregnant, not sure how literal that you should take that.
Presented by Cavemansav.com
, hosted by Rev McFly, Teenwolf, Diamond Caviar and Zebra Katz will spin classic rap and 80s and more upstairs, one of the best parties around. No cover, 21+.
-Man oh man, my bol Dimitry is on the grind. Each week, he keeps bringing in bigger names to his
High Voltage party at The Annex (152 Orchard St)
, outdoing everyone on a weekly basis. Tonight, he's got
the Cool Kids
coming through to DJ a set before they play live the rest of the week. You also get
Dimitry!!! and fellow resident Prince Terrence
, the Zygo vodka open bar from 11 until its gone and
Nicky Digital
taking photos.
RSVP at the going.com site
; there's almost 300 people on this one already, so you know it's gonna be packed! Yeah! No cover, 21+.
-Out in Chicago, it's time to Rawk On Chicago. Seriously, it's a party tonight at Moonshine (1824 W Division) with DJs Bald Eagle, Hilary Rawk, Marco Morales and RSB1000 of 0+1= Everything. There's half-price pizza all night and drink, whih sounds like a little slice of heaven to me. Get it? Slice? Nicely done. It should be a great way to escape the cold and have a fun, relaxed Wednesday night.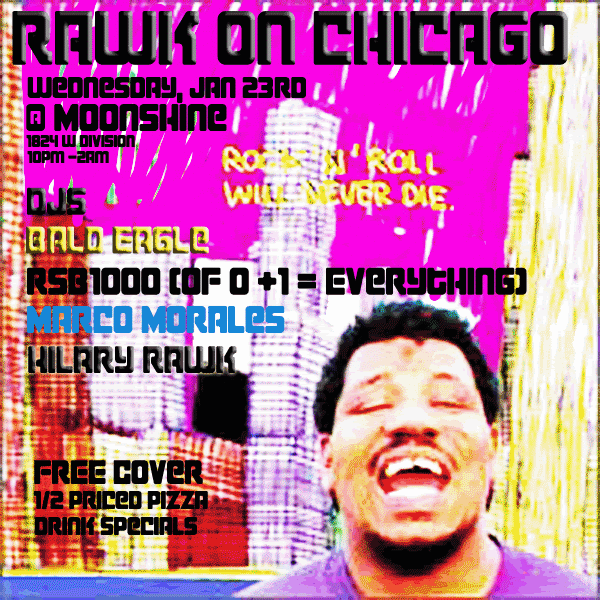 -Up in Minneapolis, dancepunkers We Are Wolves continue their mini-Midwest run. They have invited along the most rad Soviet Panda to spin before their show at 7th Street Entry at 1st Ave (701 First Ave N) Good to see the Too Much Love hero getting to play bigger and bigger stages, bring him to your city next. Doors at 8pm, $6, 18+.
-At a certain point, I hope that this country renames Wednesday Robotic Wednesdays. I will want the Dance, Robots Dance crew to lead the way and take control of this national adoption. In the meantime, until I become president, the people of Oklahoma City are gonna have to celebrate for the rest of us. The guys take over the Electro Lounge (5929 N May Ave) as they do every week, expect crunchy electro, dance rock, punk, ghettotech, 80s, glam, photos by Dinah Jean, and lots of fun and good people in a scene that will only get better and bigger. Doors at 10pm, 21+.