Wow, lots going on tonight, let's start in downtown NYC and move around from there. I've been saying for minute now that Tuesday and Wednesdays are the nights to head out downtown. Tonight's line-up validates that big-time, three great parties all below Houston. First up, you know I love the basement a 205, you know I love In Flagranti. Bring those together and I feel happy. The Brooklyn duo will spin deep disco, funk and punky-electro downstairs, highly highly recommended. Upstairs of course, the Taste Crew will do their thing, DJ Equal, Joey and Lamazing giving you a party that you can either get crazy at or just chill with friends. 205 Wednesdays are becoming as essential as Tuesdays. No cover, 21+, doors at 11pm.
-I would have lead off with this one, but I didn't want to do that two weeks in a row as people would think I had a crush on Dimitry. I don't, for the record, although he is a handsome man. The Throne of Blood label, the Rapture and James Friedman's jawn, is coming to High Voltage for what looks like the best line-up I've seen at this party. Dances With White Girls, Andy Pry and Druzzi of that band called The Rapture will spin along with Dimitry and Prince Terrence. I mean, that's real serious people. I'm expecting classic hip-hop, actual house music, disco, maybe some booty stuff. I'm expecting a huge crowd filling The Annex (152 Orchard) I'm expecting people getting drunk off of the open Zygo bar, which starts at 11 and goes until its gone. I expect you to be there. Do not miss this one, one of the best labels around, one of the best weeklies, essential stop.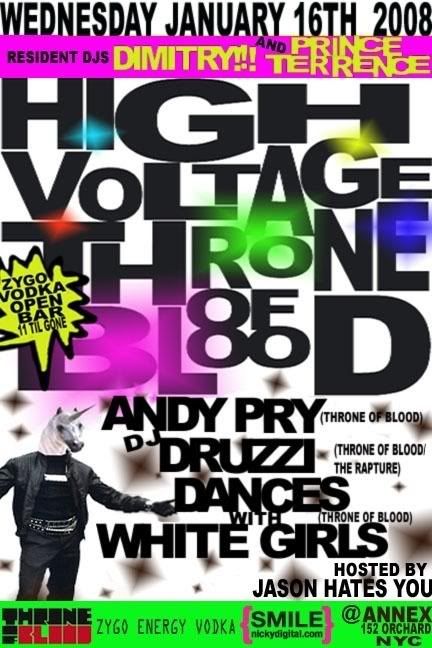 -My final recommendation is the
Moonwalk party at Happy Ending (302 Broome St)
. This one is gonna take off in the next few months, just a hunch.
Rezound and Cousin Cole
have put together a nice, relaxed biweekly party which always gets a good, dancing crowd. Tonight, the guys are joined by
Snack and C'Mish of Turnable Lab
fame for an all-vinyl night. Yes, you read that right, people DJing with actual records. It's like seeing a pay phone! Anyway, should be another great night here, make it a stop night, hang out, chill, listen to some good tunes. No cover, 21+.
-Down in Philly, here's
a newish party at The Barbary (951 Frankford Ave) called The Zoo
that is definitely worth your time. I've been mentioning this next wave of DJs coming up in the city and here's an excellent chance to see some of those rising stars.
DJs Scotty Ack, Diamond Girl and Flo
will spin music that will hopefully make you dance, new electro stuff, indie dance, various other genres will figure in the mix. $1 drinks until 11, no cover, 21+, meet the new bosses.
-Yeah!
Robotic Wednesdays
! Always good to have the
Dance Robots, Dance crew
in a post, even better when they are bringing in some of our other favorites to the Electro Lounge (5929 N. May Ave), in this case
Jonathan Ackerman and Bird Peterson
from Minneapolis. Those dudes will fit right in at this dance music rager, their first stop on a mini-Midwestern tour. This isn't just a dance party, it's also a celebration of the 1 year anniversary of
Sophie Zine
, a Stillwater OK blog dedicated to music, art, technology and other stuff.
Hosted by Sophie Zine and Heidi Cannon
, should be a rad night. $3 cover, 21+.
-In the LA area, we've got a new party called Avenue, a Wednesday night weekly at 3737 Main St. in Riverside. More importantly, it's the first live performance by Lazr Tag, an electro project featuring Luvtek and StellarDrv. Plus there's DJ sets by Hyphy Crunk, Jimmy Boy, Billy Noorlag and Rec 1 & Big Milk, the release of Hyphy Crunk's new t-shirt, giveaways by American Apparel and Moola and lots of drink specials. Women are free before 10:30,
message their myspace page
to get on the $5 reduced list, I assume $10 otherwise.
-Finally, in LA, head to
Boardner's (1652 N. Cherokee Ave)
to say goodbye for a bit to
LA Riots
, who are about to embark on their first national tour. We'll have more on this obviously, but LA people need to wipe the tears away and hit up the
Club Moscow party
. The LA Riot boys will play live and will be giving out free copies of the new mix they did from Scion. The boys are all grown up, now. Residents Raulie, Paul, Dia, Jeremy and Keith will spin indie, indie dance, punk, rawk all night too. 18+, free before 10:30 with a flier, $10 for 18-20 yo, free for 21+.