Crime Mob, "2nd Look"
(YSI link)

Crime Mob, "Bow That Hoe"
(
YSI link
)

Crime Mob, "Ridin 26s"
(YSI link)
It's rare that I do a post on music I just got. I tend to sit on everything too long (cf Dylan's new album) and think about it and forget about it briefly and generally try not to get too wrapped up in the whole first past the post scene (Poli Sci majors, holler!). But, along came this mix and all the rules are out the window. I've been waiting for Crime Mob to drop some new ish for awhile, as their last album,
Crime Mob
, was slept on. Maybe not slept on, as
"Knuck If You Buck"
did alright up north and
"Stilletos (Pumps)"
got some shine too. Still, there's nothing I love more than minimalist crunk made on like a Casio with lyrics about fighting and going crazy in the club.
DJ Scream
dropped this mixtape,
Mob Shit
, as the prelude to the album and it is the best thing I have heard ever. Okay maybe not ever, but definitely in the last 48 hours. Their main producer, Lil Jay, has continued on the low-budget, minimalist crunk, reminiscent of some of the early
Three 6 Mafia
. Brutal drum machine, simple, deep basslines, everything I dream about. Add on top of that the crunkest lyrics, lots of "Knuck If You Buck" quality ish. I got so hyped on the bus ride back to Philly listening to this that I was starting shit with all sorts of dudes. They may not look it, but those elderly Chinese guys are not to be fucked with, FYI. Anyway, cop this immediately, stop worrying about your end of the year list, recognize that this is gonna be the best thing of 2007.
-
Project Matt and DJ Complex
at Home Sweet Home, flier game is next level. RSVP son, do not miss the chance to hang out with these three!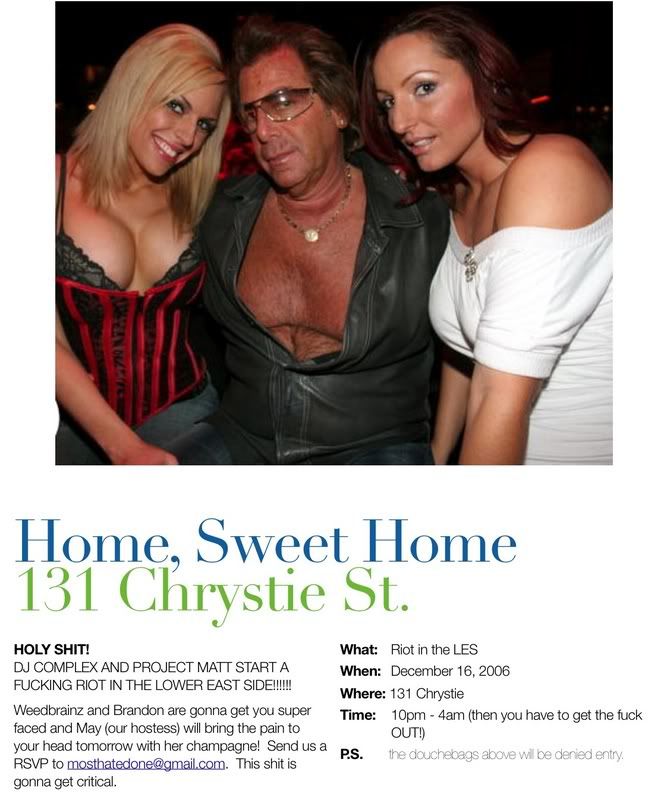 -
Fixed in Brooklyn
!
Boys Noize
and
Crystal Castles
! Holy Shit!
-Catchdubs and DJ Eleven at Boogaloo in S. Williamsburg for an all-night affair. RSVP to warandmoon@gmail.com for +1.
-My bol Dimitry and
his band

Theo and the Skyscrapers
are
playing the M Room tonight
in Philly as a part of Rock'n'Roll Circus
-Monster jumps off again at the Starlight Ballroom, this time with Caps and Jones, stop by after the M Room for one of Philly's best new parties
-Lauren Flax and other NYC stars invade Chicago
-Finally, all the way over to the other coast: