I'm not feeling sexist today, so you'll have to settle for a map of Miami instead of asses
Import #1, "Set It Off (Party Rock)"
(
YSI link
)

Wink D feat. Candy Fresh, "Get Busy"
(
YSI link
)
I'm feeling kind of shitty today and nothing cheers me up like
Miami bass
tunes. There's a ton of great things go on everywhere, so I figured that I would focus on some of the explicit party tunes for this post. We're going to start diggin' a little deep into the genre from here on out, so it makes sense to break out my copy of the OOP
Diggin' In The Crates Volume 5: Miami Bass
. It's an amazing collection of 14 tracks that covers both the familiar and undiscovered, I'm sure that I'll eventually get everything up from it.
Import #1 produced on single, dropping
"Set It Off (Party Rock)"
in 1986 on the Party Rock Records label. The producer of the track is one
Amos Larkins
, a man responsible for a ton of classic Miami bass tracks in the early to mid 80s. "Set It Off (Party Rock)" is just phenomenal, a great one to hear what the Miami bass sound was. The 808 is in full effect, huge mid-tempo bassline, a simple rap on top with a more mechanical voice as a refrain. Not sure that you can ask for more in life. While Miami bass, like most music, is a predominately male genre, there were exceptions to the rule. The second track features
Candy Fresh
on the rap, a more uptempo, filthy sounding one (and obviously my fav). This is another one single entity, dropping this one in 1989 on the
Insane Beat Records
label. The drums are brutal, this one shows the development of the music as it started to up the BPMs as the 80s wore on.
Fresh Kid Ice
, one of the founding members of
2 Live Crew
, is one of the producers on this one, reflecting the dominance that Luke and co. had over Miami around this time.
-New York, here is your Saturday night. If I am anywhere in the world, I will be here.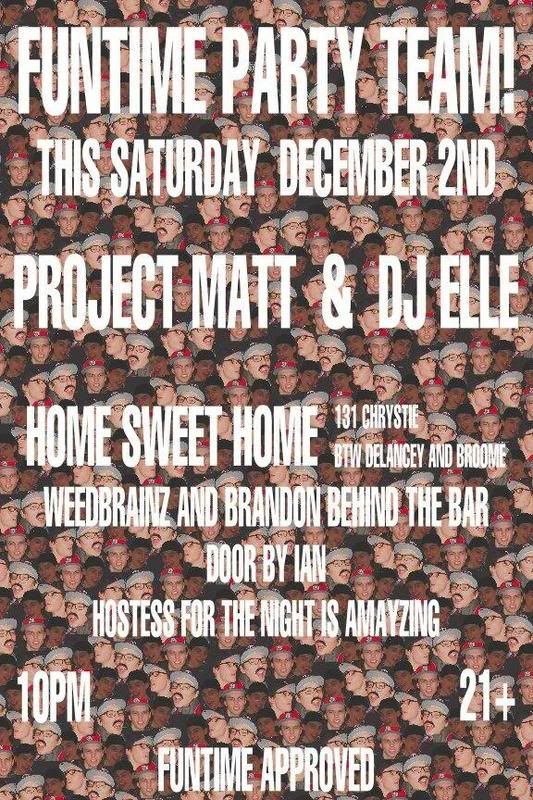 -Philly, The Re-Up! with Crimp Yr Hair DJs at Upstairs at Sal's is your best option for debauchery, guilt-ridden sex and drugs (best flier in a minute too)
-DJs Dave P and JDH of Fixed fame are spinning in London

-Smalltown DJs are holding down Alberta (yes, Alberta), doing a big night tonight in Calgary with D.C.'s Fortknox Five