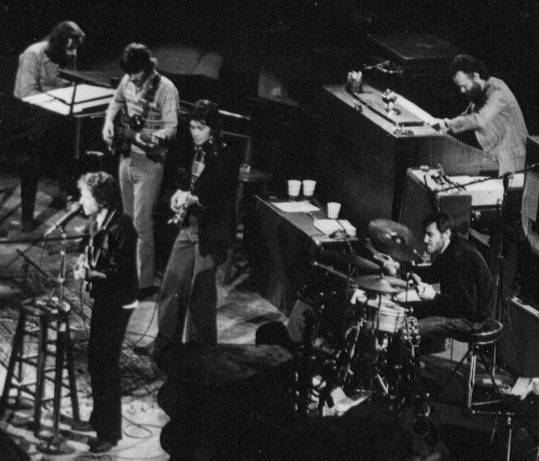 The Band, "When I Paint My Masterpiece"
(
YSI link
)
The Band, "When I Paint My Masterpiece [alternate take]"
(
YSI link
)
The Band with Bob Dylan, "When I Paint My Masterpiece (live)"
(YSI link)
In the ensuing week since I posted up the songs for
"When I Paint My Masterpiece,"
I have heard from a few people questioning my lack of mention or mp3s from
The Band
. I was told in no uncertain terms that I was missing the definitive version of the tune and it was a glaring omission. I don't really have a great reason for not discussing their version, other than my own stupidity and a sense that Dylan and the Band were closely linked and I was trying to go for some versions that hadn't gotten as much shine.
Let it never be said that I am a man who cannot admit a mistake. Here's the album version from
Cahoots
, the alternate that just came out with the remastered release from a few years ago and a live version that sees the guys backing Mr. Dylan once again. My readers were right, this is a beautiful rendition, perfect for that American roots sound that The Band did so well. Dig that accordion on the album version, makes one imagine that this song would have been playing on the streets while Dylan's character in the song walked the streets of Rome and Spain. I actually prefer the alternate take, as it's more upbeat and sounds more like the Dylan version. In short, I still think that the Dylan version wins out over all comers, but I'm kind of a groupie, so what do I know?
For fellow groupies, give a listen to Dylan singing it with The Band in 1972 in his return to live performance after his seclusion following his motorcycle accident. There's just something to me about the way he sings this song that surpasses all other interpretations. I think that it stems from the fact that I am willing to believe him more than most artists, even Elliott Smith and Levon Helm. That mixture of confidence and weakness, that longing for a woman to protect and support (cf "Shelter From The Storm"), it all sounds so right to my ears, unflinching despite the fact that it doesn't paint him in the greatest light. Or perhaps it's just simply that voice, which sounds like a cry in this live version, a pleading for the masterpiece to come, for the woman to be there by his side to come, for something better to happen.
Make sure to
buy The Band's albums
, a legendary group who came out from Dylan's shadow (they were his band during the legendary 'electric' tours of 1965 and 1966) to produce some essential music. "When I Paint My Masterpiece" features on
Cahoots
and
Rock of Ages
. Thanks to readers AR and my girl MG for the reminder about these quintissential versions of "When I Paint My Masterpiece."
-My bol Elz, a.k.a. The Simple Mission,
has some real serious Dylan footage
for viewing.
Dylan at Newport
, motherfuckers, when shit got rill serious. Punk before there was punk.
-Another NYC legend, Nick Catchdubs, spins at the Apple Store in Soho tonight from 10-1
-
Dylan Monday
is still coming up, I have no idea what it is going to be about, to be honest. I can guarantee that it will be about Bob Dylan.