DJ Never Forget, Shaken & Strengthened

Terry Diabolik, And I'm Feelin' Good
Awww mang, one of the best things about this year has been my exposure to all sorts of great people doing big things.
DJ Never Forget
, a.k.a. Greg Bresnitz, is one such person, one of the best upcoming DJs I've heard this year. He's dropped a few mixes here over the past few months, bringing together the best of indie and indie dance on the consistent. I'm proud to have his end-of-the-year mix here, as it wouldn't feel like a proper end to 2006 without his stamp on things. Here's some of the tracks that have knocked him on his ass and killed at his
Finger On The Pulse party and radio show
. It's a mini-mix of sorts, a lot of heat packed in a little more than 11 minutes, lots of tracks that have featured at
Pound for Pound
.
As a special treat, we finally have a mix from DJ NF's partner and brother,
Terry Diabolik
. This one is a soul, r&b, Motown jawn, something different and fun. Think James Brown
Let's see... tracklists for both are in comments. If you like what you hear, you need to come out for the
Finger On The Pulse
Friday night party. It's at Royal Oak in Williamsburg and gives you the chance to hear all of this good music and make some bad life decisions. Where my European kids at? The boys are
doing a European vacation
a la the Griswolds, spinning tonight at GrecoRoman vs. Christmas, with stops in
Nottingham tomorrow night at Liars Club
and Stockholm in early January.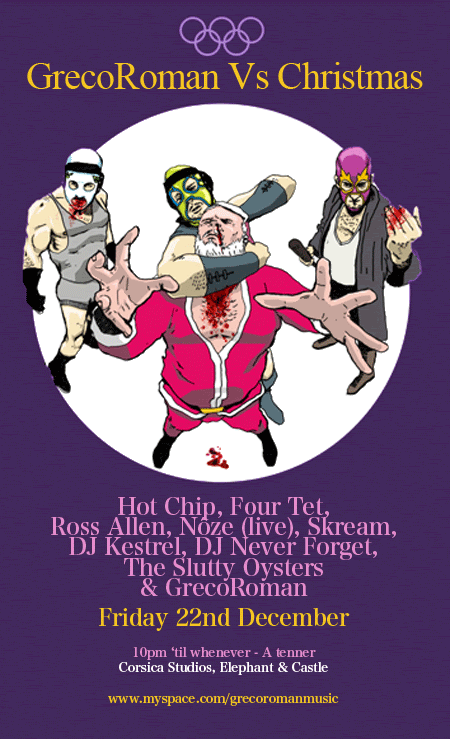 I see really big things for these guys in 2007, look forward to them conquering more cities and clubs. I want to thank GB for his recent shout-out on his radio show and mention of Tucker's passing. It was a really nice gesture, very appreciated. Big things for these guys, Pound for Pound will be supporting the whole time. Now, download those mixes!