LA, are you ready? Like, seriously. The City of Angels, La La Land, you know who you are, you have a huge night ahead. I'm gonna give headlining status to
Blow Up LA
because, well, it's got some of the best DJs around, it's free and it's gonna be a rager at a downtown loft (316 W. Pico@Olive). Let's see, you get surprise guests Bang Gang DJs doing a set, a set by my hero, Philadelphian, Making Time & Fixed bol Dave P and live shows by The Glamour of Milwaukee and SF's Hottub. Oh, did I also mention that a who's who of LA/SF DJs are also there to destroy the dancefloor? Luv Tek, Paparazzi, Royal Rumble, Virgin Tears, Cosmic Kids, Dirty-Lo, Ryan Poulsen and Travis T.K are on hand, whew. Before I continue,
go now and RSVP so that you get in for FREE
. Photos by Shadowscene, $3 vodka monsters until midnight (no idea what those are, but they sound scary good), 18+, goes til 4. Anne Lee, Shadowscene and Hotwire took two months off, it's clear they were in the conference room planning a serious party. Now you know why it's the top choice, right?
-Oh, but wait, there's more. Warehouse madness with The Return of The After Party Kings. This one's got more big name DJs than you can shake a Serato record at - Eli Escobar, Pase Rock, Franki Chan, Blu Jemz, Lloyd-ski, Dark Alley, Mike B and Pube$. $5 gets you in, cash bar will be at your disposable. Secret location, I'll post it up when I know for sure.
-If you can't make it into LA, there's a great option for the Orange County people in Santa Ana. LA Riots - Daniel and - have left LA for the night, as they've set too many dancefloors on fire there, they're wanted. Don't miss this chance to hear some of the best indie/dance DJs anywhere at the Trust party. It happens at Proof Bar (215 N. Broadway) and those guys are joined by DJs S!n, Buliamtron, Emu and Ricky Def. Yeah, the OC!
-Up north, the Frisco Disco bols just keep taking it up a notch. Tonight, they've invited Juan MacLean to join in on the fun, as he'll bring the house and disco jams to one of the best parties in the country. That's not all, as you also get a guest set by Gabe Vega and Saul Q of the Feel The Noise party in San Diego. Of course, have no fear, you'll also get your regular dose of the men behind the party, Richie Panic and Jefrodisiac. Get to The Transfer (198 Church Street), party like it's 1999.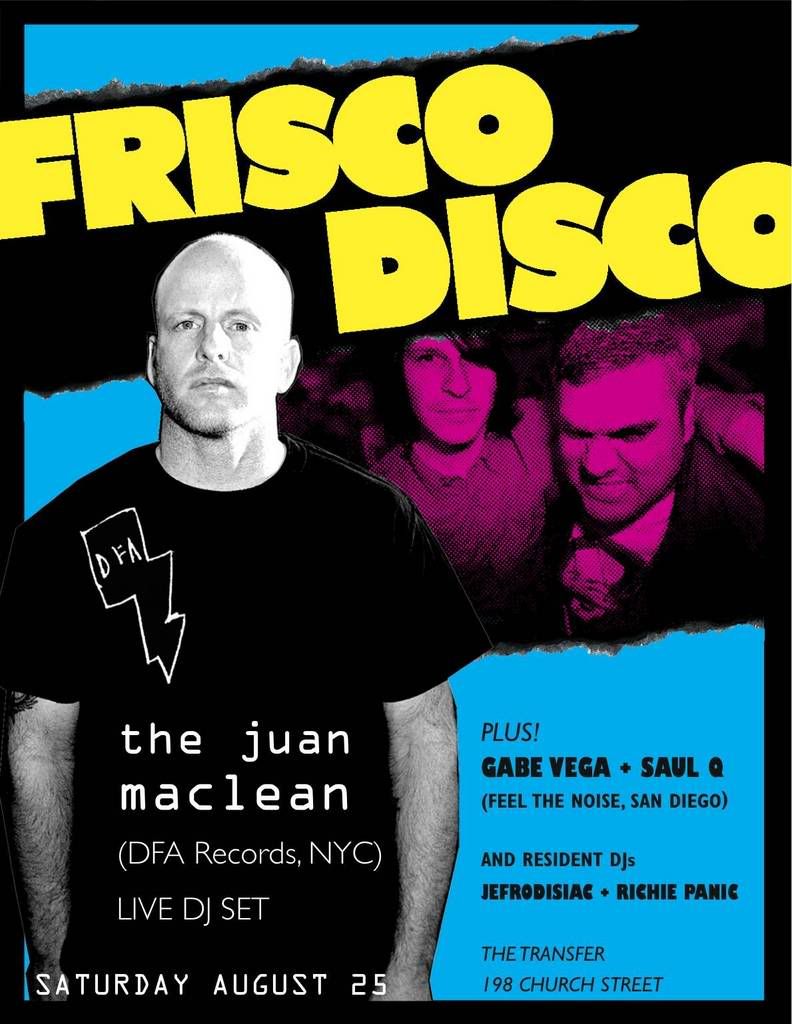 -The Midwest isn't taking any backseat tonight, as there's lots going on in the middle party of the United States of America. First up, Electro Is Dead goes down in Chicago tonight at the Spikes Water Works (2135 S. Lombard Ave.) Electro, new wave and industrial provided by some top-notch DJs - Trancid, Sonik, Ciro, Eddie Riot, Therblig and Victor Lua.
-Another Midwest dude who deserves way more attention is Minneapolis' Soviet Panda. Dude has put together one of the best parties anywhere, Too Much Love, dropping some of the best dance music and bringing in some amazing guest DJs from all over. Tonight, NYC's own Star Eyes of the Trouble & Bass crew and XLR8R mag is coming through to drop the grimy bass music. You also get a set at the end of the night from Austin's Bird Peterson, this is definitely a special edition of TML. It goes down at First Avenue (701 First Avenue North, corner of First Ave and 7th St.), 18+, drink specials, goes til 3 am. Tonight, things don't end then...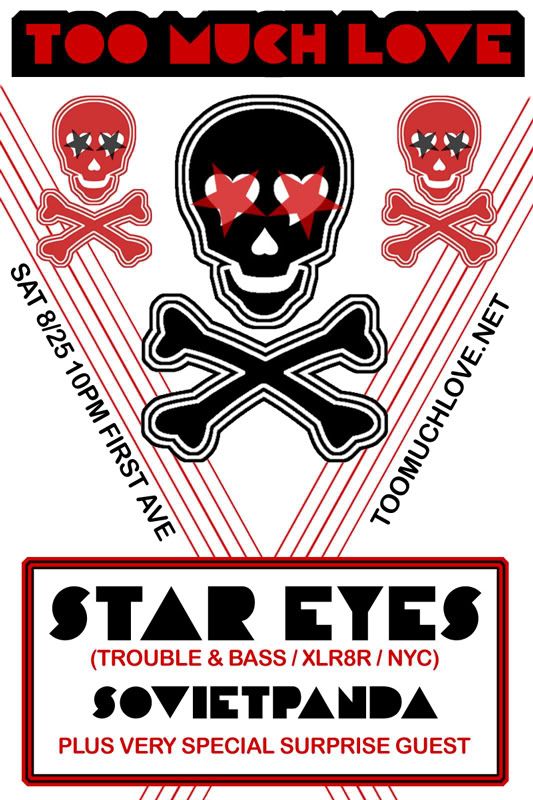 -They continue at the Fancy Computer afterparty. Soviet Panda, Jonathan Ackerman,, DJ Talk Radio, Millions Billions and more will do the music, video stuff by Time Squid and Danger Havok. It starts at 2, goes til the infamous ????, $7 for the people who have their hand stamped from Too Much Love. Where is it at? You'll have to go to Too Much Love to find out the details, yea to secret locations!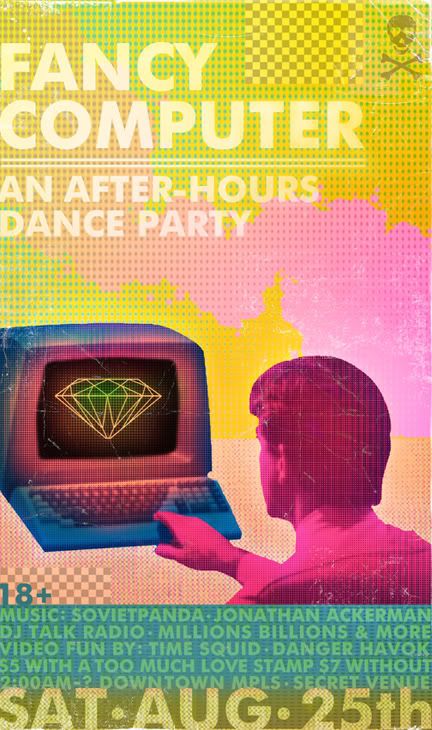 -Kansas, stand the fuck up! Two really nice events going down in the state tonight, first up is the Crunkercise party with the Nomathematics crew. They've brought in guest DJ Iggy Baby and local band Coat Party, put together one of the trippiest, bizarro in a good way fliers and are gonna give you a serious workout Lawrence Kansas. The gym is going to be The Jackpot Saloon (943 Mass St.), 18+, I believe no cover. Wear your workout gear, as there will be a prize for most likely to be Olivia Newton-John.
-Down the street, the always excellent Tactic bols are doing Bump City at Fatso's (1016 Mass) Dudes will give you the booty, club, crunk shit that makes life worth living. 21+, $2 to get in, make sure you show support to both parties Kansasasassasasasasans, you hear me?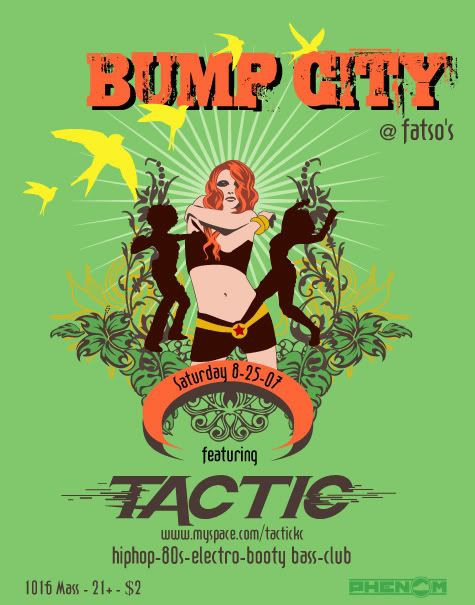 -East Coast was saved by some of our favorites, although they seemed to be flier-adverse tonight. DJ Will Eastman, actually, has decided to take his and his Bliss party's flier game to the next level, the Youtube level. That's right, he's put the info in video-form, I like it and I feel like this might be a challenge to the rest of the world. Get viral, people, get viral.
-In NYC, my bol Project Matt does his Saturday night Revolver (210 Rivington St. btwn Ridge and Pitt) party with special guest Louisahhh! from LA. Y'all know about it, get there, do not sleep on one of the best parties at one of the last refuges in the LES.
-For Philly people, what better way to follow-up the madness of [click.] than with Sorted at Johnny Brenda's (1201 Frankford Ave). The long-running indie/Britpop party has moved to amazing digs and keeps right on rolling. Mike Z and Dave Pak have been doing this for 8+ years, so you know that they know what to do. Tonight, there's a special live set by Brooklyn's Best Fiends, the DJs will be right in the middle of things tonight for the first time, not up in the booth, making this onea few notches more intense.
-Finally, let me wish K and D a happy birthday tonight, may they be forever young!