Okay, I'm not really in the mood for parties and shit, as I've had to encounter firsthand the fuckedupness of people towards animals this weekend and night. But, I don't get paid to bitch and be serious, so let's try to focus on the good times. The good folks of
Club Genre
make that easy, as they continue to put together one of the best up-and-coming parties in LA. I've been mentioning these dudes a lot lately - DJs S!n and Luv Tek - and for good reason. They've quietly put together a roster of dope parties in the LA area. Tonight, one of my favorite DJs anywhere, Dave P, is the special guest, making this a special night. For real, do not let LAers, do not let Mr. Pianka get out of town without catching him once. This one goes down at Cinespace (6356 Hollywood Blvd), 18+, free before 11. I can't recommend this party and this particular edition more highly. It's a rave, Dave, be there. Make sure to check out that flier above, btw, one of the best I've seen, love the image, the clear party info and DJ list, whoever did this knows what's up.
-On the opposite coast, things are just as focused. M At Darkroom (165 Ludlow St.) goes down in New York City every Monday night, as the two-thirds of the Ruff Kids, Sean Fightcats and Mike Nouveau, give you a place to get rid of that case of the Mondays. Tonight, the guys are joined by our hero DJ Dimitry and Louisahhh, which is a pretty fucking awesome line-up for a Friday, let alone Monday. Drink specials all night, you won't even remember what day of the week it is by the end.
-Up in the East Village, DJ Nick Hook of Men, Women and Children is DJing at Sake Bar Satsko (7th St. btwn Aves A & B). Crazy drink prices with $3 beer and $4 wine and sake, Nick will provide the soundtrack for this drunken ride, lots of jams, I promise and he does too. 11 pm until you can't take anymore.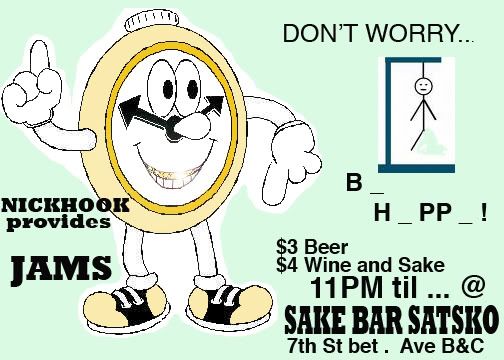 -Since it's a quiet night and it's the beginning of another week, what better time to look ahead and give you a heads up on some superad events that you'll want to get on the list. DJ Funk is coming to San Fran for the Frisco Disco,
get on the list and it's free free free
. I mean, seriously DJ Funk is coming,
you need to get on the list ASAP
as it's filling up tout suite. I'm considering flying there for this one, it's that serious. High Voltage in NYC is moving to new, bigger digs at 200 Orchard and hosting the VHS Or Beta afterparty. We'll have more on this, but
get on the guestlist now
to make sure you get in. Finally, the
Institubes Paris Terror Club Hooligan Disco Tour
(Para One, Surkin, Curses! and Orgasmic) starts this Wednesday August 30th in Chicago, then hits Brooklyn the next night, with Philly, the West Coast and Canada getting in on the act in early September.
Check out their myspace page
for all the info and dates and tunes, really cannot wait to catch this one.