Wow, it's Friday night and there's too much going on, jam packed night in three of my favorite cities (Philly, NYC and Chicago), so let's get to business. I've been posting about parties for a bit now, after awhile you get a little jaded and underwhelmed. Then, something comes along like this party tonight in Chicago at the Green Dolphin (2200 N. Ashland) that completely blows me away and leave me deathly jealous of all those lucky souls who will get to dance and freak out. Ed Banger Records and Throne of Blood Records come together tonight with their respective crews for a post-Lollapaloooza jawn. That means Busy P, SebastiAn, Kavinsky, the Rapture bols and James F*ing Friedman are all going to be spinning. However, they're bringing in a hometown legend to completely destroy your minds - DJ Funk! That's right, the king of booty house will spin a set amongst all of these youngbloods, making this one of the sickest line-ups of the year. You also get Gildas from Kitsune and Jordan Z. of New Indie Party.
RSVP at going.com
or pay $15 at the door, it's well worth it. This could truly be epic, don't miss out as it goes til 4 AM.
-You also need to hit up
Life During Wartime
at darkroom (2210 W. Chicago) as
Bald Eagle and Mother Hubbard
have put together their sickest line-up yet. My bol Dave P from Making Time in Philly is the gest DJ, along with Trancid of Dark Wave Disco and Mister Wolf. Free before 11, 21+, giveaways, people actually dancing and having fun. Best of all, you get to celebrate Mother Hubbard's birthday and bring her a nice gift. Happy birthday from Pound for Pound!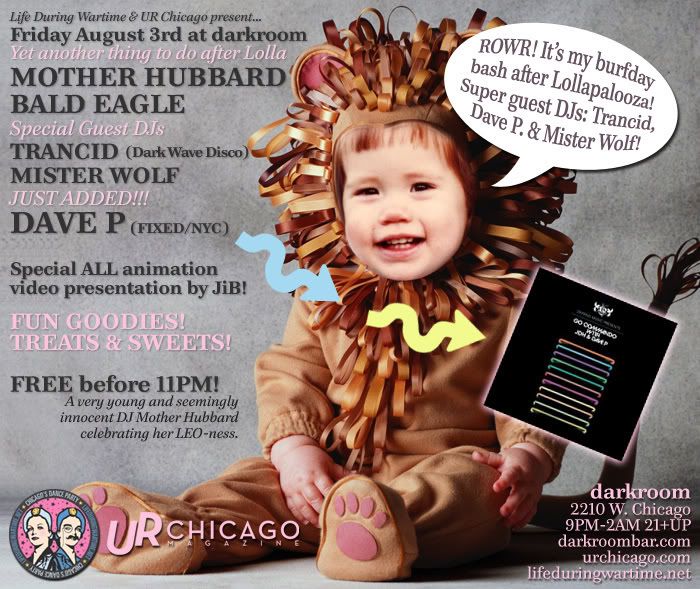 -Chicago, that's not all. You also get
Outdanced! at Debonair
(1575 N. Milwaukee Ave) with DJs Chris Holmes, Ryan Paradise, Heather Doble, Rand Sevilla and Zebo. Hosts Jillian Perez, Scott Cramer and Jenny Shah have brought in Bronques of Lastnightsparty.com to snap your picture, which means that at least 5 of you will somehow end up in a tub or mini-pool around 4 AM half-naked, gorgeous and living without regrets. Chicago, mang, this city is killin' it lately.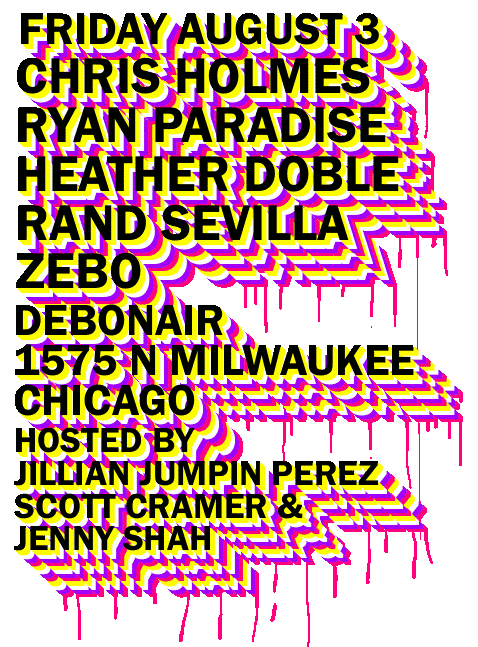 -I've been doing a terrible job mentioning one of my favorite NYC parties, so I'm gonna try to correct that tonight.
People Don't Dance No More
is a serious dance music party put on by some of the best and most knowledgeable people in this city, David Bruno and Robot Blair. Every two weeks they bring in the best DJs in the world, covering all sorts of genres and labels and styles. Tonight, you get the master of the disco edit, Prince Language, as the special guest, as the basement of Element (225 E. Houston, corner of Essex, i.e. Ave A) is gonna seem like some sweaty 70s discotheque. RSVP to peopledontdancenomore@gmail.com for $5 cover, 21+. Absolutely sick flier for this one, for real this party is for the real heads, the people who want to hear great music, great DJs and dance dance dance without any of the bullshit.
-It's a pretty great night to be in downtown NYC, something that one says less and less these days. Right around the corner, Modular does its monthly thing at 200 Orchard (200 Orchard St., duh!) and this one might be their best night yet. Sleazy disco dudes In Flagranti are in the house to help you get laid, as they'll bring their new disco sound to the great dancefloor of 200 Orchard. Domie from A Touch of Class is also gonna spin, along with the Modular DJs and 2 Mandy DJs. I recommend hitting up this one and the Element jawn for a pretty much perfect night out.
-Down the street, check out the
Ruff Club at the Annex
(152 Orchard St.), which is still happening, for something a little darker. They may have their best guests yet tonight with
Drop the Lime
, masters of that grime-y, heavy bass sound, should be an interesting mix with the young and the restless who hit this party on the regular. Of course, you also get the regulars like Denny Le Nimh, Spencer Product and Micprobe, Janelle and Hunter & His Sex Dwarf in the basement, I don't need to tell you about this night.
-For those of you who don't feel like leaving Brooklyn, you definitely don't need to. FUN goes off tonight at Studio B (259 Banker St.) with a crazy line-up featuring CSS, Shout Out Out Out and Dirty On Purpose. Those are three bands that I would catch just by themselves, but you get all three tonight on one bill. But, the FUN people have decided to up the stakes even higher by making all of this free. Yes, you heard me, free! Eamon Harkin and Rok One of The Bangers will spin along with special guest DJ crew Nossa (Sujinho and Cassiano), giving you that baile funk that you just need on this hot ass day. I don't know what else to say, this is a pretty incredible night of music for no cost, not something that happens every day.
-Down I-95, Philly won't be outdone. Start your night with Spank Rock at Silk City along with XXXchange and Donnie Darko. I'm not totally sure if Naeem is performing or if this is more of a DJ thing but who cares? Silk City's back, Spank Rock's back, this will be a crazy night guaranteed. It starts at 9, $10, I don't know much more than that, but honestly this would be enough to get me there.
-Then head over to the Arts Garage (1516 Parrish St.) for the end of the night, as one of the city's best parties does its monthly thing. White Ts and White Belts gets going at midnight with emynd, Bo Bliz and Dan the Swede providing the music, free beer all night (until it's gone), BYO if you wanna be safe, $10, 21+. Another birthday, this time for emil, happy birthday to him, we Leos really do run things.
-Optimo Barn Dance