Okay, I'm beginning to think that Tuesdays are the new Sundays, a night when not too much happens. There's like one event for each city, which is all you really need when they're good ones, right? Here's a new party for
Pound for Pound
, Fashion Club in San Jose. Have I told you that I have become a fashion writer in real life? Not joking, this is actually the majority of my writing, I got to remember to link to my stories. Anyway, this one caught my eye because it has one of my favorite DJs, San Fran's Sleazemore, as a special guest tonight, along with Rchrd Oh?! They join resident David Q for this party dedicated to the good things in life - electro, 80s, hip-hop, fashion and drinks. It happens every Tuesday at the Fahrenheit Lounge (99 E. San Fernando St.), check it out and let us know what you think of it.
-The good people of Totally Tuesdays have decided to own this night, not shy away from the black sheep of the weekdays. Joe Licht and Scotty Too Dope host DJ Flo from England for their anything goes dance party. That means all genres, all races, creeds, genders, come one come all. It's free, it's at Upstairs At Sal's (200 S. 12th Street) and it's your weekly Tuesday night Philadelphians.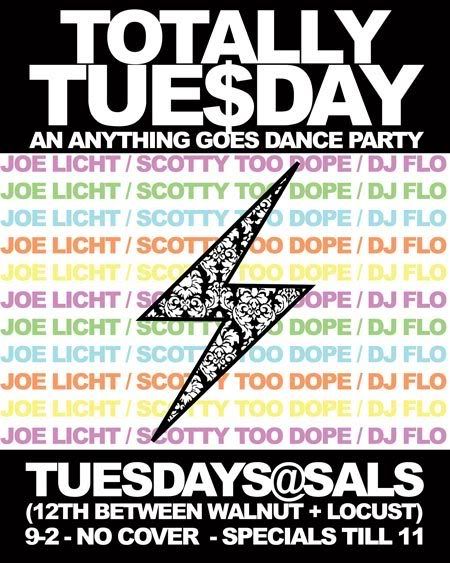 -Finally, some good stuff in NYC before the madness begins (Daft Punk and my fucking birthday!) I'm a huge fan of
DJs rekLES and SeanMFNroberts of the Lewd party
, so I'm gonna recommend checking out
this Benzos' Record Release show
on their presence alone. The bols are spinning all night, the band goes on at 10:30. RSVP at benzosrsvp@sneakerattackmedia.com or
at the going.com site
, get in for free, get an open bar at 9, get drunk at 10, get rocked at 10:30, get home by 4. It goes down at 205 (205 Chrystie), there's a sneaker contest for 2 lucky winners, it's all brought to you by Mean Red Productions, it should be a good time.
-For Brooklyn, check out the new bimonthly party at Macri Park (462 Union Ave.) called Dirty Dancing featuring the Sweatshop Labor guys, Johnsville and Lucas Walters. I think that they also have started a bimonthly on Saturday nights at this exact same spot, so they must be doing a damn good job. This one, as the title suggests, is dedicated to that oldies music from the 80s (ugh), stuff to slowdance to and make out to and dry hump to. Every other Tuesday, no cover, feel young again.