Well, it's hot again suddenly in NYC and elsewhere, it's a good night for some sweaty, debaucherous dance parties. Logically, we're gonna lead off with one of my favorite DJs in the world, Ms Lauren Flax, and her Passions party in the LES. If I wasn't such an idiot, I would've done a special post and put up some Flax tunes and remixes. Unfortunately, I accidentally lost those, so we'll have to wait a bit for that. In the meantime, hit up her bi-weekly party Secrets! tonight at 200 Orchard, as she'll be joined by Curtis Vodka, Flufftronix, Gina Turner and Louisahhh!!! for a night of dance bangers, mashedup bangers, club bangers, bangers people, just bangers. RSVP to whitelightningparties@gmail.com, show up, this is one of the best parties in NYC in one of the most underrated spaces.
-It's rare that I do non-flier events because I write for myself and I like pretty pictures. But, when the Crimp Yr Hair bols come to NYC with DJ Stereo Faith to take over the basement of Lit, the rules go out the window. NYC, you might not even be ready for the lovepsychedelicrainbowdanceelectrofreestyle night that lies ahead of you. Are you willing to take a chance? Do you have what it takes? 10-4, 21+, no cover, watchout.
-Early birders, head out to PoundforPoundville for the official After The Jump kick-off party on the roof of 89 N. 9th St. in Williamsburg, Brooklyn, New York City. Not sure about the music acts, but I do know that David Bruno is spinning and that's all you really need. It starts at 7, fashionably late means you'll just be late.
-D.C., you're a fascinating place. Little goes down and then boom! You drop a crazy, sick, free party that is as good as anything, no warnings, no regrets. Dance music kingpin Le Castle Vania is the special guest for the Heist party, bringing the electroindiedancemagik to a city that desperately needs these amazing sounds to transform the horrible city that has developed over the past 7 years. I have total faith that Le Castle Vania and DJ Will Eastman will destroy the dancefloor, put a spell on the city and turn the place into a bastion of progressive politics, free love, peace and gorgeousness. Or at the very least they'll put on one of the best parties the city's seen. It all happens upstairs at The Rock'n'Roll Hotel (1353 H Street NW), totally free. Oh and absolutely sick flier below, take a bow whoever put this one together.
-Damn, another amazing dance party goes off tonight, as Lights Down Low goes off tonight at the 222 Club (222 Hyde@Turk) This one's extra special as it's the first appearance by Franki Chan in the city to the north, as the I Heart Comix mogul will fit in perfectly at the LDL. It's also the going away party for DJ Seraphim; not sure where she's going, but I do know that she will be missed in SF with her bootyelectropunkdisco stylings. As always, residents Sleazemore and Rchrd Oh!? will rock your body, photos of said bodies rocking taken by Parker Day, hosted by Billy C. Oh, and there're gonna be New Young Pony Club CD giveaways, I really don't know what more you could ask for. Stop reading, go to the 222 Club, fall in love.
-Mr. Chan's home is being held down nicely by a ton of shit. First, Keith Wilson's Club 82 has DFA's Juan MacLean doing a guest DJ set along with Rico of Belle and Sebastian (?!?!?!?) Holy shit, that's some serious guests. But, it's the local talent that makes this one so necessary - Keith 2.0, Daniel from LA Riots, Young Americans from Hush Hush. Avalon (1735 Hollywood Blvd) is one stop tonight, 18+, $10 before midnight, $15 after.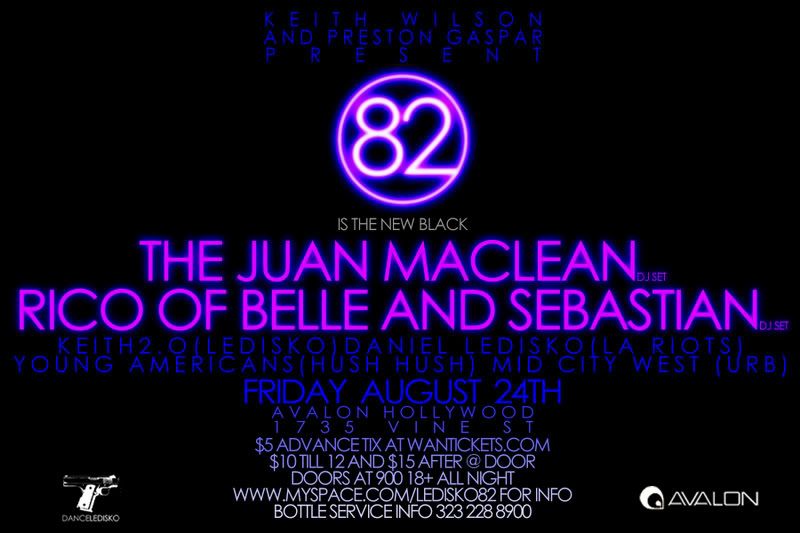 -Also make sure to get to the i.d.e.a. and Hotwire My Heart jawn at Temporary Spaces (5100 Fountain@Normandie) Omar, Ryan Poulsen, Sean Patrick, Dirty Dave and Dirty-Lo, that's a fucking LA Dream Team. RSVP at ideaevents@sbcglobal.net so that you can get there, party, dance, drink and figure out which one is the Christian Laettner of the group. You must RSVP btw, MUST.
-Finally, Hush Hush vs. Rockognized, the battle of the century goes down at Vertigo's (801 W. Temple St) Young Americans, Royal Rumble, Damager, Gmo, Joey Radical and Joel are joining in the DJ fight, picture Anchorman when the news team went at it. Someone will get stabbed with a trident. 10-2:30, $10 for 18+, $5 for 21+, come out at the bell.
-Minneapolis, long time no hear from you. It looks like it's gonna be a good weekend, as things kick off with the Honeymoon party in its third Friday of every month position. The Moon Goon DJs are joined by Bird Peterson this month for a night
-Chicago, I'm saying uncle. I mean, if you're gonna start dropping warehouse parties that go til the next morning, I'm not sure anyone can keep up with you. I guess we'll stay strong and not give in yet, so you should get to the Hanger 16 party tonight with tons of DJs playing all sorts of electronic music.
They just announced the venue's address today
, it's at the Artesian Lumber building (2427 W. 25th) on 25th and Western. Women $5 before 11, $10 after, guys $10 all night. This thing will go late, pace yourselves. It's a rave, Dave.
-Stop by earlier at The Beta Theta party at Darkroom (2210 W. Chicago Ave). This one's got bands - The Its!, Telenovela and Big Buildings - early, then a dance party later. Resident DJs Brock and Misa of the Kampfire Killaz are joined by guest DJ Johnny Kesh. Free before 11, $5 after, 21+.