I'm kinda sick of NYC right now, tornado storm what? So, I had to look to my favorite city in the world for a little fun and magic and as always Philadelphia gives it to me. Tonight it's in the form of a new bi-weekly party called
Next Level
. It's going down at Liquid Charm (1207 Race Street), a Chinatown club whose name I haven't heard in a minute. This one is going to be sick, like these dudes havbe been reading
Pound for Pound
and wanted to do a soundtrack for it, if the blog was a movie and not an mp3 site, alright, whatever. It's a party dedicated to acid, jax trax, techno, italo, electro and secret disco. I mean, seriously, what more do you need in your life? DJs are Mike T of Paradise, Shawn Ryan of Hurrah and Billy Werner of Hip Replacement, which is to say, some of the best DJs out there and dudes who know way more about this music than I ever will. No cover, air conditioning, $2 Rolling Rock bottles all night, $3 Soco + lime shots until midnight, 21+. Next level, indeed.
-Oh, New York, I can't stay madatcha. Another new party here, G Spa, put on by some of my favorite people. Project Matt, Jeremy Asgari, Yossi, Cipha Sounds, Jamal and Osvaldo are starting this new weekly at the Gansevoort (18 Ninth Ave.@13th Street). Check out the pics on the flier, this is some seriously classy shit, gorgeous spot, probably too pretty for my ugly ass. For my attractive readers, this first edition features DJ Nick Catchdubs on the decks, dude is pretty much a guaranteed good night, people will get on the dancefloor and stay there. It's also a birthday celebration for Project Matt, so wish the man a happy bday! How often are you going to be in the Meatpacking District? Live it up!
-Then, there's ole reliable, High Voltage. Dimitry has made us jaded, I fear. He's put together a consistent weekly where people actually dance and have fun, amazing open bar, the works. I guess he was worried that people were getting complacent, as he's put together a fucking amazing line-up tonight. First, you get a performance from Young Love. Then, Chicago's own Kampfire Killaz make their first appearance this week, bringing some of that booty and bangers that Manhattan so desperately needs. Yeah, Chicago in the house! Most importantly, it's a bday celebration for one of the nicest, sweetest people in this city, Miss Alana, further proof that Leos truly are the powers that run this world. You know the details: Zygo open bar from 11-it's gone, free, 21+, Sutra (16 1st Ave btw 1st and 2nd St.) Late Update: Curtis Vodka will be spinning a guest DJ set, craziness people.
-Let';s head out West for another new party (well, this second one), this one's called Deep Kiss and it goes down in San Francisco's Beauty Bar (2299 Mission). I really love the name of the party and the flier pic of the girls and the notions of love and kissing, so necessary as the summer winds down. Tonight's guests are DJs Ian Zazueta of the Lights Down Low party and DMAP of Every Move A Picture. Hosts Jox, LXNDR and Loverde[ad] are bringing this one every second and fourth Wednesday, dedicated to all sorts of different genres but with the intention of bringing love to the room and your life. And some kissing. No cover, 21+.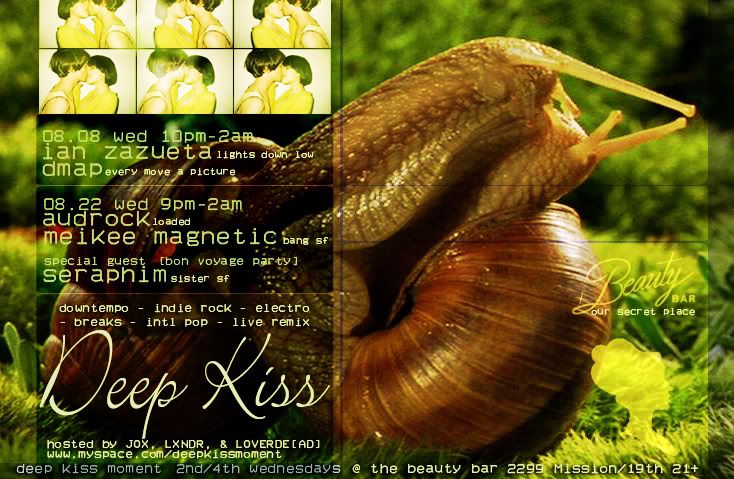 -Speaking of Pound for Pound regulars, Club Redd keeps doing it, as Luv Tek, DJ S!n and Paparazzi continue to make waves out in the LA area. This party goes down in Long Beach at Sevilla Nightclub (140 Pine Avenue). This one features a guest DJ set by Krames of Richmond's Cobra Kai crew. Dude is not to be messed with, is on a West Coast excursion right now and will bring all sorts of rap, bmore, mashups to the mix.
-Finally, my dude Soviet Panda is doing a last minute fill-in for Jake Rudh at his Transmission party. It goes down at Clubhouse Jager (923 Washington Ave and 10th St. North), no cover, drink specials, Panda killing the dancefloor. Minneapolis, it may be last minute, but it just made Wednesday night that much better.