Okay, I am not really writing this party preview post, I am still wrapped in a Daft Punk haze. Forgive any misspellings, bad jokes or incorrect info, blame Thomas and Xavier. A lot going on in NYC tonight, in spite of the freezing temperatures which obviously foretell the end of the times or the coming of the Messiah (for the first time), so let's get to work. Top choice tonight has to be the Good Foot/Pumps party in Park Slope. Yes, you heard me, Park Slope. The land of baby strollers and milfs is stepping it up big time, bringing in Philly's own White Ts and White Belters, emynd and Bo Bliz. I'm not sure Brooklyn is ready for them, but only one way to find out. Those guys are joined by DJ Morsy and Curtis Vodka and Flufftronix, who seem to be at every party this week. To make this one even more amazing, the basement is taken over by Mr. Carmine P. Filthy and Vida of Even Further fame, bringing some that filthy disco dance shit. It all happens at The Royale (506 Fifth Avenue), no cover, $3 drinks, nice. Happy Birthday to Jess Jubilee, as Leos must stand together.
-In Manhattan, it's a special edition of one of my favorite new parties. Secrets, Lauren Flax's bi-weekly at 200 Orchard (200 Orchard) has Chicago's Kampfire Killaz as special guest DJs. They've been tearing it up all week in Manhattan, this is your last chance to get floored by how good DJ Misa and Kampfire Jay are. You also get Boston's Heartthrob with Red Foxxx, Morgan Louis, Baltimoroder and Sensitive Hand. Most importantly, NYC's best Ms. Flax is there, which is all you really need. She'll make your dreams come true and melt your face.
-Mang, I cannot imagine having to followup the madness that went down at Studio B (259 Banker St.) last night, but if anyone can do it it's the FUN crew. Tonight is heavy on the live music, as Glass Candy and Metronomy are playing sets, this is actually the Metronomy South Street Seaport afterparty. You also get a DJ set by Mike Simonetti of Troubleman Records, as he's joining residents Eamon Harkin and Rok One of The Bangers and bringing his Italo, synth noise stuff to kill it. $10 at the door, doors open at 10, you may even see some Daft Punk fans who are still dancing or are just standing in a daze outside the club.
-Upstairs at Sal's (200 S. 12th St.) in Philly has a big weekend ahead and they kick it off with a nice live music/DJ party 1-2. Things kick off first with Brown Recluse Sings and Scary Monster, who are about to embark on tour. Once the bands stop, the dance party gets underway with the Push It 2 Da Limit crew doing their thing. Suggested donation is 3 bucks and seriously, give them 3 bucks, don't skip out on paying just cos it's suggested. This can be your preparation for Making Time tomorrow.
-Chicago is a little more quiet than usual, but that just means the Compulsion party is where you need to be. I don't know a lot about this one, but I know Trancid and trust that he will kill it and is reason enough to attend. Luis Segura, Mode, Charlie Brown and Mr. Bobby will also spin, plus there's a live show by Ground Syndrome. It happens at Saltaus (1358 W. Randolph St.), drink specials, no cover, 21+, take a chance.
-Wow, this is a huge party and it's in Phoenix, the first time we've mentioned that city. William Reed's 30th birthday party is put on by the French Kiss label and they've brought in a who's who of indie dance DJs, headlined by electroclash god Larry Tee. Let's see, you also get Denny le Nimh of the Ruff Club and Hot Pink NYC parties, Dirty Dave of Blow Up LA, DJ Mykill, Sleazy Sean and others. It all happens at the Burn Nightclub (122 E. Washington St.), it's free before 11, admission goes up every hour after that. So, get there early!
-In Cali, San Francisco to be precise, one of the best parties anywhere goes down again. Sleazemore and Rchrd Oh!?'s Lights Down Low brings the heat every week, sickest guests, amazing residents, best fliers I've seen. Tonight's no different, as they welcome Brooklyn's Purple Crush for a live set and DJ Krames of Cobra Kai for a guest turn on the decks. I feel like this one's gonna have a nice hip-hop flavor to the proceedings, a nice look for the summer. Get to the 222 Club (222 Hyde and Turk), let the Lights Down Low bols take care of the rest.
-Down in Santa Ana, Mute and GrnAppleTree bring you Apples & Oranges in the Artist Village at the Proof Bar (215 N. Broadway) This one's got a really sick line-up, both inside and outside. In the outside area, Them Jeans, Royal Rumble, Kidz On FM and Louisahhh! hold it down in the fresh air, while inside Luv Tek, Legit & Ben N., The Bings and Dan Sena & GMO make you want to stay indoors for the rest of your life like Howard Hughes.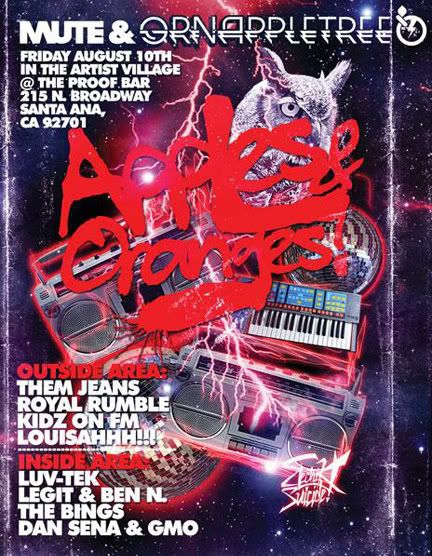 -Let's end things up with some international stuff, always psyched to hear what's going on outside of this fucked up country. Not surprisingly, another massive night at Fabric in London, this one's got all the big names in drum and bass and breaks and whatnot. But, I want to spotlight Room 3, where YoYo goes down. This room is all about the up and coming Americans, as Seb Chew and Leo Greenslade are joined by Baltimore club legends Scottie B and Samir, along with Chicago's superstars Flosstradamus and our bol in LA Franki Chan. Really psyched for Mr. Chan, congrats on this gig, so cool. Things go til 5 AM, no cover info, but pay it whatever it is.
-In my future home of Paris, hip-hop reigns tonight. Hit up Le Triptyque (142 Montmartre) for the official So Fresh Party with the So Fresh Squad, Orgasmic of TTC, DJ Raze, Craiz and special guests. It's free, I believe it's the last party at this spot, these are some of the hottest sounds coming out of Paris which is saying a lot.
-Finally, my girl DJ Almost Tropical is doing the damn thing in Berlin tonight. Expect Excellence! is a cool event dedicated to the photography of Katja Hentschel, which take in the street scenes of NYC, Berlin, Paris and London. Later (11PM), Almost Tropical and Julia Fox will drop some tunes to let you dance off all of the excitement of seeing great art and photos. It's at Eel Pie (21-22 Saarbrukker Str), free, make it happen Berlin.
-