Okay, this is starting to get good. Like revolution good. I've been mentioning the fact that lots of my favorite DJs and parties have been mixing up and joining forces to create bigger and better dance parties and up the chances of people getting laid. Well, this one is like my dream team, like Jordan and Magic on the fast break, Feingold and Obama as a presidential ticket, Scarlett Johansson and me. My bol Project Matt of Revolver's Resurrection Saturday Night Party and longtime Pound for Pound favorite joins up my other NYC favorite DJ Dimitry for his High Voltage party at Sutra tonight. You know the details: open Zygo vodka bar from 11 until it's gone, free, 21+, one of the best weeklies in the city, people actually dancing, two of the best DJs in the city, I mean, if you don't hit this, your life is lesser.
-Here's a new party for us, Moonwalk at Happy Ending (302 Broome St.) I've been hearing excellent things about this one in the basement, getting bigger and better each week, it's definitely time to jump on the bandwagon. This one has the resident DJs of Rezound and Workweek, who also do the War and Peace party. They're joined by Ssurender and Count Drugula of the blog These Rocks Pop, which the kids go crazy for. It should be a great night of great music from every genre you can think of. 1st and 3rd Wednesdays, free, 21+, more to come on this one.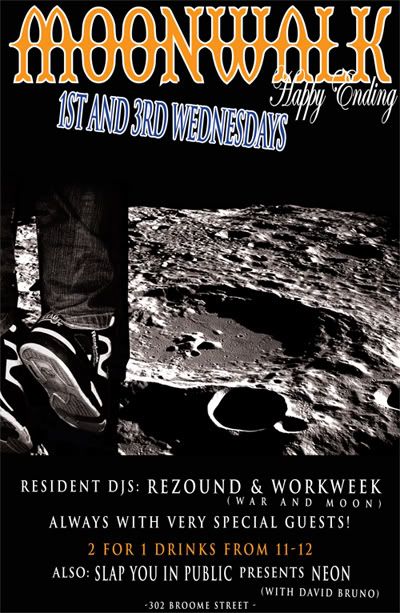 -That dude Richie Panic just won't quit, as he's got a new party called Situation starting up the first Wednesday of every month. Tonight's edition (the first one?) features a guest DJ set by Gold Chains, who's going on at 10. That means no dawdling, get there early, don't make a fashionably late entrance as you'll just miss out and look stupid. It's at The Etiquette Lounge (1108 Market St.@7th), adjacent to Renoir Hotel. This sounds ultra swanky, but it's no cover, dress as you like, so don't let the names fool you. Act the fool!
-Speaking of can't stop, won't stop, DJs Luv Tek and S!n have another fucking party this week. Tonight, Club Redd happens at Sevilla Nightclub (140 Pine Avenue) in the heart of Long Beach. S!n, Luv Tek and fellow resident Paparazzi are joined by Sleazy V and Mexico's booty bassers Los Loboz. They've made your week so far, no sense in quitting on them now.
-Philly, JHN RDN is the special guest at The Driz Horse at the Khyber. There's no flier, but who needs one for this? You know it's gonna be sick,