Hosted by JULIUS...
Wow, there's almost too much going in NYC tonight, which explains why this post is going up so early. Let's get down to business, apologies to any late parties, esp. on the West Coast that I miss, feel free to add the flier and info in comments or on the myspace page. Let's get to work, we're going to give you a Manhattan and a Brooklyn night, as there's too much going down, we all need to be focused and stay within ourselves. The easiest move tonight is to hit up Happy Ending (302 Broome St.@Forsythe), where two of my favorite parties will take over the upstairs and downstairs.
Unstoppable Perfect
is the new party put on by
Pound for Pound
favs
Seanmutthafukkinroberts and rekLES
, the dudes behind the Lewd party from The Annex. I think that this is their new jawn, but I don't know if it's a one-off or what. Anyway, the dudes will kill it tonight with electro jams, robot rock, synth sexpots and much more. 2 for 1 drink specials from 11-12, no cover, hosted by Antwan of ithinkyoureswell.com and Julius O. who refreshingly has no website. Also make sure to walk down the stairs because...
-As always, Even Further holds down the downstairs of Happy Ending every Thursday with discodancelovesex jams. Tonight's special guest is DJ Vinyl Ritchie of carmine
-Okay, the list closed a few days ago for the early part of this party, Blackbook's Cool-Off. However, it opens up to the public from 10 PM on and best of all, my girl DJ Catskillz makes her triumphant return to the decks tonight from 10-12. She'll be spinning rock and electro, crossing my fingers for a Smiths tune or four. Seriously though, she's one of the most knowledgeable music people I know and I am psyched to catch her spin finally. Maybe if we all come out and show some love, she'll make a full return to the booth. It all goes down at Revolver (210 Rivington btwn Pitt and Ridge), you know I love this spot, so get there. You may even meet a famous blogger.
-Hmm, I'm not sure if the Common Folk bols planned this in advance, assuming it would be hot as shit in NYC at the end of August or if they realize that we desperately need an escape from the cold weather hitting us now. Either way, good look fellas. Residents Johnsville, Lucas Walters and Piano&Pizza re joined by DJ Equal of the Taste crew and Maria Holland of Hang the DJ for a night of sun, sand and surf in the basement bar Home Sweet Home (131 Chrystie St.). Wear your beach attire and cool sunglasses, don't be the ass who doesn't play along. No cover, $2 tropical drink shots all night, let's not even pretend that you're not gonna be into those.
-Cheeky Bastard does it up big again for their Thursday night jawn at Hiro Ballroom (371 W. 16th@9th Ave) in the Meatpacking District/Chelsea border right near the L. Live set by Foreign Islands is recommended, the DJ set by up and coming band The Virgins is as well, although ya never know with bands DJing. Then, let the Ruff Kids take you over the edge and make you feel as young as they are and the rest of the crowd is. No cover on the list,
so head over to the going.com site right now
. Lucky Beer open bar 10-11, 2 for 1 vodka drinks from 1o-11 and 2-3 will also help make you feel young and happy for the night.
-Brooklyn, make it a Williamsburg night, frolick in the land of Pound for Pound. My bol Project Matt is one of the guest DJs at
Iron Lyon's weekly Soundclash party at Supreme Trading
(213 N. 8th btwn Driggs & Roebling). DJ Kech will also get in the mix, this'll be a great night of serious reggae, dancehall, rap, Dirty South, i.e. a rare night out in New York City. No cover, open from 9-10 for the early bird drinkers
-Not too far away, the Death By Audio space is throwing a nice, live music/DJ bash called Videodisco (I think). This one features live sets by Todosantos and Eats Tapes, with DJ sets all night from Cousin Cole, Pocketknife, Chris Hires and Total Life and others. This place will benefit immensely from the cooler weather, as previous events have been too hot to handle, or stand or dance or be. Should be a good one, $6, all ages, starts at 11.
-I feel like I've never mentioned the weekly Thursday night party The Real Information at Bamboo Lounge (20th & Arch) in Philly. No better time than now, as DJ Scott Melker will be the special guest tonight, as this will be a G Love afterparty. Melker is touring with the Love man, expect an amazing night of hip-hop, pop, 80s, really just good music that makes people dance and smile from him. Resident DJs Brendan Bring'em and Dan the Swede have turned this into one of the best weeklies in the city, consistent, fun, packed.
Get on the guest list tonight
, as it's bound to get to capacity. Open bar from 10-11, $5 on the list, yeah.
-Two other good weeklies go down every Thursday. Steven Bloodbath does the 90s up right at Silk City (425 Spring Garden). Go and be nostalgic, dance, have fun, spend a night at one of my favorite places, no cover.
-For those looking for more of a dance music night, head to Upstairs at Sal's for the weekly Movement party with DJs Mike T, Kyle M and Solobuns. No cover, I believe PBR specials, cheap drinks all around, good stuff.
-The other party of the night goes down in the Dirty Dirty, Hotlanta, the ATL (are there any other names that I can use that no one from Atlanta or the South would actually? holler.) as Your Place Or Mine? goes down at the Bazzaar (654 Peachtree St. NW) This one looks like it won't just be one of the best-named parties; it's also going to be a fucking rager. The main reason is that the special guest DJ is Will Eastman from D.C.'s Bliss party and a dude who deserves way more attention. He's joined by Drew Van Atten and Brett Long for a night of bangers, go-go, rap, pop, dance, the works. To take it up that final notch, you get a Peroni beer open bar from 9-10:30.
-Dear Chicago, let us catch up. The good times keep rollin' as tonight, as here's another new party to Pound for Pound,
Heather Doble's Elevated
. This is a Thursday night weekly at Berlin Nightclub (954 W. Belmont Ave.) and tonight's a great time to check it out if you haven't already. The best couple in DJing (until Scarlett Johansson and I get together and form ,
Kampfire Killaz
, are the special guests, they'll be bringing some booty and juke to the electro, tech-house and underground house that is the normal soundtrack.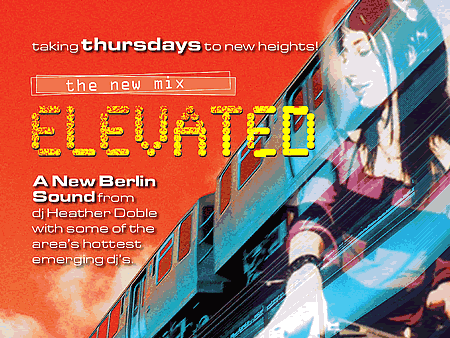 -Finally, Debonair Thursday is your other plan for the night Chicago. Trancid and Mark Gertz of Dark Wave Disco have brought in DJ Crowd Killa and Million Dollar Mano for someone's going away party. Not a bad way to see yourself off, great music, great place, no cover. Debonair Social Club (1575 N. Milwaukee Ave.), big things from the DWD this weekend, stay tuned.