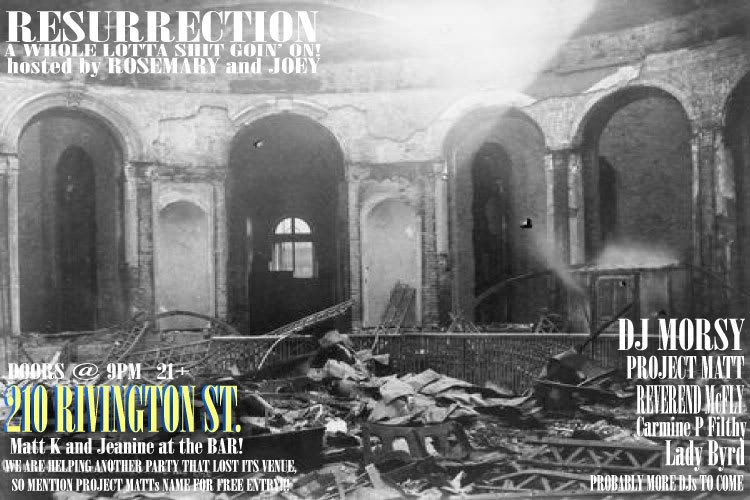 I'm writing tonight's preview on some Cal Ripken shit, as I injured my back last night, things tightened up and so I am on the party DL. You, however, are not and will need to do it up extra big to make up for my lack of presence. There are more than enough choices, I'm going to just get the word out in as few words as possible. Last night we had two parties listed at the same venue mistakenly; tonight, we have two parties coming together with Project Matt's weekly Resurrection and the Save The Robots one that was moved with my dude Carmine Filthy and Lady Byrd at the decks. Robot music and Dirty South bangers, the
Pound for Pound
dream mix. Free, Revolver, 21+.
-Yeah, my bol DJ Dimitry is spinning at tonight's Misshapes! Lots of good people there, Micprobes, Spencer Product, live performance by Anamanaguchi, Six Six Sick girls guest hosting. Ferchrissakes, it's Misshapes! Don Hill's (511 Greenwich@Spring St.) $3 mixed drinks and $3 beer from 10-12, so get in early.
-We Thoro in the boroughs. Mr. Andersonic, Philly's Dev79, BD1982 and Skinny Friedman of the Philadelphyinz are going to bring the BASS to my hood, Williamsburg, at Capone's (221 N. 9th St.) No cover, 21+, 10-4, free pizza with your drink. Seriously.
-Nearby, Sweatshop Labor stays on the grind with their first and third Saturday party at Macri Park (462 Union Ave.) Johnsville and Lucas Walters, make it a Williamsburg night.
-Dark Wave Disco + Le Castle Vania = total Chicago disco freakout! Sonotheque (1444 W. Chicago Ave.), 21+, 9-3, drink specials.
-These guys,
Jefrodisiac and Richie Panic
, don't stop. Another edition of the
Frisco Disco
tonight, looking at their myspace bullentin and going.com link, I really wish that I was at this one tonight. It truly looks like a fun party every single time, San Franciscans appreciate what you have! The Transfer (198 Church St.@Market St),
rsvp here to get in free
before 10:30, $5 after that, 21+. Late Update: a fashion street scene photo site
Streetpeeper
will be in the house, using the Disco to get a sense of SF fashion, so you, you wear something nice.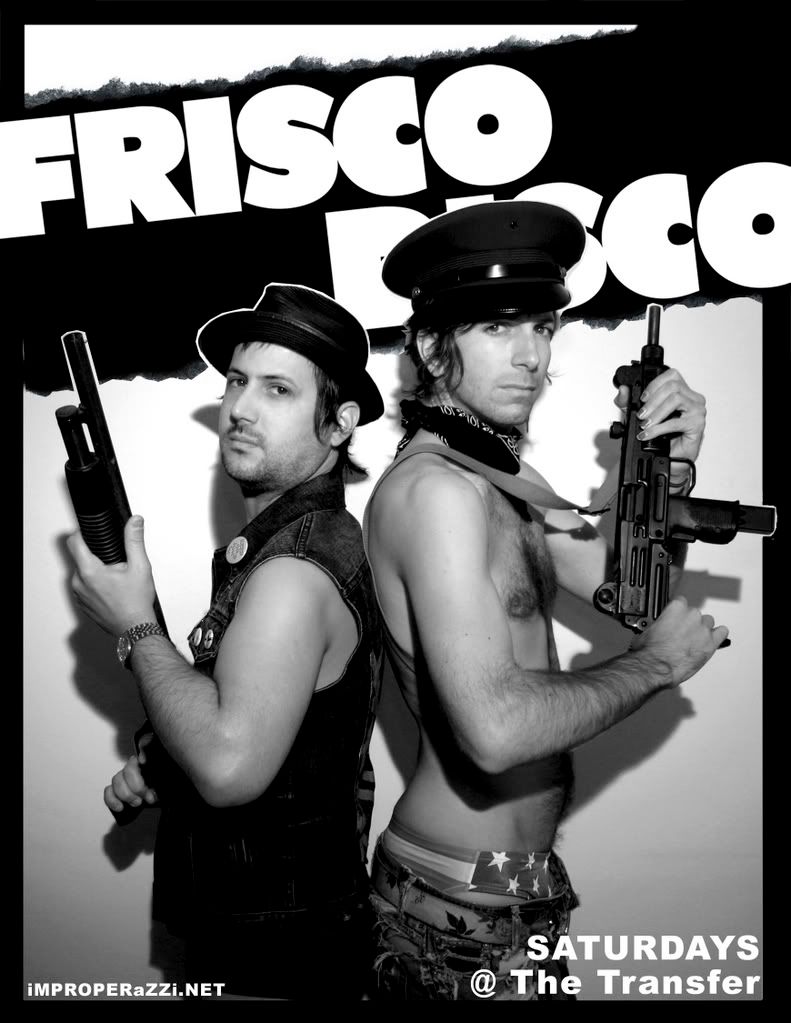 -Another massive Check Yo Ponytail - live sets by Dandi Wind, Passions and Bedtime For Toys, Djs Franki Chan & Paparazzi, photos by Shadowscene, ice cream truck and BBQ. The Echoplex (1154 Glendale Blvd),
free if you RSVP here
, $10, 18+
-20
-