I mean, New York, do you see this flier? Do you see this party listed above? No Disco Comprehendo has brought life to my cold, dead, blogger scenester blackheart. I'm not even going to ramble and try to be funny. Just the facts, m'aam. Prince Language, Lee Douglas with special guest from Full Pupp and Norwary, Todd Terje. 205 (Chrystie&Stanton), in the basement, free, 11-4am, 21+, brought to you by I Heart boutique. Let disco set you free.
-If you don't feel like walking down a flight of stairs, there's a new party called Heartime at 205 upstairs starting tonight. Resident DJs are Marc-Alan Gray, June Deuell & Coco Martinez, they'll be spinning lots of dance tunes, many of the indie rock variety. 205 (Stanton & Chrystie), free, new weekly.
-Further uptown, G-Spa goes to the next level, bringing in one-third of The Rub, DJ Ayres. You know what the man can do, so you know that you'll want to be at the Gansevoort Hotel (18 Ninth Ave.@13th Street) tonight. Brought to you weekly by Project Matt, Jeremy Asgari, Yossi C, Cipha Sounds, Jamal, Jess, Daniel, Lara and Brian Bongard, this one's for those of you who want to do it up in style.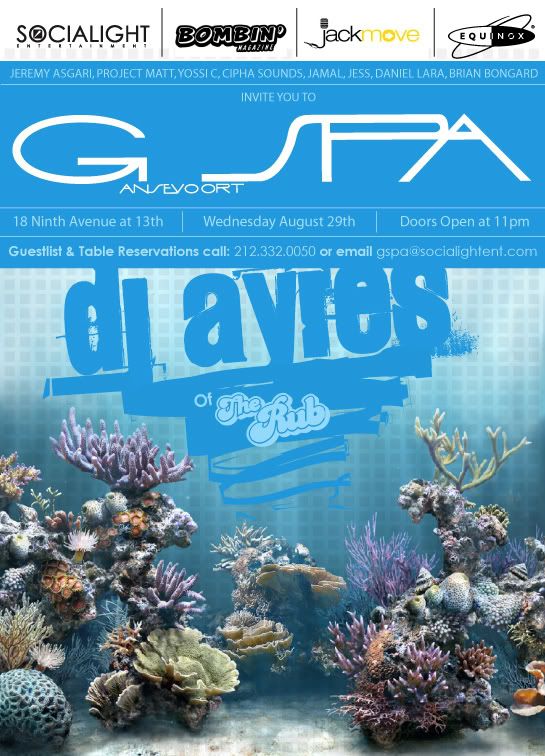 -Down in the motherland, the Seclusiasis stars Damn You All To Hell with their street bass, grime, dubstep, heavy choons. They're joined by Funkshun's Owen Howard for this party at Upstairs at Sal's (200 S. 12th St.) It's 21+, free, it's not a bad way to spend your final night before going to hell.
-Here's another new party at Pound for Pound, Ruff Gemz in Seattle. I learned about this one b/c of the special guests tonight, NYC's own Rezound and Workweek. But, a few other factors held my attention, namely a nice, lo-fi flier, a DJ named Jack and $1 High Lifes. What else do you need to know? Let's see...it happens at The Baltic Room, free before 11, $3 after that, residents are *F.I.T.S.* a.k.a. Fucking In The Streets and Sam Rousso Sound System. Seattle, this is your Wednesday from here on out, okay?
-Down the coast, Club Moscow does its thing, workmanlike, quiet, skilled. Keith Wilson just keeps on bringing dope parties, and tonight is no exception. Pound for Pound favorites LA Riots are in the house; the dancefloor has been warned. There are three bands playing as well - Black Palms, Buddy Akai and A For Attack. Plus, resident DJs Raulie and Keith 2.0 hold things down as always. Get to Boardners (1652 N. Cherokee Avenue@Hollywood Blvd), 18+, free with flier before 10:30, $5 after that.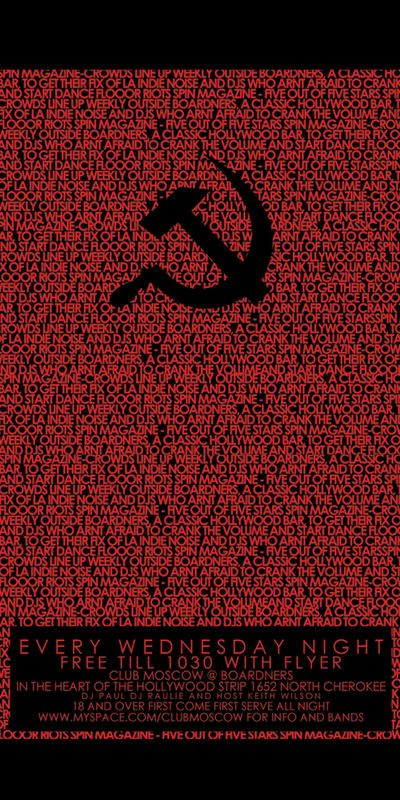 -Finally, Club Redd continues to give me size anxiety with their massive fliers. But, with some of the best DJs around