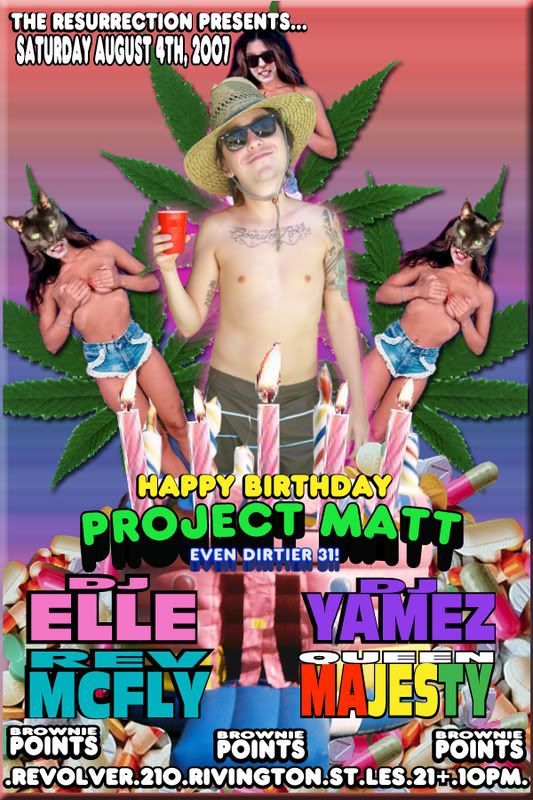 We're going from East to West tonight. Still don't believe that Leos run this shit? My bol Project Matt celebrates his 31st birthday tonight (yeah, someone older than me!) at his weekly Resurrection party at Revolver (210 Rivington St). I really believe that this party is going to be the best thing to happen to Saturday night in New York City in a long time. It's at great spot in a great location, far enough east to avoid the lawyers and bankers and Jerseyites, it's got great DJs playing music you love, decently priced drinks, places to sit, places to dance. It's up to you now, do you want to keep complaining about how shitty the LES has gotten or do you want to start bringing the good ole days back. Some seriuous DJ heat tonight, with DJ Elle, DJ Yamez, Reverend McFly and Queen Majesty. Free, 21+, you will not be disappointed. Happy birthday to Matt!
-The Sweatshop Labor dudes - Lucas Walters and Johnsville - look like they have a new party to speak of, every first and third Saturday of the month at Macri's (462 Union Ave@Metropolitan). Macri's seems to be making a push to bring in some good DJs and parties, they've chosen well with this one. I think it's free, 21+, a chance to do it up big on the Lorimer stop, yeah!
-Ahhh, one of my favorite Philly parties does its monthly thing, as Crimp Yr Hair takes over Upstairs at Sal's with their Re-Up party. This one's gonna be on some summertime, sweaty, halfnaked, freestyle and bass, melt your face steez. Unfortunately, Mr. JHN RDN will not be able to make this night, but no problem. The addition of RDN would have made for an epic night, but the Crimp Yr Hair bols will more than make up for it with a little extra nastiness. Free, as always, do it big Philly.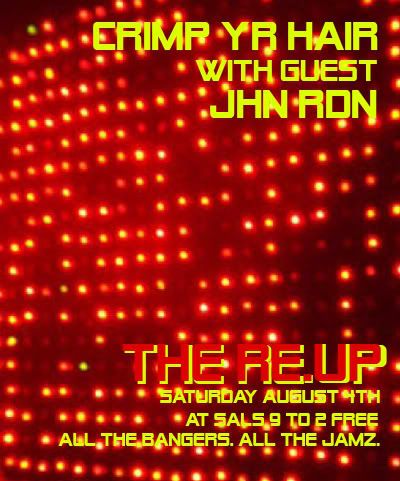 -Jeez, Chicago is on fire, one huge night after another. Tonight it's the Dark Wave Disco's turn, as they host this night's massive Lollapalooza afterparty. You get special guest DJ sets from The Faint and Blake Miller of Moving Units to go along with those by residents Trancid, Mark Gertz and Greg Corner, another night of amazing line-ups. It happens at Sonotheque (1444 W. Chicago Ave), 21+, goes til 3 AM.
RSVP at going.com for free admission
, enjoy the $3 Svedkas and 312s (no clue what a 312 is, but how bad can anything be if you add vodka, right?), have fun.
-We can't forget about the geographical middle of the country, as DJ Candlewax does his weekly Fiddle With The Volume at Fatso's (1016 Mass St.) in Lawrence, KS. $2 cover, 21+, once you clear those hurdles, it's all bangers and good times.
-Finally, out West, two of my favorites go down. First, in San Francisco,
Richie Panic and Jefrodisiac
do their
Frisco Disco
thing. I go on and on about this one, but as they say, a picture is worth a thousand words. So,
check out some flicks
by
Meleksah Jurgenson
from previous editions of this amazing party, look at the beautiful faces having the times of their lives, the debauchery, the near-nudity, the simulated fellatio, the disco ball, it's almost too much, it brings tears to my eyes to see such a great party. Get to The Transfer (198 Church St.),
rsvp at going.com for free entry
before 10:30, then fix up, look sharp.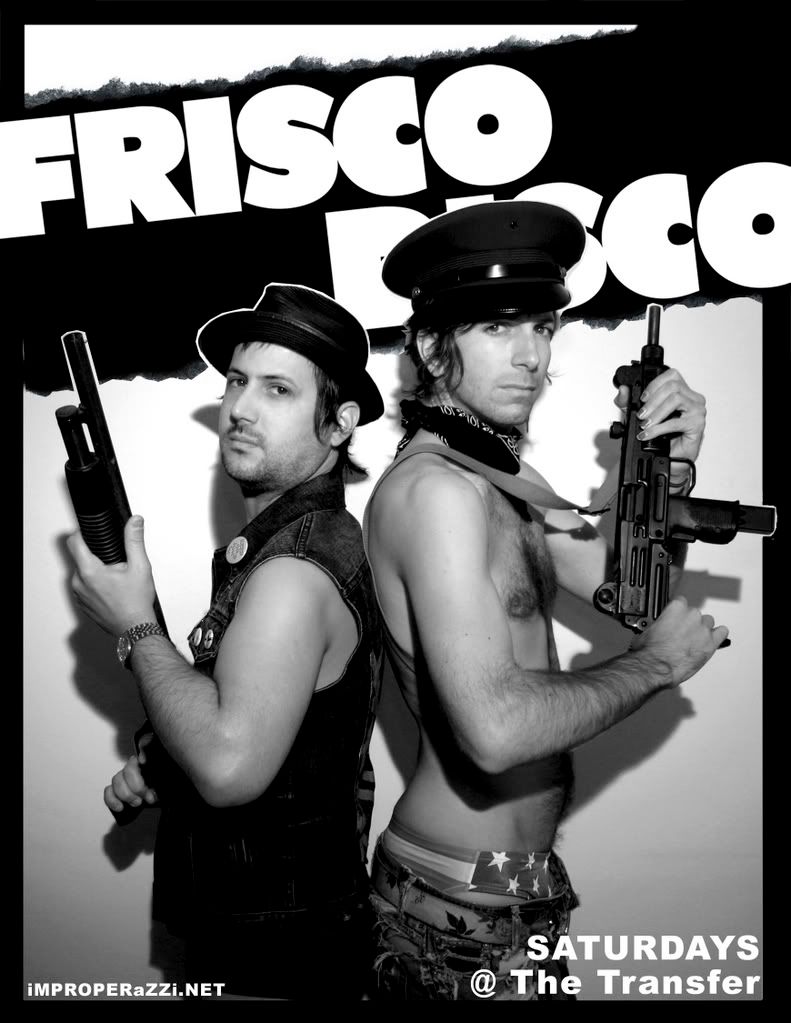 -In LA, the new Check Yo Ponytail does its thing tonight with a doubleheader. First, there's an early concert featuring The Locust, The Bronx and Qui feat. David Yow, a fundraiser for Ferdie Cuilda of 400 Blows. Immediately following that, around 10ish, Check Yo Ponytail with Franki Chan, Paparazzi and special guest Andee Frost will bring that dance-y rock music out and make you dance your troubles away. All of this goes down at The Echoplex (1154 Glendale Blvd), the club is below The Echo, main entrance through the alley. $5 after 11 tonight,