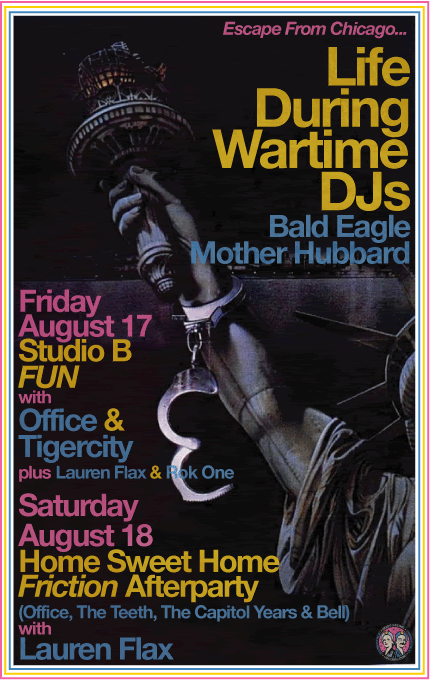 DJ Bald Eagle,

Live From The Fuck Hut #1
(YSI link)
Oh mang, I'm so excited for this, as one of my favorite DJs,
DJ Bald Eagle
, is hitting up New York City this weekend. I cannot recommend checking out these parties above more highly, as he and
his partner

DJ Mother Hubbard
are gonna kill it, I guarantee. First up, they're special guests at the weekly
FUN party at Studio B
(259 Banker St.), which features live sets by Office and Tigercity and a DJ set by resident Rok One and
Pound for Pound favorite Lauren Flax
. Then, tomorrow night, the scene shifts to the Lower East Side, as the duo spin with Ms. Flax at the Friction afterparty for the bands Office, The Teeth, Capitol Years and Bell (whoa, that's two Philly bands, love it) I mean, seriously
Life During Wartime
+ Lauren Flax = game over. Do this, New York City!
For those who don't know,
Bald Eagle
is one of the dudes who are making Chicago the city to reckon with on the dance party front, the man behind the
Life During Wartime party
,
the Prime Time Of Your Life monthly
and various other guest appearances and one-off parties. His first mix is one of my favorite of 2007,
Live In The Fuck Hut Volume 1
, gives you a great sense of the dude's sound, so download it above if you haven't already and . I've really been psyched about all of the amazing shit coming out of the Windy City, love the community vibe, feel they have there and the loads of talent and good people and good parties. I'm excited that they are starting to get much-deserved attention from other places, hope that they can start getting gigs all over, as they deserve to take over the whole world.