It looks like New York City is first out of the gate for the huge holiday weekend, the last days of summer. Of course, it's not always who runs the fastest, but who perseveres. What does that mean? I have no idea, I'm exhausted. Anyway, make it a Lower East Side night tonight, as there are three really nice parties below Houston featuring some of my favorite DJs. First up, the Common Folk bols - Johnsville and Pizza and Piano - play host to the Walter Meego afterparty tonight at Home Sweet Home (131 Chrystie St.) They have Jess Jubilee from Modular Records as the special guest DJ. There's a Zygo energy vodka open bar from 10:30-11:30, watch yourself with that one. This is another NYC party that deserves a much bigger audience, but all in due time, all in due time.
-A few blocks away, Even Further does its weekly basement party celebrating disco and dance and debauchery. Oh, tonight they are celebrating Marisa's 25th birthday. If she's a friend of Even Further, she's a friend of Pound for Pound. Happy birthday Marisa, you've chosen a great spot to celebrate, as Carmine P. Filthy and Rudy Mungi have brought in Crush Calculator to deliver the party rockers. Get to Happy Ending (302 Broome St.@Forsythe) and try to remember how amazing it was to be 25 years old again.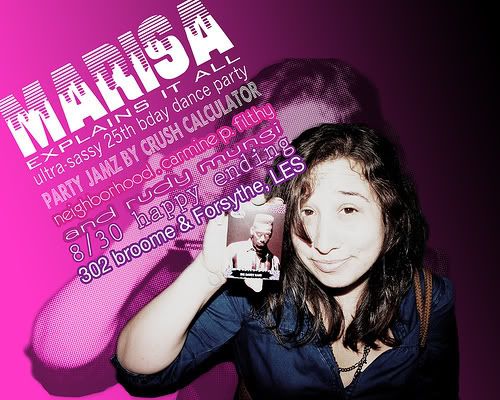 -There's no flier, but trust me it's happening. The Lewd bols - rekLES and Seanmuthafkkinroberts - are doing a one-night only set at Revolver (210 Rivington St.@Pitt) I caught these guys at Happy Ending the week before and can say that they are two of the best DJs around right now, imo. I'm also a big fan of Revolver and the Lower East Side, so this one comes highly recommended. No cover, drink specials all night long, what more do you need?
-For those of you who want to stay a little further uptown, you must hit the Cheeky Bastard Thursday night party at Hiro Ballroom (371 W. 16th St.@9th Ave.) This one features live sets by two of my favorite up and coming electrorockdiscopunk bands, Data and The Passions. If you get on the list, it's free and therefore an amazing deal. DJ sets by Sam Sam, Alex English and Peter Makebish, 2 for 1 vodka drinks from 10-11 and 2-3, 21+, get there early for free Lucky beer from 10-11 and an early show by Wide Shut.
-Oooh, here's a late addition. There's a party called Gully Action at The Knitting Factory in the basement, following the Meat Puppets show. There's a plethora of DJs, no cover, a chance to party and dance at the legendary concert venue, this looks like it's gonna have a semi-regular status too.
-Okay, what am I talking about? Chicago is quick out of the Memorial Day weekend gate as well, kicking off the massive Institubes Paris Terror Club tour tonight at Darkroom (2210 W. Chicago Ave.) It features Para One, Surkin, Curses! and Orgasmic along with special guests for tonight only, DJs Zebo and Josh Rodriguez. It's brought to you by Boombox Disco and Eudora plus lots of websites and magazines and good people, hosted by Vyle. Here's the final reminder to
rsvp at going.com for free entry
, things start at 9, enjoy.
-There's also the Thursdays at Debonair with your resident DJs Trancid and Mark Gertz, the weekly party at Debonair Social Club (1575 N. Milwaukee Ave.) 10-2, no cover, amazing DJs, a logical stop every Thursday if you ask me.
-I don't remember if I mentioned this one before, but there's a new Thursday weekly in LA. It's called Swerve and it features the resident DJ Daniel of LA Riots. For real, the dude doesn't sleep, as that's the only explanation for how he could spin like 900 times a week. Hardest working man in show biz, I do believe. Anyway, this one's brought to you by Tapatio de la Noche and Collin Thalken, it goes down at Scorpion (6679 Hollywood Blvd) There's some flicks from the last one and all I can say is that there are lots of beautiful people at this party having lots of fun.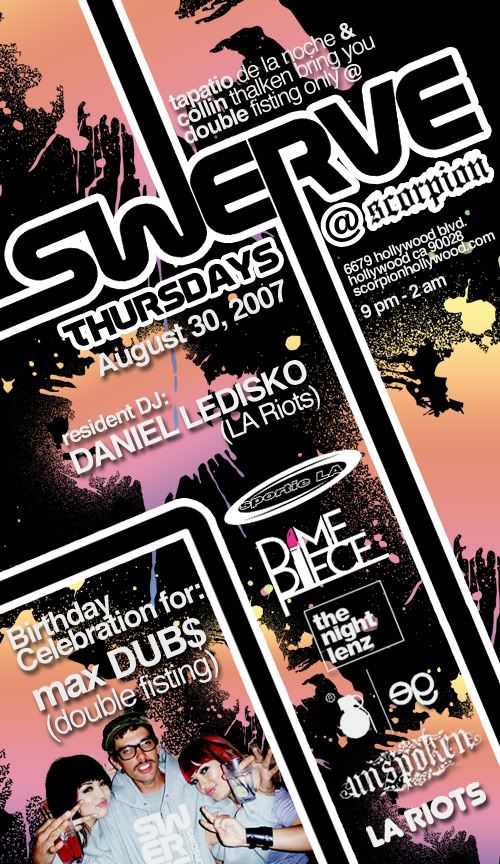 -Finally, I could barely wait to mention this party. It's called I Don't Get Down With Zombies, Yo, it has one of the best fliers ever, it features Rev. Underpants, Academik and some special guests, it's $5, 10-2, it happens at the Rx Gallery (132 Eddy@Mason). Whew, I just had to get that out there in one fell swoop, that felt good. San Francisco, check this one out, I like this one, just a gut instinct.