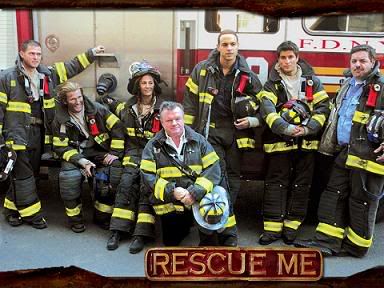 The Von Bondies, "Cmon Cmon"
Fontella Bass, "Rescue Me"
Aretha Franklin, "Rescue Me"
Every now and then, a show comes along that knocks me over. I don't watch much TV these days, but one show that I make sure to catch is
Rescue Me
on the
FX network
. It's close to joining my pantheon of great television shows, joining
Homicide
,
Law and Order
, early
NYPD Blue
, dramas that are as good as anything on the big screen. It's an amazing work of art, full of pathos, comedy, self-destruction, self-loathing and obscenities. That should explain why I think it's perfect.
I don't normally talk about my personal life, particularly after that disastrous post-breakup debacle. (Egads, what a time to hit Save Post that was!) But, it's difficult to talk about this show without discussing the fact that my father was a Philadelphia firefighter for 25 years. Yeah, yeah, it sounds so cool, riding on the fire engine, dalmations, blah blah blah. In fact, it's a horrible job where you risk your life everyday, your family waits for news that something bad has happened and you only get appreciated when one of your own dies. The show looks at this, but also looks at the ways these men handle the stress and pain (hint: booze!), the comraderie, the laughs, the bonding. Most of all, the show treats these men as men, flawed, angry, mean, loving, confused, neurotic, hurt. The tag for the show sums it all up perfectly:
They Save Us. But Who Saves Them?
It's at the heart of the show, a question that may never be resolved. It's eerily accurate on all fronts, from the firehouse to the depression to the family life.
The reason for this post at this time is that tonight is the season finale, a good chance to get on board and catch all sorts of big plot moves. I really think that if you catch one episode you will be hooked, no better time than now to put this theory to the test. You can grab the first two seasons on DVD if you do become a fan, as I hope to do when I take care of some pressing monetary responsibilities.
The Von Bondies' song "C'mon C'mon"
is the theme song, which totally works perfectly in the credits, and the other two are classic soul songs with the same title, "Rescue Me." So good, they almost hurt.