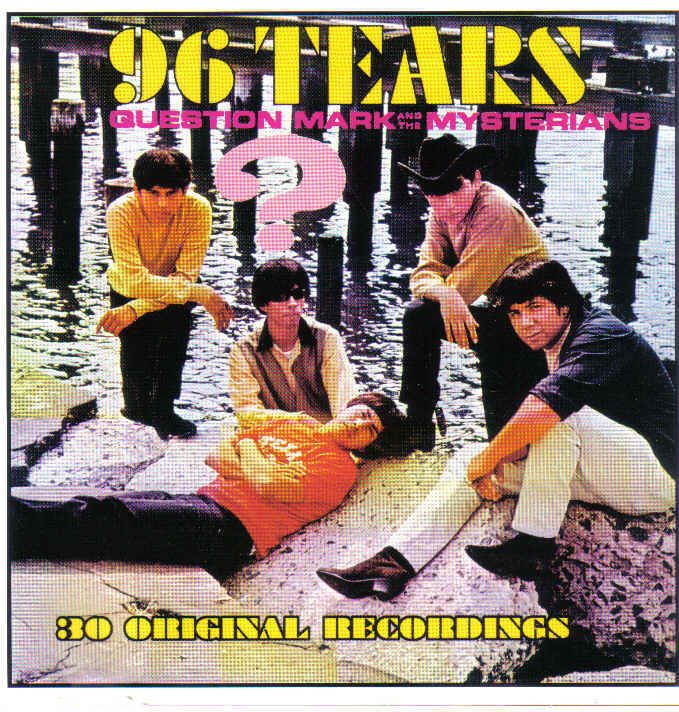 Question Mark and the Mysterions, "96 Tears"
(
YSI link
)
Aretha Franklin, "96 Tears"
(
YSI link
)
Suicide, "96 Tears (live)"
(
YSI link
)
Primal Scream, "96 Tears"
(
YSI link
)
Modern Lovers, "96 Tears (live)"
(
YSI link
)
The Stranglers, "96 Tears"
(
YSI link
)

Eddie and the Hot Rods, "96 Tears (live)"
(
YSI link
)
Garland Jeffreys, "96 Tears"
(
YSI link
)
Big Maybelle, "96 Tears"
(
YSI link
)
Every so often, I become obsessed with a song and pretty much take it to its limits. The song "96 Tears" is the latest example of this process, the focus of the past week or so for me. For those who read my Dylan posts, the song was brought back to my attention on Dylan's
Theme Time Radio Hour #39 Tears
. I had head the song before, but had never heard it, if you know what I'm sayin'. It's a fucking doozy, a sad and twisted song about love, broken hearts and revenge, where the singer plots revenge on the woman who broke his heart and now laughs at him as her life has moved on. Yes, please. Hearing Question Mark sing, "I wanna hear you night and day, yeah all night long, 96 tears, c'mon baby, let me hear you cry now," I knew that this was something different, pop music for the ugly, the hurt, the sad and the wicked and that was good.
The original version was written and recorded by
? and the Mysterions
, just your typical Mexican-American band from Michigan fronted by a man who went by the symbol for the question mark, never gave his real name and always wore sunglasses. They would make their only real impact with their first single,
"96 Tears,"
but really, what more was there to do? The song is as simple as gets, a three-note rock song that features Farfisa and Vox organs. It's the organ sound that takes this from a great song to one of the greatest, ominous and haunting, the song that comes to mind is
The Animals' "House of the Rising Sun,"
which has a similarly dark and brooding organ-led sound. It fits perfectly the lyrics, never quite letting you feel comfortable. It's Question Mark's show, giving an almost James Brown-level vocal performance, check the little screams at the end and the falsetto "96 tears" shouts and try not to get chills. You can hear the rest of the music the band put out with
this best-of compilation
that covers their short career.
The covers are actually damn good, although none comes to the level of the original. Garland Jeffrey got a minor hit out of it, it's clearly a beloved live show cover staple and artists from every genre have found something great in it. Not surprisingly, the best version to my ears is one by NYC synthpunkers Suicide. It's the perfect vehicle for the duo, minimal and vocally improved, the boys make it even more brutal and electronic and cold. I could honestly listen to this one forever. Another favorite which fits
Pound for Pound
perfectly is the version that
Primal Scream
did on their
Kowalski
EP
. It's a bit dancier, with that guitars mixed with acid-y basslines and synths sound that they pioneered.
The band considers the
Aretha Franklin
version their favorite, which isn't a shock. I mean, it's Aretha Franklin! Her version is good, but almost too warm for the lyrics. A sleeper here is Big Maybelle's, which brings horns into the mix and lets Maybelle do what's necessary, putting out what sounds to me like something Motown would have got behind. Beyond that, it's mainly rock versions with
Jonathan Richman and the Modern Lovers
' live version my favorite.
Let me leave you with the words of Alan Vega at the end of Suicide's version: "Question Mark and the Mysterions, 1965. Your national anthem, whether you know it or not."