Much more CMJ happenings tonight, but all things considered, I'd rather be in Chicago. Just a fucking massive night of electroindiedanciness at the Metro complex (3730 N. Clark St.), starting with the Justice show upstairs at The Metro with the Midnight Juggernauts, 9 pm. Aftewards, you head downstairs to SmartBar (3730 N. Clark St.) where the one and only Erol Alkan is spinning along with the amazing
Prime Time of Your Life DJs, Bald Eagle, Popstatic and Konsept
. I mean, are you psyched Chicago? Are you fucking psyched? The show is sold out, so you do not want to sleep on the afterparty.
Buy a $5 ticket now in advance
and guarantee entry. I know it seems stupid or unnecessary for a dance party, but who cares? Are you willing to take the chance? I wouldn't either,
go here and grab a ticket
and then enjoy the prime time of your life. Yeah!
-There's a ton going on in Philly tonight so let me recommend
checking out this post
at the always on-point
FiftyOne:FiftyOne blog
. I do want to highlight this
Jazzanova/Rob Paine night at Fluid
(613 S. 4th St.), which should be deep, house-y, dubby and good.
RSVP here
to get on the list for $5 reduced admission before midnight ($10 otherwise all night) Also, sadly there's no flier, but I still want to tell everyone to hit up the Khyber for the final
Driz Horse
, a great weekly party upstairs that's been going on for awhile now. They'll be tough shoes to fill, we'll let you know what's next in this space.
-I can't think of a better follow-up to a Philly listing than by mentioning its inferior cousin, Brooklyn.
Blog

Big Stereo

is putting on
their
first East Coast party at Studio B
(2590 Banker St.) tonight and it looks like a doozy. First up, the bands:
Dandi Wind, Thunderheist, Purple Crush, The Glamour and Miss TK & the Revenge
. Next, the DJs:
Bigstereo dude Rchrd Oh?!, Ruff Club-ers Spencer Product and Denny Le Nimh, Finger On The Pulse's DJ Never Forget, Baron Von Luxxury
and late addition Junior Sanchez. Also, photos:
LA's Shadowscene
continues her tour and will be snapping shots of you and your pretty face all night. Finally, the details: tickets $8, 18+, doors at 9, goes til 4, free t-shirts to the first 50 in the door, a Brooklyn Beer open bar from 9-10 (whoa! atz nice!), 2 for 1 beer and well drinks from 2-3. Pretty awesome, right?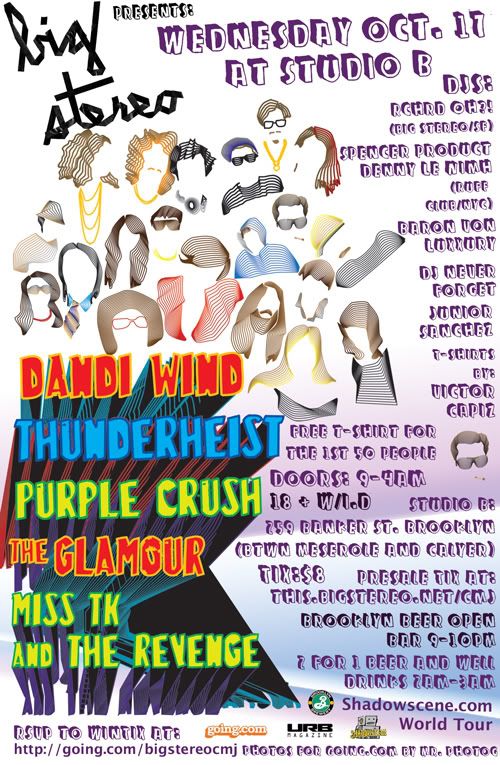 -For those of you in Manhattan for CMJ shows, tonight's your chance to hit up one of my favorite parties and a regular here on
Pound for Pound
,
High Voltage
. Dimitry and birthday boy Jason Hates You are putting on the
Run-Roc CMJ showcase
, which means lots of live bands (Taigaa, Freddie Ma and the unfortunately named Retarted Kittens), but I'm most excited for guest
DJ Richie Panic of Frisco Disco
being in the house. I expect my dude from San Fran to absolutely kill it and I expect it to be packed. Zygo open from 11 until its gone, free t-shirts, photos by NickyDigital, an essential stop on your late-night CMJ tour.
-Not too far away, the Wednesday Happy Ending (302 Broome St.) parties have combined tonight for one massive two-floor CMJ extravaganza.
Hopchank, Nanachill and War & Moon
are hosting the
See MJ party
, which is also the official afterparty for The Black Kids show. This one is jampacked for real, with live performances by Bay Area rap crew
The Pack, Hollywood Holt and Vyle
, upstairs
Eliot Lipp, Dre Skull, Panda Jones, Cousin Cole and Rezound
are spinning, while downstairs you get
Million $ Mano, Rev McFly, DJ Morsy and Teenwolf
. Whew. Hosted by
Kitten Crew
, you get all of this for free, yeah free! and an open bar from 11-12.

-A little further uptown (right near the L!) is possibly the event of the night, as A-Trak and Nick Catchdub's Fool's Gold label does it showcase at Hiro Ballroom (363 W. 16th St.). All of the label people - Kid Sister, A-Trak, Catchdubs - will be there along with Ed Banger's DJ Medhi (doing a tag team set with A-Trak) and Kavinsky to bring that French cool that always impresses me, plus The Cool Kids. It's $12, a steal for so much talent, not sure about drink specials or age limits, sorry. The flier is for the tour that is currently happening but not much help on tonight's info. But who cares? It's a dope flier, love the Grateful Dead window sticker!