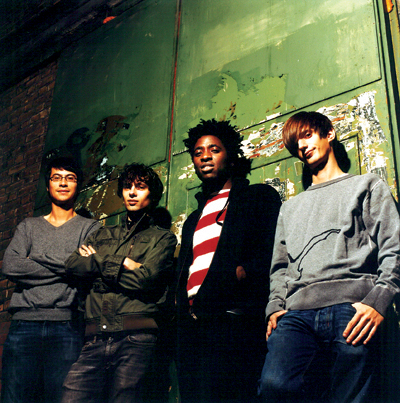 Bloc Party, "I Still Remember (Sebastian remix)"
(
YSI link
)
Bloc Party, "I Still Remember (Speak Junk Bassbin remix)"
(
YSI link
)
Bloc Party, "I Still Remember (Gavron Yes Boss remix)"
(
YSI link
)
I'm a big Bloc Party fan. Their first album,
Silent Alarm
, still gets listens on the iPod, a few of the songs on that one still strike a chord years later when I hear them they are that good. Their second and most recent one,
A Weekend In The City
, unfortunately, didn't reach the same heights for me, didn't have quite as memorable and/or dance-y and/or intense songs imo.
"I Still Remember"
was one of my favorite tracks from the album, nothing amazing, just one of those emo-y, anthemic tracks that these guys can put out and not make you feel like a 15 year old girl for liking. Like all Bloc Party singles, it's gotten the full treatment, being reworked by various producers. The main draw here is the
SebastiAn remix
, as the Frenchman has put together another amazing remix, one of his best in fact. He takes the original and strips the emo away with beats and bass. Add in some gorgeous, swirly synths, a fragile opening minute, a nice use of vocal snippets and you have yourself an epic remix. Not sure if this one's for the dance floor or what, but I do know that this one's made for headphone listening on the L (or F or Septa bus or whatever)
I was hesitant about the
Speak Junk remix
(it's the Speaker Junk bols sans the -er), as I kinda felt like it was a cool choice, but maybe not the best choice. The fidgety, bass heavy sound is a favorite, but wasn't sure it would translate to the indie song without feeling forced. I was happily wrong, as this is an excellent remix too. It's definitely more dancefloor-ready to my ears, a rubbery, snaking bassline kills me.
Joshua Harvey and Trevor Loveys
chop the shit out of the vocals, slicing and dicing them nicely, taking it completely out of the indie song world. Finally, I know little about Gavron or his Yes Boss duo, other than what I can read on the Internet. I do know that they are the ones who retain that epic, emotional sound, with repetitive, slow-building keys and synths. It's the incessant beat that does the trick most for me, brings some needed urgency to the original.
Grab a copy of
the new(ish) Bloc Party album here
and if you don't already own the debut, wtf!?!
Grab that immediately as well
or face the consequences.