How did I choose the top pick tonight? Two words:
Arthur Baker
. Arthur fucking Baker my friends, one of the figures on the Pound for Pound Mount Rushmore is spinning tonight at the
Dance Party Invasion at Studio B
(259 Banker St.) in Brooklyn. It's almost too hard to begin with the man's resume, let's just say that he was a pivotal figure in early electro and has remixed bands like New Order and Joy Division, he's a stone-cold legend. This is the main event for
Larry Tee's Dance Music Invasion 07 festival
and the clear highlight. The rest of the line-up ain't too shabby either, as Princess Superstar, Christopher Just and Larry Tee will all be spinning. $8 in advance, $10 at the door, things start at 11, RSVP at going.com.
-Before you head to Greenpoint, make a stop at Macri Park (462 Union Ave.) to hang with the Sweatshop Labor bols, Johnsville and Lucas Walters. They'll take good care of you, assuming you are 21+, get you feeling nice and happy, so nice in fact you may not make it to Studio B. Oh well, thems the breaks.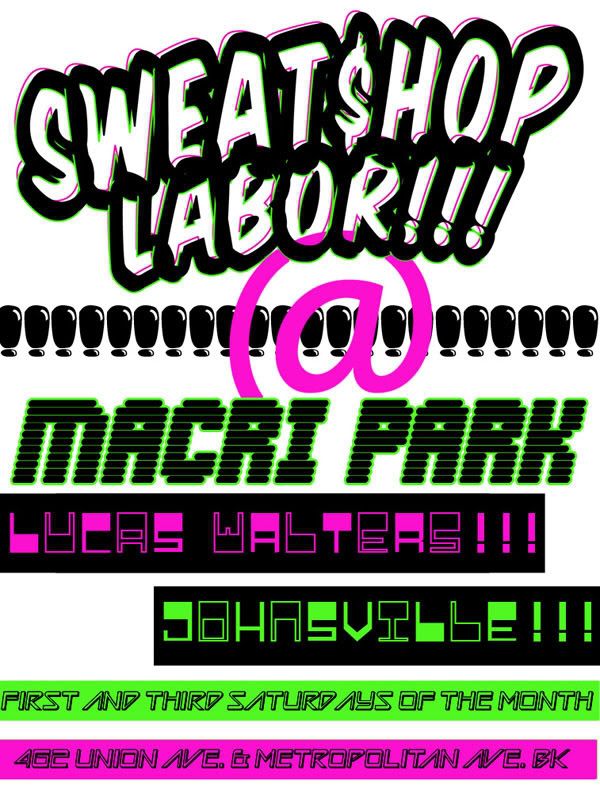 -For the Brooklyn southsiders, Even Further brings you Disorder at The Royale (506 Fifth Ave.@12th Street) in Park Slope. Carmine P. Filthy, Rudy M., LeLe of Remaxx and dGZRa will spin all night, from 9-4, no cover, 21+, Park Slopers, put away the baby carriages and stand the fuck up!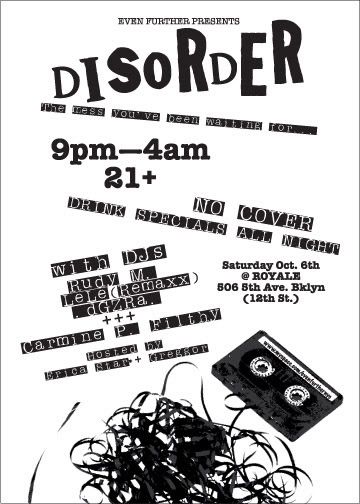 -I'm super psyched about this one, as I don't hear a lot from Boston people or hear much going on partywise, so it's always good to tune in. Even better, when it's a party featuring NYC favs Dimitry from High Voltage and Paris from Ruff Club! These guys are the guest DJs for the Paper party with resident DJ E-Marce at the Middle East Downstairs in Cambridge (480 Massachusetts Ave.), I belive this is a monthly party, but I need to confirm that. 18+, indie dance and/or bangers, great DJs, all in the People's Republic of Cambridge. Boston people, get at me and let me know what else is good, yeah!
-Ahh, I've been slipping on Philly lately, can't think of a better party to jump back in than
Hurrah
. This one used to be at Upstairs at Sal's, but it has decided to move north and west and literally down, down into the basement bar of Medusa's (21st and Chestnut). One of my favorite spots in the city for parties, it's the perfect spot for this party that plays dance music. Like acid house, italodisco, electro, all the sleazy stuff that works best in a darkened space where there's no room to stand on the wall.
Residents Shawn Ryan, Chris Rogy and Stereofaith
are joined tonight by Dominique O Aury of Two Spartans, 21+, no cover, 9-2 am. Remember, new venue, new night (1st Saturday of the month), same old rager. P.S. Awesome flier, love the massive amount of writing and words, plus the use of "fuckin'", phenomenal.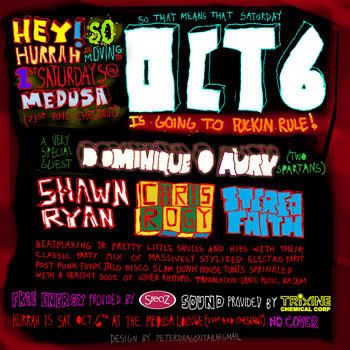 -Tonight's a Trancid night in Chicago. Our boy is pulling a doubleheader, starting out the night at the Blackout Society party with Kill Crash Memory doing a special DJ set. Our boy is doing a tag team set with Jdub, Zebo and De La Mota are also on the decks. There's live sets by Menowah and CopHandz. You're gonna need to RSVP at blackoutsociety@gmail.com ASAP for reduced admission and directions to the party, as it's a secret location jawn. Or you can call 773.337.1535 for directions and pay the full $10 admission. [LATE UPDATE: the address is 2106 S. Kedzie, 3rd floor, front door.] This one will take you to the regualr end of the night, but for those of you not ready to call it night...
You're gonna want to head to the Electronika party, which is going late. This one looks to be on the darker, more hardcore side of things, although I'm really just saying that because the gas mask image on the flier reminds me of a Lenny Dee CD I own. Not that there's anything wrong with that of course, should be a great time with industrial, techno, hardcore and more. Trancid is joined by Echonine, Eddie Riot and Akira Smith at another secret location jawn presented by Hot Jams and Blacklisted. This one goes down 4814 S. Pulaski, which I'm gonna assume is not in the normal party zones of Chicago. Take a chance, you know these are the nights and events you will always be talking about.
-The Too Much Love people are right back at it after the massive LCD Soundsystem night. If they aren't taking a break, you shouldn't either. Head out to First Avenue in Minneapolis for the return of Joe Cruse in the DJ booth, joining up with Soviet Panda and Mike 2600 for a night of dance music. 18+, $3 or student ID,
-It's a big week for LA Riots as they head to NYC this week for the first time. But, let's not get a head of ourselves, as they are still in CA, spinning tonight at the Discoteca party in Costa Mesa. They're joined by Colossal KNXN, Tea Long and XTRA Small for this monthly party that is new to me, it looks good, expect crunchy electro, indie dancers, bangers, remixes, or just expect the unexpected, it's your choice. It happens at the Detroit Bar (843 W. 19th St.), the same spot that hosted Datarock early in the week, some nice things happening in Costa Mesa for sure. 21+, $10, RSVP at discotecaparty@gmail.com for reduced list.
-It's Saturday night in San Francisco, you already know it's Frisco Disco time. Every Saturday at The Transfer (198 Church St. & Market), 21+, debauchery, dance and disco. I wanted to send out word that one-half of the duo, Richie Panic, has lost one of his DJ bags with a good amount of valuable vinyl. If you have seen it, please holler at the dude on myspace and put his mind at ease. Good luck, Richie.