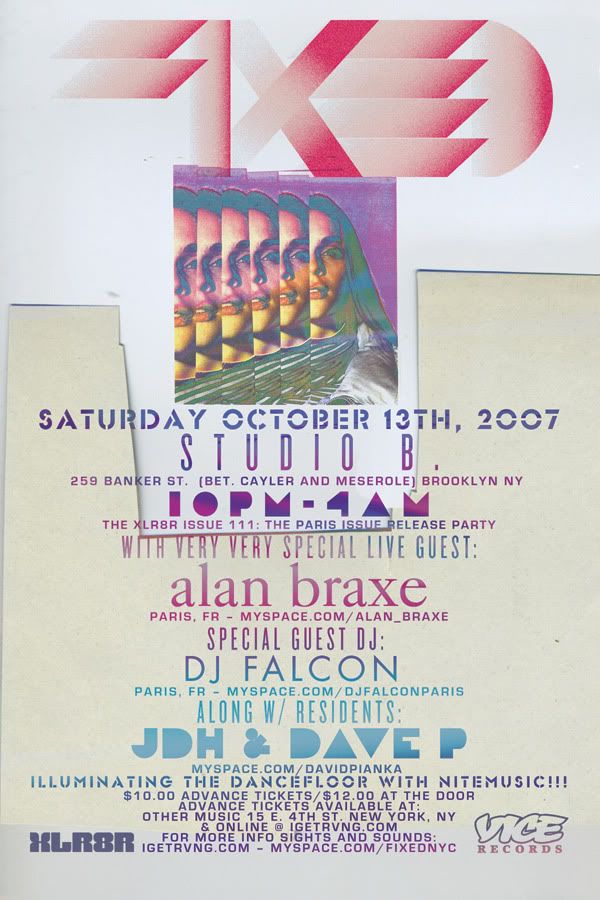 Okay, Making Time was gonna be the event of the night last night, but I dropped the ball. Luckily for Brooklynites, Dave P is bringing the party to us as he and JDH do another
Fixed at Studio B
(259 Banker St.). This one's a special one, as the guests are
Alan Braxe and DJ Falcon
, who have been tearing up the dancefloors of the US this week. Braxe is playing live, DJ Falcon is in the booth, joining
Dave P and JDH
, housenitemusic to make you realize how beautiful the world is. $10 advance tickets, $12 at the door, huge dancefloor that is begging to be filled tonight. In the words of Mr. Pianka, "can we all freak out like crazy people tonite!?!" Can we?
-Before or after, stop by Royal Oak (594 Union Ave.) in Williamsburg for the latest edition of the
Hi-Tops and Hearts party
. DJs
Tiny Pants and Kelly Green
of the Glamour will spin the music you want to hear in the back room, lots of great drink specials up front. 21+, no cover, brought to you by the amazing Love Brigade fashion label.
-Another option, closer to the Bedford stop, is the
Sound Advice party at Supreme Trading
(213 N. 8th St.). I never really know what's going on at that place, so it's good to see that there's a nice Saturday night weekly party with resident DJs Teenwolf and Elsewhere. Tonight's a good night to check it out, as Pound for Pound favorite Rezound of Rezound and Workweek is the guest DJ; expect a great night of great music regardless of genre, good drink prices, no cover.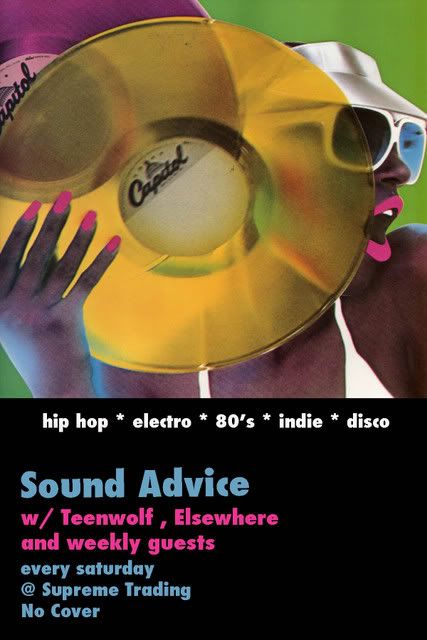 -For those in Manhattan, there's a cool event going down at
Don Hill's
(511 Greenwich St.) tonight. It's called
Style Wars
, which involves battles between fashion designers as they attempt to craft looks in a few minutes through ripping, tearing, painting, adding objects, whatever it takes. Not sure how this will play out, but at the very least it's a great chance to check out The Rapture guys, Mattie and Druzzi, and the Ruff Kids spin. Check out the going.com page for more info and a chance to buy $8 advance tickets ($12 at the door). Brought to you by the
House of Diehl
and a who's who of NYC party life, it's nice to see something a little different go down.
-I know, I know, the Meatpacking District. It sucks, douchebags everywhere, blah blah blah. Well, I feel like you got to know the right time to head into that area, when you have one destination where you can stay the whole night and not have to expose yourself to the elements. The
Saturday night weekly Changez Le Beat downstairs at Lotus
(409 W. 14th St.) is just that kind of destination, as
DJs Marc-Alan Grey, Sujinho, June D and Deryck Todd
will drop baile, dance, hip-hop and rock that will make you never want to leave. Bring a good crew, get there when things start at midnight and have fun.
-Down in the greatest city,
Philadelphyinz
return to Medusa (21st & Chestnut) for their monthly jam.
Apt One and Skinny Friedman
are taking over the dark basement bar for the night, expect the unexpected. Disco, Bmore club, remixes, edits, pop, rap, crunk, hyphy, house, there are no boundaries. 21+, no cover, Philadelphyinz!
-A little more center in Center City, the 80s party at Sal's celebrates its first anniversary tonight. Congrats to DJ Solobuns for holding it down for an entire year with this bi-monthly, 2nd and 4th Saturdays jawn. Celebrate with free Sparks from 9-11, then dance the night away to music from the decade you barely remember. No cover, 21+.
-A special
Frisco Disco
tonight, as one-half of the resident duo, Jefrodisiac, is turning this into his bachelor party. First off, congrats on the upcoming wedding, mazel tov! Second off, having seen the pics from their normal weekly outings, I cannot even begin to guess the depravity and debauchery that will go down at The Transfer (198 Church) I am picturing strippers, hookers, a horse eating amphetamines, Tawny Kittaen and Tom hanks, wait, sorry, I'm acutally picturing the highly underrated 80s flick,
Bachelor Party
. I guess that everyone in San Fran is going to have to head there and find out what Richie Panic and Jefrodisiac have in store. Thankfully, for the rest of us, Shadowscene will be in the house to preserve it all for posterity. Amazing surprise guest DJs, not sure what else I can say.
-I'm gonna promise this party no references to The OC, The Hills or Laguna Beach. With that out of the way, the

Trust party at Proof Bar

(215 N. Broadway) in Santa Ana looks like a good one tonight. LA and SF are in the house, with guest DJ Luv Tek from Genre and Era, The One from Tekdbz and Sound Spoliate join resident Sonic D for a night of electronic music and all of the genres that entails. It's nice to see a party willing to mix it up, as that's a rarity with this type of music. $10 cover, $5 if you get on the guestlist at the myspace page, 21+.



-Finally, I have begun my slow but steady process for a move to Paris, hard to not wanna be over there. Sadly, I'm not there yet, as the Institubes Express 999 is pulling back into town tonight for a massive party at Elysee Montmartre (72 Blvd de Rochechouart). Curses! and Para One live, Bobmo, Surkin, Das Glow, Tacteel, Orgasmic, Teki Latex and Jean Nipon DJing. 15 euros in advance, 20 at the door, presented by On Air Prods and Open House.