If I was being honest with myself and my dear readers, I would recommend only eggings for tonight. Fuck parties and dancing! It's Mischief Night! But, alas, I'm an old man and I cannot condone vandalism and mischief as they are morally wrong. Thankfully, there are a ton of great parties going on tonight and I won't have to consider my lost youth. The next two nights are DFA nights for New Yorkers, if you so choose. Tonight, hit up 205 Club (205 Chrystie@Stanton) for the Holy Ghost! Record Release party where resident DJs Jacques Reneault and Justin Miller will spin all night with a great mix of dance music from disco to house to electro and back again. I believe the band is playing live, RSVP at justinandjacques@gmail.com to get on the list, show up early to make sure you get in probably as well. I'm a huge fan of the band's first single, love the basement of 205, love these DJs, feel the love people, feel the love.
-Ooh, another great event in NYC tonight, think of this as co-event of the night or something.
New York Magazine
are throwing a dance party called
All Hallows Madness
. No seriously, they are and they look to have done the damn thing. Pound for Pound favorites
Chromeo and Kudu
are playing live, along with Dan Deacon. Not sure if they are going to be DJs, but I'm guessing that there will be. It's a costume party, so try to dress up. There's gonna be cash prizes for best costume, plus a scavenger hunt, and an open bar all night! Like whoa. 21+, $25 tickets on sale
here
and at the door, doors open at 9 pm, coolest of all is that it's happening at the Judson Church (55 Washington Square South), should be a memorable night if you don't black out from the open bar.
-Sadly, tonight's the final editon of the
See You Next Tuesday party in D.C.
This one's called See You In Hell, nice to see them go out with a themed bang. DJ People's Champion is joined by
Atari Crunk, i.e. Chris O from Yo Majesty and Taxlo and DLake from Taxlo
only. Get to Wonderland Ballroom (1101 Kenyon St. NW) and party like crazy one last time and say goodbye. No cover, 10-2 am, 21+.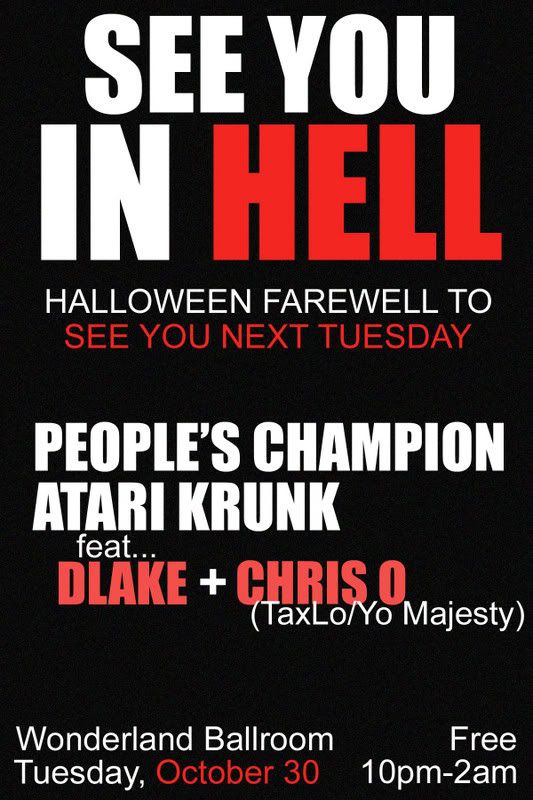 -Two cool events in Chicago tonight. The Outdanced weekly plays host to the Whitey/Rory Phillips tour we mentioned this weekend and which I got to check out Saturday night. Highly recommended, you already know that the Outdanced night is highly recommended. Combine them and watchout! Joining the UK stars is Brilliant Pebbles live and Jordan Z in the DJ booth. RSVP at outdanced@Yahoo.com to make sure you get in, drink specials and $2 PBRs all night, doesn't look like a costume party for the record, so The Funky Buddha Lounge (728 W. Grand Ave.) should be safe from Amy Winehouse "lookalikes" and slutty [fill in the blank], sorry. P.S. What's the Devil's Night shit?
-The Smartbar is the choice for those of you looking to get dressed up tonight, as it hosts the Art Brut after/costume party. When The Eagle Met The Wolf and DJ Stv Slv will provide the music, no cover, 21+, doors at 10 pm.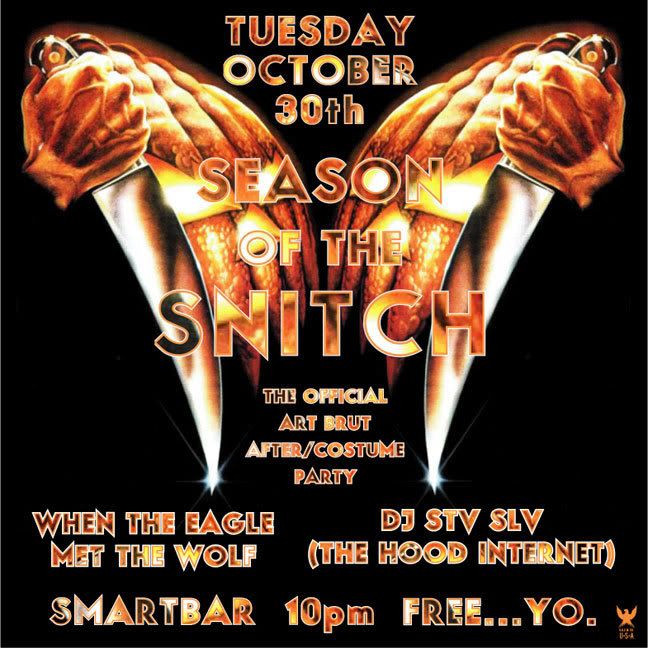 -Whoa, I didn't even know LA had lofts, so you know I had to hype this
Hocus Pocus Loft Party
in the City of Celebrities. Luv Tek, S!n, Billy Noorlag, DJ Hyphy Crunk, Bul!m!atron!, DJ Dskotk and DJ Score are spinning at this 18+ costume party, there's an outdoor and indoor areas, photos by Red Slurpee, drinks by B.A. Events, all for only $5. It happens at the Purple Loft (430 S. Pecan St.), should be something nice and different out in LA.
-Finally, the New Young Pony Club is wrapping up its US tour, only two more dates including tonight's show in LA at The Echo. You know that we love NYPC, Muscles and Modular, so you know we think that this is a great show to check out. DJ Pube$ supports, $15 advanced, $18 at the door, 18+.