As a kid growing up in Philly, Halloween went from being a holiday for the night of October 31st only to daylight the day of to a day before, all in the name of safety or something. Not really sure what this has to do with anything, but basically it appears that the closest weekend night to the 31st has now become the official night to dress up and freak out like a crazy person. Lots going on in my current home of Brooklyn, what with the White/Rory Phillips party in the other post, and the two in this one. First up, the Lose Your Shit goes down in a loft in Bed-Stuy (172 Classen Ave.) and features a ton of great DJs, like Tim Sweeney of Beats In Space/DFA fame, Ron Morelli, Lloydski of Turntable Lab and Peter Gunn, $mall Change and Reagonomics of Broklyn Beats/Pure Fire! Whoa, those names may not be the biggest in the game, but trust me, this should be an amazing night of dance and debauchery. $10, starts at 10 pm, presented by Mean Red Productions.
-On the southside of Williamsburg, my bol Project Matt is back and he's spinning at the grand opening of a new spot called the Southside Speakeasy (245 S. 1st St.) Nightmare On South First Street could turn into one if you utilize the drink specials, $1 PBRs, $3 well drinks, $4 PBRs and a special shot (I think). It starts around 10, prizes for best costumes, Matt and guests dropping rap, reggae and bangers, head there after the KCDC Halloween Party at the skate shop on N. 11th btwn Berry & Whythe, which has art, skating and a tribute to metal music. Yeah! Williamsburg!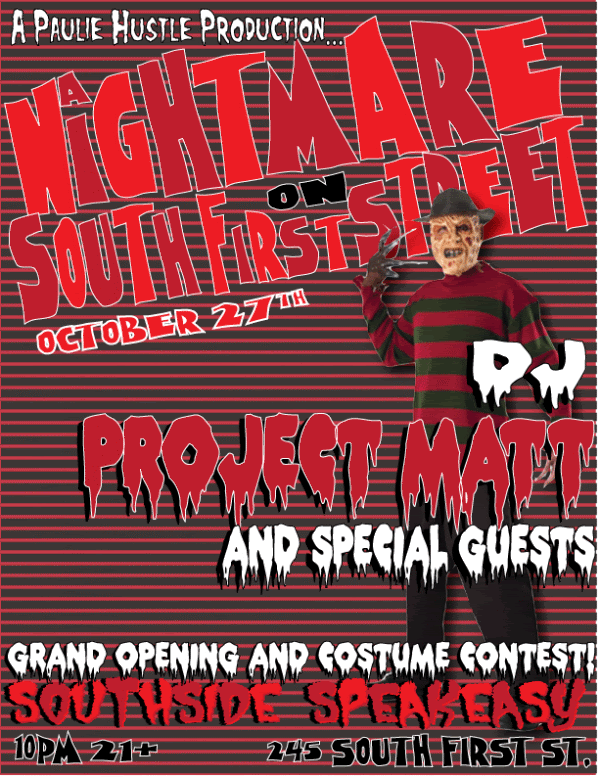 -A late addition, for those who don't wanna leave the L train world, McKibbin Lofts (255 McKibbin St.) are doing their thing for Halloween, which means an insane, packed party in various lofts. Amazingly, I feel like people being dressed up in make-up and masks and slutty costumes won't really be a huge change of pace. Lots of bands, art and DJs will be there, but you're gonna wanna find the room on the first floor that Lauren Flax and Dances With White Girls are spinning and camp out there.
-
-Down in D.C., that dude
DJ Will Eastman
(check back for an exclusive remix from our dude early this week) is doing a
Bliss Halloween party at the Black Cat Backstage
(1811 14th Street@S Street). He's promising ghouls, sexy robots, dead rockstars, Crunkenstein and most of all, pure, simple bliss! There's also guest DJ Pogo, costume contests. Please watch this video flier (!!!) and you will feel a little better about the world:
-Columbus Ohio, stand up! While many believe that Pound for Pound has never left the East Coast, I did have a great time in Columbus hanging with an old friend who went to Ohio State. I know that this isn't a football game, it's better! It's Nick Catchdubs and D.C.'s Dave Nada spinning at Skully's Music Diner (1151 N. High Street) for the 5th Annual Halloween Party with a $500 costume contest and haunted house. This should be a cool event, good to see Ohio doing big things. Shout out to my bol DR.
-Hell, I've also been to Chicago, shout out to SS. Tonight,
Club Jamz and UR Chicago
do their Halloween bash,
Monster Mash-Up
. Residents
Mother Hubbard of Life During Wartime and Mister Wolf
have brought in guests
Miss Gab of Club Jamz, Willy Joy of Fly By Night, Vyle of Flosstradamus and Beatkids
for a huge party at Mix Lakeview Lounge (2843 N. Halstead). Free before 12, free all night with a costume, $2 Jello shots, $2.50 PBRs, a Wii set-up in the bar for video game playing, giveaways from Rock Star Games, 9-3 am.
-Or how about a Dark Wave Disco Halloween with Tommie Sunshine? The NYC trancerock DJ is the special guest at Sonotheque (1444 W. Chicago Ave.), along with Big Stereo's Rchrd Oh!?, joining residents Trancid, Mark Gertz and Greg Corner for a night of dance music from all over the spectrum. Hosted by Paul In Chicago and CK Couture, it's $10 before 11, $15 after, $3 Goose Islands and Halloween drink specials.
RSVP at going.com
, then go get crazy.
-Let's keep pushing further north and west, into Minneapolis. If we are talking about that city, you know we are going to mention Soviet Panda and the Too Much Love party. Panda, Jonathan Ackerman and Million$ Billion$ will spin all night at 1st Avenue (701 First Avenue North), you should wear a costume, pay your $3, then dance like crazy people. Sounds good, doesn't it?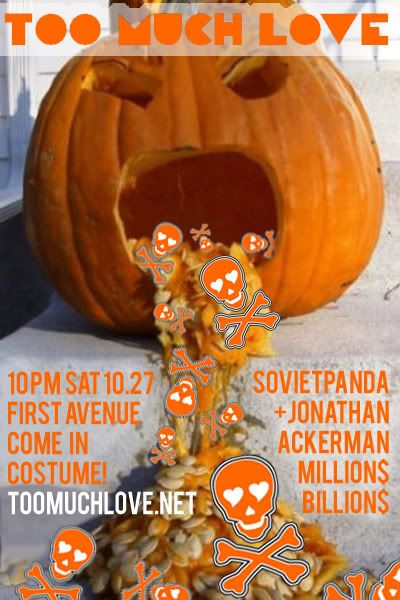 Oh, and there's an afterparty, Late Night Creepin', at Defi with Soviet Panda and many more. I'm not sure if that's the name of a bar or house or what. How can you find out more info? Go to Too Much Love, they'll tell you there!

-In the actual middle of the country, Nomathematics and Thunderous Olympian are doing a pre-Halloween bash at the Embassy Bar (3945 Main St.) in Kansas City, Missouri. Costumes are encouraged, so put some fake blood on or a mask, don't be that guy.
Lovin' the Midwest kids doing it big with afterparties til dawn, nice to see the spirit lives on in the heartland or something like that. West Bottoms Collective host, Thunderous Olympian and Ben from Tactic spin, 1409 W. 11th St., 2nd Fl, rave on.
-It's the eternal question, one which Plato himself wondered:
Are Friends Electric?
Thankfully, the people of San Francisco can come up with an answer once and for all tonight at Fat City (314 11th St.). Or else you can just go have the time of your life with MSTRKRFT playing a live set at this Halloween Monster Mash!!!! This one is
the event of the night
, no doubt, as Al P and JFK will melt your faces, then Sleazmore and Shane King will take you over the edge. Okay, advanced tickets are gone, but there will be some tickets at the door. Get there early if you want to guarantee entry, doors are at 9, I'd suggest being there in advance of that for real. $20, costumes recommended, there will be treats, candy, surprises,
Blasthaus
have given you a chance to have an unforgettable Halloween. Oh, sick flier, btw, best of the night.
-Last but not certainly not least, Blow Up LA have put together a huge party, check the DJs at this all-night rager. A few highlights: The Juan MacLean DJ set, Le Castle Vania, Philly's JHN RDN and Adam Sparkles (do not miss these dudes, LA!), lots of LA and SF's best, three rooms, haunted house. Costumes required, Shadowscene will take your picture in said costume, $2 vodka monsters from 10-11. RSVP to blowup@princehouserecords.com ASAP and get on the reduced list of $15 before midnight, $20 otherwise, 18+, doors at 10 pm, goes until it can't go no more. Brought to you by Anne Lee, Shadowscene and Double Fisted Underground, it's Blow Up Halloween Ball LA. Yeah!