Okay, I've been trying to not jerk off the whole CMJ thing too much, but tonight's the night to get out there. Some huge events, last night before the weekend crowd comes in and lots of
Pound for Pound
favorites are out and about. Yeah! First up, the
Heist party at Rebel
(251 W. 30th St.) is on some next level shit, for real. I'm just gonna give a list of people performing -
Deerhunter, Kissy Sellout, Le Castle Vania, Lauren Flax, Franki Chan, Toxic Avenger, Blake Miller of the Moving Units, The Loose Cannons, The Glamour, Oxy Cottontail, DJ Klever, Brandon Reilly and Rob Hitt
. It's actually overwhelming. The best news is that with so much talent and so big of a space this party has the best chance of avoiding the CMJ curse, i.e. huge crowds of people coming and going all night, creating huge swings in vibe. There's three floors, a stage for the bands, places to sit, hide, etc.
RSVP right this second
, as the list closes at 6 pm. Even if you miss, it's only $5 to get in, which is a steal.
-Damn, here's another huge line-up at a nice, big space. Cheeky Bastard presents the AM Only showcase at Hiro Ballroom (371 W. 16th St.) and it's jampacked with favorites. Let's see, live sets from Shout Out Out Out Out Out, Foreign Islands and Project Jenny Project Jan, DJ sets by Freeform Five, LA Riots, Dave P and JDH and Lazaro Casanova, plus residents Alex English and Peter Makebish. Whew, I'm actually tired after writing about these two parties. This one is definitely the perfect early night plan, as things kick off at 8 pm, there's a Lucky Beer open bar from 8-9, 2 for 1 well drinks from 10-11 and 2-3. It's all free with an
RSVP at the going.com site
, and it's a beautiful night, maybe take a walk to/from the previous party and see how the better half lives above 14th St.
-Okay, I feel like sometimes you get caught up during these festival weeks in catching the craziest shit and forget that it's about having fun. I really can't recommend more highly tonight edition of Common Folk at Home Sweet Home. Residents Johnsville and Lucas Walters of Sweatshop Labor and Rage Mountain of Pizza & Piano have invited Robot Blair of Music For Robots blog as guest DJ tonight, and I really can't think of a better way to spend your night than here, listening to cold, dead electronic music, contemplating how similar you are to Joe Kavalier and what a great call it was to choose this party and get sucked into a party with a bunch of indie writers. Free Zygo vodka from 11-12, no cover, 21+. P.S. These guys are killing the flier game, recognize!
-Here's a new party at Pound for Pound called Manifesto that I found doing a little research; it was a
Francoise Hardy
song that came up
on the going.com listing that
got my attention for the record. This one goes down at The Skinny (174 Orchard St.) every first and third Thursday, and features
Lady Byrd of Who Needs Radio?
on the decks. Tonight's a great night to check this one out, as it's Miss Byrd's birthday and who doesn't love a birthday party? This looks like it will be a great respite from the CMJ madness, great eclectic music, $2 PBRs and $3 Jack and Cuervo shots all night long, 21+, no cover.
-Close by,
The Musebox and Paper TV
do their monthly party at 200 Orchard, giving CMJers another option. This one has a ton of bands playing, Morning State, Stone Figs, Semi Precious Weapons, Bloodcat Love and Stylofone. Even better, you get DJ sets from
June D of White Dove, Julie Twinkle, DJ Select from Dallas and Omar from San Fran's Popscene
. Lots of free stuff, including giveaways from Williamsburg's coolest label Love Brigade! and Sesac, free PBR at the start until it's gone, free Dewar's from 1-2. Best of all, rsvp at rsvp@themusebox.net and you get in for free to enjoy all of these goodies. Hosted by Genevalentine, this is another good option for my LESers.
-Ahh, one close to home. One of our favorite labels, Modular, is doing their first CMJ event tonight at Studio B, making it hard to leave the borough.The main draw should be a chance to check out New Young Pony Club live, along with Muscles, plus The Cool Kids and Modular DJs are in the house to give you a healthy dose of indie dance music. I believe that there's also a DJ set by Simian Mobile Disco set (after their show at Williamsburg Music Hall), but it seems weirdly small-print on the flier so don't hold me to that. It's $12 at the door, dvance tickets are gone, 18+. Oh and it's also a chance to check out the next stop on the Shadowscene photo tour, as she'll be taking flicks here.
-Super cool event at Transit (600 Spring Garden St.) in Philly tonight, presumably in anticipation of my return to the homeland. This one's a hair/fashion show that will morph into a dance party late night, it's called An Uprising of Glamorous Outsiders and it's being put on by Razor & Blade salon. There's
-It's time for another edition of
Fly By Night
in Chicago, the sixth it looks like to be exact, brought to you by
CrossFaderKing
and Fly By Night. Tonight's features a DJ set William Russell of Jokers of the Scene, a live set by Mic Terror and resident DJs Willy Joy and Capcom. This one's also an early starter, as things kick off at 8 pm. If you can get to Empire Liquors (1566 N. Milwaukee Ave) that early, it'll be worth it, as there's $1 PBRs while supplies last.
RSVP and let them know you're coming
, 21+, no cover, looks like a short hop to the next party btw.
-Speaking of Modular, Debonair Thursday is hosting the Muscles album release party at the always excellent weekly party with Trancid, Mark Gertz and Greg Corner of Dark Wave Disco. Go for the album giveaways, stay for the amazing DJs spinning the best in dance music and the $3 PBRs and $3 Effen Vodka cocktails. Debonair Social Club (1575 N. Milwaukee Ave) plays host, 10-2, 21+.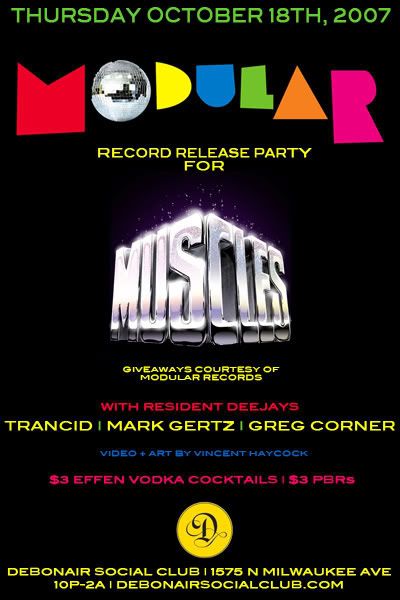 -West Coast comes alive tonight. First up, the
Electropolis party
jumps off again, as it will every first and third Thursday. This one looks so good to me, I mean it's an "electro-centric night"!!!!!! Tonight's a good one, as
Lights Down Low's Sleazemore
is in the house as guest DJ along with
Playdoughboy of Elektro Love
. They join up with
resident Kid Hack
and lighting guru Pete for a great night of dance music and some free vodka from 9-10:30 at Etiquette (1108 Market St.). 21+, $5, 9-2,
rsvp at the going.com site
.
-What are the odds of two parties being called Heist happening on the same night? I check and it's one in 174,000. The Heist is a new LA party that happens every Thursday at The Airliner (2419 N. Broadway), tonight you get guest DJ sets by John Bourke, Dj B and Luv Tek in the main room with DJ Score, there's actually 3 rooms with different music genres in each, so something for everyone. 18+,
-Finally, it's a special night in San Jose, as
DJ AM
is making his first appearance tonight in the city.
Creme de la Creme
has brought him to town and it looks like it's gonna be a special night at Angels (400 S. 1st St.) AM is joined by
Frisco Disco's Jefrodisiac
and
DJs Solarz and Guzie, a.k.a. Rock-It! Scientists
for this one,
rsvp and you get all of this for free
. Woah, a thousand people are signed up, this one should be crazy, don't sleep.