Sorry for the lack of party posts, but I had to take this week off from all of that, only way I can keep my focus. As my bol Michael Corleone said, "Just when I think I'm out, they pull me back in." It's amazing shit like this new party in San Fran called
Electropolis
that make me come back excited. This one should be dope, hosted by DJ KidHack and VJ Pete, it features DJ sets by some of the city's best - White Girl Lust, Johnatron of Beeper City and Intoner of Death Guild. This one goes down at Etiquette (1108 Market St.@7th St.) the first and third Thursdays of the month, but here';s your chance to get in on the ground floor, the opening night!
RSVP at going.com
for free admission before 11, $5 otherwise. Black and white dress is encouraged, not sure why. I do nkow that you'll get a great night in a beautiful space, prizes and surprises and most importantly, "the best of electro rock, dance punk, hyphy booty hop, death disco, techno crunk, acid house, indie rock remixes, 80's mashups, and 70's re-edits."
-LA, actually Costa Mesa, Datarock is in town and you'll want to catch this show. They're joined by Foreign Born for a night of the indie dance that the kids love so much, and by kids I mean me. There's also DJ sets by Dan Sena and GMO of Busywork, photos by Shadowscene, all for the low, low price of $10. It happens at the Detroit Bar (843 W. 19th St.), only for 21+.
-It's always nice to check back in and see the bulletins and flier for the Common Folk party at Home Sweet Home (131 Chrystie). The bols Johnsville and Lucas Walters continue to make this one of the best weeklies in the city and put up the funniest myspace bulletins ever. I highly recommend being their myspace friend, but even moreso, head out to this party. Tonight should be a good one, with special guest DJs Willy Joy from Chicago's Fly By Night and Kelly Green of The Glamour. Oh, and Rage Mountain will be there as well, everyone celebrating with free Sparks from 10:30-11:30. No cover, birthday party action, make it happen.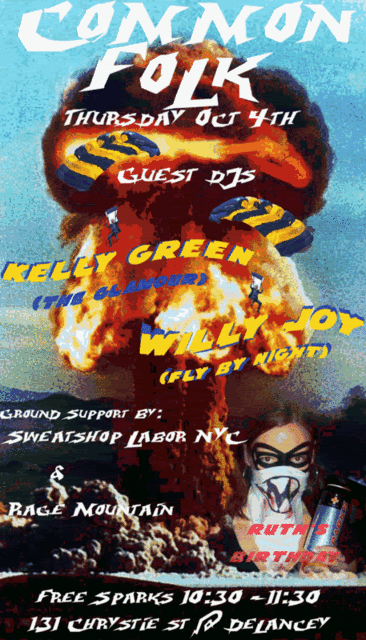 -Nearby, another great weekly goes down at Happy Ending in the basement, as Even Further goes even further. Carmine P. Filthy and Rudy Mungi keep doing a great dance music party at one of my favorite spots during the week
-You know you have a pretty big-time party when special guest James Ford of Simian Mobile Disco cancels the week of the party and you replace him with guest sets by members of Bloc Party. The boys are coming through after their show to drop some tunes, but I'd highly recommend getting in early to hear The Glass play live and a DJ set from fellow Plant Musicer Kaspar Bjorke. RSVP at going.com, open bar from 10-11
-Okay, I'm saving the best for last in NYC, The Wurst Monthly at APT (419 W. 13th St.) It's gonna be a disco, Frisco! The Wurst DJs, Lee Douglas and Runaway (Jacques Renault & Marcos Cabral) and My Cousin Roy are joined tonight by the amazing Pilooski of Paris' D.I.R.T.Y. Sound System fame. $10, 21+, this is an essential for grown folks. Do not sleep.
-Another great night in Chicago, headlined by Crossfader King's DPM party at Empire Liquors (1566 N. Milwaukee Ave.) This one's headlined by Paul Devro of Diplo's Mad Decent label, who's joined by The Cornrowz and E6 & Matt Roan. Hosted by Erica, it's also the 2 year anniversary of Good Night TV, should be a big night. RSVP to dpm@crossfaderking.com ASAP for free admission, then get there for the free Red Stripe from 9-10. That's a plan, people.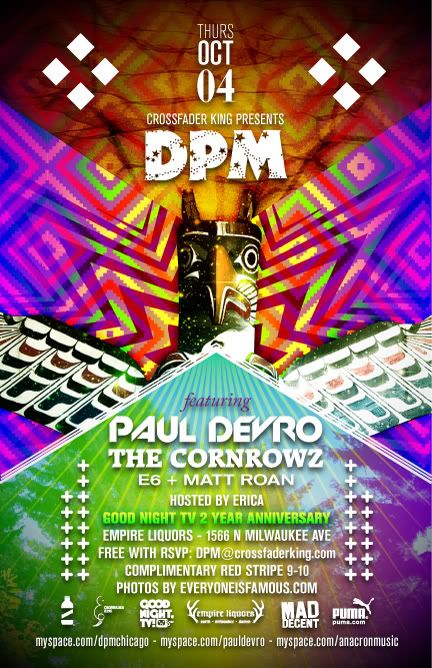 -Also, stop by the Debonair Social Club (1575 N. Milwaukee Ave) nearby for the weekly Thursday jawn with Trancid, Mark Gertz and Greg Corner. Tonight's a She Wants Revenge album release event, no cover, great DJs, always a good call.
-Fuck yes, it's Fuck Yesss. It's that time of month, Atlanta, when local stars Le Castle Vania and Treasure Fingers do their filthyelectrodanceindie night at The Drunken Unicorn at the MJQ Concourse (736 Ponce De Leon Place) There's a special guest from La La Land, DJ Paparazzi, who seems to be involved in everything going on that city. This should be an amazing night, starting at midnight, $5 for 18+, free for the 21+, awesome flier, great DJs, props to me for not referencing Hotlanta!