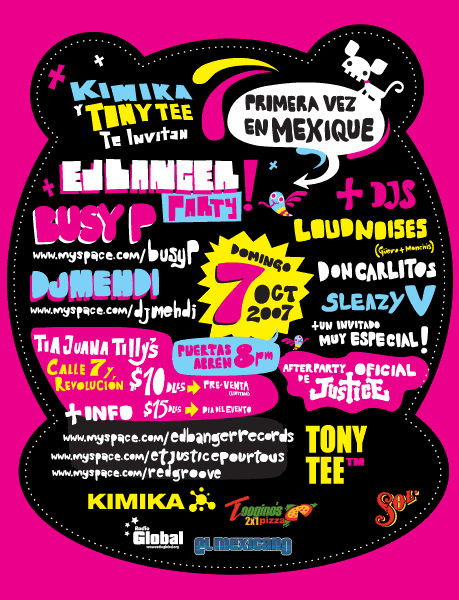 I normally take Sundays off, but since I was negligent this past week with parties and there's so much going on, I had to check in. Hard to know where to begin, as both coasts are alive with the sound of dance music. Let's throw a curveball and start out of the country in Tijuana Mexico, which I believe is a doable trip for Los Angelenos. Kimika and Tony Tee are putting on the Justice afterparty, as the duo has a show in San Diego tonight. Cross the border to hang with more Frenchman in the guise of Busy P and DJ Medhi at Tijuana Tilly's (Calle 7 & Revolucion) The Ed Banger dudes are joined by LoudNoises, Sleazy V and Don Carlitos for a night of electrohiphophouseindiesmileyrave music. Shadowscene will be in the house as well, photographing YOU if you make it out. Doors open at 8, tickets are $15 at the door, you may never want to go home. Late Update: Holy shit, Le Castle Vania will also be spinning, the disco meter just went through the roof, do not sleep on this one.
-For those of you who don't want to make the trek to Tijuana, or are scared after hearing the stories about the horse and the woman, there's plenty going on back in the city of LA. The main event is Club ERA, one of the regulars here at Pound for Pound. DJs Luv and S!n Tek have put together a huge one tonight, as they host the
Franki Chan/The Toxic Avenger tour
tonight. You get a live set by The Toxic Avenger, a DJ set by Mr. Chan, not to mention you get DJ sets from two other Pound for Pound favorites from out of town, SF's Sleazemore of Lights Down Low and NYC's Nick Hook from Men, Women and Children. Whoa. It also goes down at Sevilla Nightclub (3252 Mission Inn) in Riverside, California, as it does every Sunday. Doors at 9:30 pm, only $5 before 10:30, $10 after that. Get at
the guys on their myspace page
for reduced list info before 11:30, dress nice as there is a dress code, 18+, most of all, have fun!
-In the city, Plus+ Sundays presents a night of XLR8R with some of the magazine's DJs in the house, including Hours of Worship and Lazer Sword of B.E.A.R. Recordings. Those two join with resident DJ Mr. White, and guests DJ Legit and Tarek Antabi. It agoes down at Goldfingers (6423 Yucca St.), hosted by Chris White, Ryan Jaso, Cottrell Brandon, Brad Hoss and Ashleigh James. RSVP at PlusSundays@gmail.com for free admission, 21+, doors at 9pm.
-Finaly, there's Le Disko, one of the first parties I mentioned, still going strong at the Spider Club (1735 Vine St.) in Hollywood. Tonight's an especially good edition, as the three OG residents will be there - Keith 2.0, Daniel of LA Riots and Steve(n). Plus, special guest Red Foxxworth is in from Boston to destroy the dancefloor with a mix of electro, indie and rap. 18+, free before 11 with a flier, 5 measly bucks after that.
-Upstate in San Francisco, the weekly
Propaganda party
goes down at
Laszlo
(2536 Mission). This one is hosted by
Meleksah
every Sunday night, with Jefrodisiac on the decks spinning disco, house, some MC Hammer, just good music to help you dance your way into another week. No cover, it goes til 2am.
-There's not many fashion items I love more than a gorgeous woman's shoe, maybe a trenchcoat, a tweed skirt, a giant bra. So it's nice to see a party dedicated to the 50th anniversary of the stiletto, the shoe that has made men's lives better and women's lives more painful.
Slingback
is presented by
Deryck Todd
and features a packed DJ line-up with
JD Samson and Johanna Fateman from Le Tigre, Princess Superstar, Michael T of Motherfucker, June D of White Dove, DJ Sandra from Misshapes and DJ Fembot
. It's at Don Hill's (511 Greenwich@Spring St.), hosted by half of NYC including
AmyLulita of Shaw Promotions, Roxy Cottontail, Justin Hyte, Patrick McDonald
and others. There will be a raffle, giveaways, a shoe fashion contest, some crazy outfits and serious neckbreakers. $10 with RSVP at slingbacknyc@gmail.com, costume or shoe donation, $15 without, portion of proceeds go to Soles 4 Souls.
-If you are looking for something a little less intense, I'd highly recommend hitting up Darkroom tonight where Andy Pry and Dances With White Girls will be spinning all night. A great LES spot and since it's Sunday night it should be a good time to venture back into that area. Before I start to describe what downtown looked like last night, I'm just gonna stop, tell you that there's no cover, sadly no flier, two great DJs, great bar, nuf said.