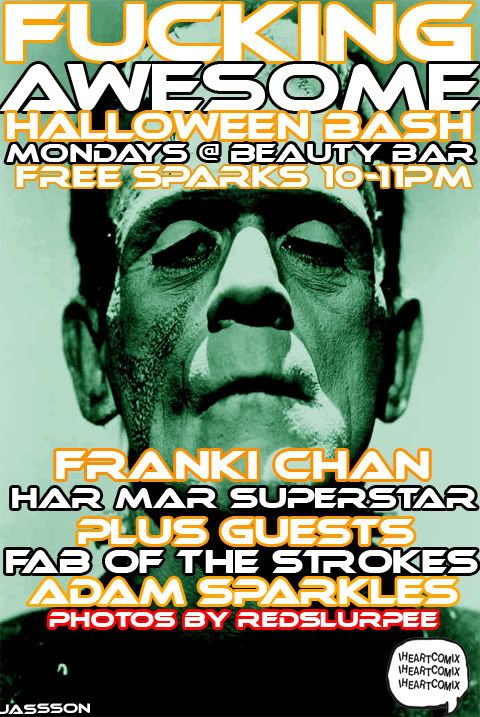 It's a West Coast night to the fullest, as LA and SF aren't waitin' for Halloween night. These are all excellent choices I feel like, so let's give some props to an amazingly-named new weekly from
Franki Chan
and the
IHeartComix
crew,
Fucking Awesome
. I should say that it's more of a remix or edit of a party that used to go down awhile back, it's being dusted off and updated. Each Monday, Franki and Har Mar Superstar are going to take over the Beauty Bar (1638 Cahuenga Blvd) and bring in special guests and start your week off right. Tonight, Fab of The Strokes will be there, but the main reason you're gonna wanna make it out is to catch Philly's own
Adam Sparkles
spin. Dude deserves a much bigger audience, part of the Making Time/RVNG crew, he will melt blow your mind for real. Free Sparks from 10-11, photos by Red Slurpee, no cover,
-Of course, it's Monday in LA, so Club Genre goes down at Cinespace (6356 Hollywood Blvd). This one's extra special though for real. First off, it's Genre Goes Monster, a Halloween dance party, a great chance to get dressed up and get all of that out of your system. More dear to this blog, the special guest DJ is Chicago booty house legend DJ Funk, making his only stop in LA, a one-night only thing, i.e. do not miss this. Residents S!n and Luv Tek will hold down the main room with Funk, while Zendo, Joaquin, Billy Noorlag and Jimmy Boy keep the Living Room area jumping. Free before 10:30, $5 all night with a costume, free candy, 18+, prizes for best costume. I mean, DJ Funk, for g-dsakes!
-San Francisco will not be outdone in the battle of California tonight, as
Robot Rock
has teamed up with
Modular Records
for a rad concert/dance party at
Mezzanine
(444 Jessie St.@Mint).
New Young Pony Club and Muscles
are both playing live, while resident DJs
Richie Panic and Jefrodisiac
spin all night. Grab
advanced tickets for $15 at ticketweb
or $18 ones at the door (and there should be tickets available). 21+, doors at 9 pm, this is gonna be an amazing night and you don't even have to put together some crappy last-minute costume to enjoy it! Yeah!