I grew up in a house that was greatly influenced by socialist ideals, which should help explain why we always stress the importance of the party, not the individual DJ. The party and the crowd, not the superstar DJ. But Lenin never had a chance to party with three of the best DJs like New Yorkers can tonight at Hiro Ballroom (371 W. 16th St.@9th Ave). Moby, Juan MacLean and Stretch Armstrong are the Degenerates, I presume, this week's edition of the Cheeky Bastard Thursday night party. I mean, those are just legends, all doing their things tonight on the same stage, just an incredible opportunity for real. Amazingly, it's only $5 with advance tickets, $10 at the door. 21+, doors at 10:30, complimentary Svedka vodka drinks from 10:30-11:30, so don't dilly dally. I mean, Moby! Stretch Armstron! Juan MacLean! Shout out to all the kibbutzim, Pound for Pound still believes in the collective.
-Ahh, but my beloved Lower East Side don't need no stars. It's just lots of good parties and good DJs and free booze, just like our forefathers used to do when they lived in the nearby tenements. First up, a new party that will hopefully be a regular thing called
Art After Midnight
.
The Gallery Bar
(120 Orchard St.) is a gallery by day and a bar (now) by night. They've made the wise choice of bringing in a DJ with impeccable skills and eye, DJ Tiny Pants of the Love Brigade. This one's hosted by Sushi Steve and Chris Alker,
RSVP at the going.com site
, doors at 10 pm, no cover, 21+. New party, art, yeah!
-Not to far away, one of my favorite parties in the city goes down again, as Unstoppable Perfect takes over the upstairs of Happy Ending (302 Broome St.) DJs rekLES & SeanmuthafukkinRoberts and hosts Julius O and Antwan of ithinkyoureswell.com do this once a month and it's always a good scene, girls, people dancing, the tunes that Pound for Pound likes and uploads, great DJs, and girls. No cover, 21+, 2 for 1 drinks from 11-12, a guaranteed good time.
-Okay, you know the Sweatshop Labor bols, Johnsville and Lucas Walters, will be ready for you at Home Sweet Home (131 Chrystie) with their Common Folks party. They've brought in special guest DJs $elect from TX and DJ Kevy of Integrated Radio for this edition of the weekly party, plus the Rage Mountain crew will be there as they seem to be regulars now. Oh, and bestill my cold, jaded, black hipster heart, they have free Sparks from 11-12. No cover, 21+, this needs to be a part of your Thursday nights.
-Over the river and through the subway tunnel, Brooklyn goes off as the Modular Monthly goes off with a live set by the one and only Digitalism. Album of the year contender, these dudes will destroy Studio B (259 Banker St.), and they will be helped in that destruction by DJ Alexander Technique and the Modular DJs. This one's 18+, $15 at the door, a great chance to see one of the best bands around in a great venue, don't sleep.
-For those down South, i.e. south of Williamsburg and the L or JMZ, hang with the
Brooklyn Art Collective
tonight. They've got a show early in the night from 7-10 callled
Selling The Shadow
at their space (20 Jay St, 11th floor), then the afterparty at Rebar (Front & Jay Sts) from 10-4 with
DJs Rev McFly and Code-D
plus live sets by
Ninja Sonik, Rocket Surgery and Lady Radiator
. FYI, this is all in DUMBO, just FYI. It's $5 at the bar, $4 if you go to the exhibition. Art, music, dancing, that sounds like the ingredients for a revolution.
-Mang, here's a really nice event in Chicago, imo. Felix da Housecat is back in his hometown, hitting up Debonair Thursday to spin at this weekly Dark Wave Disco jawn, that's serving as the official Shiny Toy Guns afterparty tonight. One of the second wave of Chicago house producers and one of electroclash's leading lights is back with a new album, dude should be primed to kill it in front of the home crowd. You're gonna wanna get out for this one, hit Debonair Social Club (1575 N. Milwaukee Ave.), 21+, no cover, Trancid, Mark Gertz and Greg Corner, a.k.a. the residents, are not to be fucked with either.
-You can also head over to nearby Empire Liquors (1566 N. Milwaukee Ave.) for the Bottle Service party with special guest DJ Mister Joshua. Another great local DJ, he joins resident Mr. Hiroki for a night of house, afrobeat, disco and much more. Check the early start time with doors at 8, free PBR at 9 pm until it runs out, no cover. I mean, seriously, these two are a nice night all planned out with a bow on top.
-I've been doing an awful job keeping up with Philly happenings, but it's nice when I get a softball like this. The new Thursday night weekly at Upstairs at Sal's (200 S. 12th St.) is gonna be run by one of my favorite labels, Seclusiasis, the grime-dubstep-bass-etc label/crew/radioshow. Tonight, you get DJs Ghost and Breakdown for a night of club bangers, street bass and classic anthems. No cover, $1 PBRs and $3 mixed drinks until 11, filthy, filthy music until 2 am. This one's gonna be a weekly, get in on the ground floor.
-Another great weekly in Philly, Mo Money No Problems, Steven Bloodbath's jawn at Silk City (425 Spring Garden St.) has a special guest tonight, the legendary DJ Skipmode of Electric City and the Ill Vibe Collective. This party's a 90s theme, so expect lots of hip-hop from when you were a teenager and singalongs and fun. 21+, I believe no cover, Silk City!
-Late Edition, West Coast: Swerve Thursdays goes down tonight like it does every week with resident DJ Daniel Le Disko of LA Riots. I'm not even gonna get started about basically missing the LA Riots set last night at Studio B. So, you, you get there early to Scorpion (6679 Hollywood Blvd) and have no regrets, see Daniel kill for every single second of the night. Assuming you are 21+, that is. No cover, brought to you by Tapatio de la Noche and Collin Thalken. Can I just say, I love the black on black flier, very late Rothko, love it love it love it.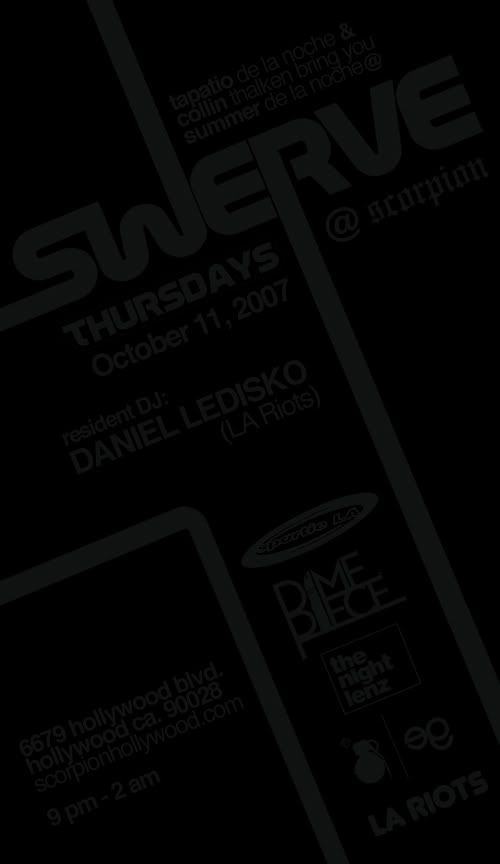 -