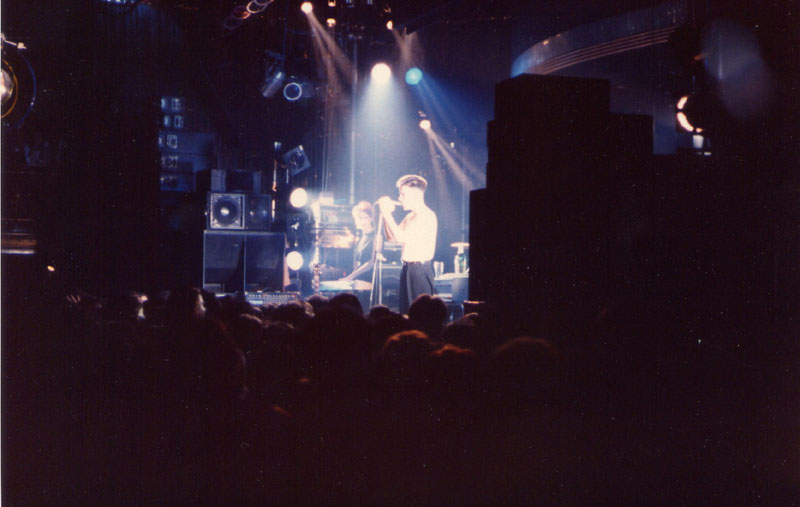 Live in Bradford March 19, 1984
[Ed note: Sorry about the incompleteness here, I fell asleep last night while working on it. I'll have it nice and finished soon. Incidentally, I woke up with my head on the remote, causing a concern that I had either paralysis or some sort of retardation. It's def not paralysis, but some would argue that the retardation was already there.]
I've been a little late with the music lately, as ezarchive has been a real bitch to deal with for the past few weeks. To make it up to you, I'm gonna upload a shit ton of music today, starting with this special treat of a
New Order
show from 1989. I mean, is there any one in the world who doesn't love New Order? The indie kids, obvious, but my thugs love a little
"Blue Monday,"
the ladies love
"Bizarre Love Triangle,"
it's just eminently playable no matter where you at or who you with.
This concert comes at the band's apex, when they had dropped all the hits and were nearing their "retirement." I believe the tour is in support of the recently released Technique, which saw New Order being influenced by the Ibiza and rave scenes that were in their ascendancy. This isn't on some intimate club shit, however, as the boys were filling arenas at this point. It's a high-quality tape for such a large arena show, I'm guessing a soundboard, but don't have any definitive details on that front.
For some reason (well, I know the reasons, but we'll keep those a secret) I'm feeling melancholy today. It's like a knot in my stomach, a quiet unhappy aura follows everywhere. It's not shocking as it's been a tough time recently at
Pound for Pound
. New Order's music sounds so right for this kind of mood. It doesn't have the darkness and sense of annihilation that their predecessor
Joy Division
had, while not being happy happy joy joy either. New Order's music and lyrics mix that JD bleakness with a sense of hope and feeling, a sense that there is much sadness, but that sadness lets us know we are alive.
"I lost her, I've lost her, I've lost her/I lost her, I've lost her, I've lost her, I've lost her, I've lost her."
New Order - Irvine, CA June 16, 1989

Ceremony

True Faith
Age of Consent
Dream Attack
All The Way
Mr Disco
Your Silent Face
Vanishing Point
Round and Round

Temptation
Bizarre Love Triangle
The Perfect Kiss
All Day Long
Fine Time