DJ Deeon, "The Baddest"
DJ Deeon, "Tear Da Club Up!"

DJ Deeon, "On The Floor"
DJ Deeon, "Shake It! (21st Century remix)"
I can think of no better way to get us into the weekend than with some classic fucking ghettotech.
DJ Deeon
is another of the legendary names in the genre, perhaps not as well-known as Assault or Godfather, but just as talented and important. These tracks above come off of the
Tear The Club
EP
from 2001, right at the heart of the ghettotech moment.
Yes, I know that it's Friday the 13th, but I really don't have anything that scary. This is a huge weekend, though, lots of madness will undoubtedly ensue at these great events below. See you out and about.
-Fuck a Stranger! Finger On The Pulse at Royal Oak!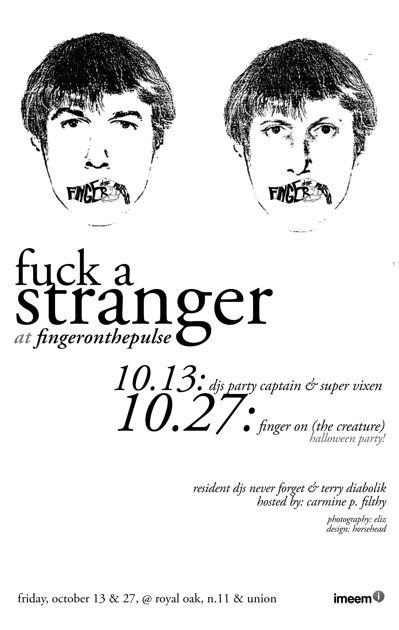 -
[click.] at Fluid
with Dave P., Julian S. Process and Jacques Renault
-
White Lightning!
with Dances With White Girls and Andy Pry! "Thug house electro acid raving club banger 6 phase DJ sets,"
what more do you need
?
-
radioclit in London
tonight
-Monster, Philebrity Weekender and Rod Lee tomorrow night in Philly, more to come on those, get at me with other things going down