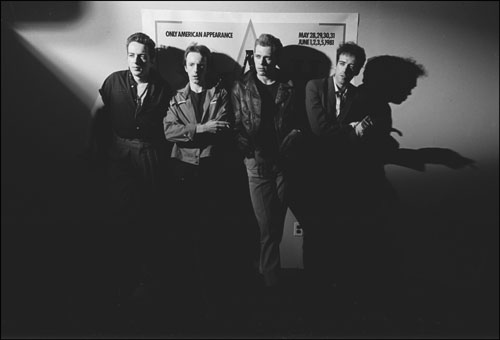 Arthur Russell, "Let's Go Swimming"
Barry Waite & Ltd., "Sting (Part One)"
Lex, "Fourteen Days"
The Clash, "This Is Radio Clash"
Here's the final segment from the
Disco-not-Disco 2
, the out-print, highly regarded compilation on
Strut Records
a few years back. I hope that everyone has enjoyed these posts and taken advantage and grabbed both volumes as it is an amazing document of a period and sound.
I'm sure that you didn't expect to see
The Clash
come up, even if this is disco not disco. But, if you think about it, I'm sure you can imagine that this isn't as great a leap as it seems at first mention. I must confess, as much as this will kill my hip cred, I have never been a huge fan of the Clash, just never got into their LPs the way I feel like I should. It's really been all about a few singles, but learning more about the group and this song has me ready to explore their music again. This song came out on 12" between Sandinista! and Combat Rock, and according to the liner notes, gained a huge following in the US clubs and made it onto the disco charts. It's got a great bassline, horns, nice, simple anthemic-y lyrics and has opened my ears to the band. It's got that punk, political edge, but it's open to other sounds and is not afraid to sound great and make you wanna dance.
I'll take a closer look at Arthur Russell down the road, but this is one of his many classics, mixed by Walter Gibbons of Salsoul fame. My personal favorite of the lot is the unknown-to-me "Fourteen Days" by Lex. This one has a more electro feel than the others, kinda reminds me of something Blondie put out around this time, as you have a female with a proto-rap on top of a great, synth heavy instrumental. This one is a must-have, do not overlook it.
-Give some
money to AdamB's ActBlue fundraising page
for
three suburban Philly candidates in their effort
to turn PA even bluer. The Clash would be proud.
-If you'd like to be considered for the Event of the Week sticky here at
Pound for Pound
, please get at me with the details via email or myspace. While I can't guarantee selection, I can guarantee a mention at some point. I wanna keep ramping this site up as a hype machine for city people doing big things, be it parties, art exhibits, stores, whatever grind you're on. Surburban events, no need to holler.