Another big night for New York City, I would say. I'm gonna give Brooklyn the nod for the Throne of Blood party, mainly because we already hyped the midweek No Comprendo Disco at 205. Anyway, Studio B is going off again tonight, as The Rapture and their label, Throne of Blood, are throwing a massive party,
Mustaches Wild!
, to help Greenpoint forget about that toxic spill dealio. For real, this one's another dream Pound for Pound line-up, a good follow-up to last night's good times. Just check the labels involved - Throne Of Blood, Ed Banger and Get Physical. DJ T of the Get Physical label is headlining, a great and surprising choice. Busy P is back in NYC, he'll drop his usual dose of Banger bangers, Druzzi from The Rapture, James F!@#$% Friedman (who I recently heard kill it at 205), Andy Pry and Dances With White Girls. $12 for all of this ain't bad at all, should be a packed house, definite pick of the night.
-Make sure to stop by Macri Park (462 Union Ave.) in Williamsburg before or after, as the Sweatshop Labor bols - Johnsville and Lucas Walters - hold it down as they do every first and third Saturday at the new spot near Union Pool. These dudes are picking up steam, so check them out now before they're like spinning during Interpol concerts or something. No cover, goes til 4, 21+.
-Some really great stuff happening in Manhattan too, none more great than tonight's Misshapes. It's like a who's who of our favorite DJs, with Dimitry!!! of High Voltage and DJ Never Forget and Terry Diabolik of Finger On The Pulse in the house. You also get Neighborhood DJ and Jacksonnn at the legendary party. It's at Don Hill's (Spring&Greenwich), it's definitely a great time to check this party out if you haven't already. Yeah!
-Oooh, for those of you who missed out Wednesday night (and you did miss out), the
No Comprendo Disco party
is doing an upscale version tonight at the Tribeca Grand Hotel (2 Avenue of the Americas) called
No Comprendo Discotel
. That means you get to hear the cosmic disco of Todd Terje and the mutant disco of Prince Language in posh surroundings, a pretty sick deal. Making it even sicker, it's free. Honestly, this is not to be missed, the Wed night thing is one of the best parties I've been to in NYC. Stay classy, New York City.
-Okay, I know what you're thinking. 30th Street? Why would I go up there or down there for anything, especially some giant club night for an Om Recordings DJ? Simple: Lauren Flax. Ms Flax is one of my favorite DJs anywhere and she's holding it down in The Gallery tonight at Rebel (251 W. 30th St. btwn 7th and 8th Aves.) In the theater, Chuck Love is spinning, there's a ton of other DJs and rooms. This will definitely be something new and different, which is good for us. Say Lauren's name at the door for reduced admission.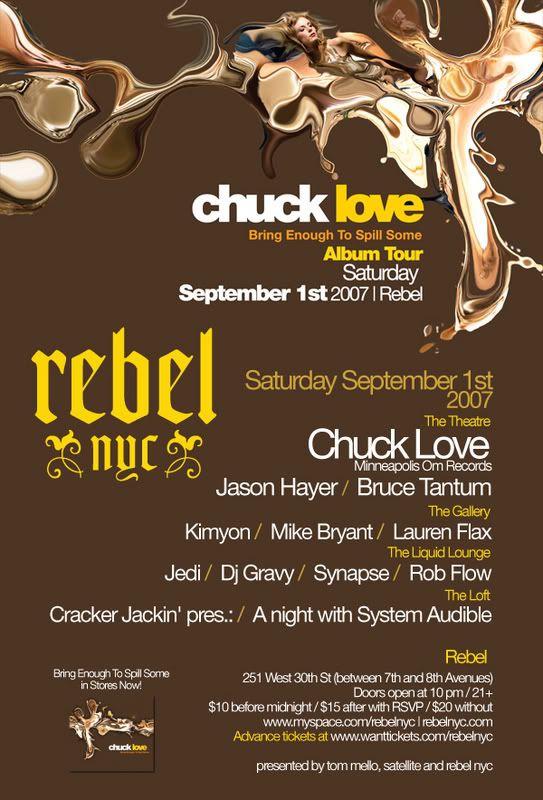 -I caught this last night and I can't recommend more highly the next stop in the Institubes Paris Terror Club tour. It hit Orlando tonight, which is interesting. I've heard little about that city, but there clearly must be a good scene down there. Get at me if you can give me some leads. Para One, Surkin, Curses, Orgasmic all are at Club Firestone (578 N. Orange Ave.). It's $10, $7 if you are a member and you can become one at
the

Blackout Orlando

site
, 18+, you will have a great night if you go to this.
-WTF,
Richie Panic and Jefrodisiac
are at it again. They did it up for Blow Up SF last night, tonight's their weekly party
Frisco Disco at The Transfer
(198 Church St.). This one's a back to school edition, definitely hit this one to learn about all of the really important things in life they don't teach you in school like dancing, booze, sex and how all of those things go together so well.
RSVP at the going.com site
for free entry before 10:30, $5 after that. Go check out their site and all of the flicks and videos; if you don't want to go after that, you're either dead or a Republican. Oh, and
guestlist
closes for DJ Funk tomorrow night shortly,
get on the list
, then hit up Frisco Disco tonight for a voucher that will let you skip the line tomorrow night.
-Some nice stuff going on in and around LA tonight. First, the Super Sonic party goes down at the Good Hurt nightclub (12249 Venice Blvd) in West LA with IHeartComix's Treasure Fingers, LA Riots, Joey Turbo and Travi$. It's gonna be a great night of indielectro, I'm confident these dudes will do it right. $5 before 10, $10 after, beer and shot specials before 10:30, clearly the early bird gets the worm and drunk and has a little extra cash.
-Finally, Johnny Love of Kitsune's Guns n Bombs is guest spinning at the Discoteca party in Costa Mesa, California. He joins NOMSG, Tea Long, BB Guns and Sean K for this night at the Detroit Bar (843 W. 19th St.) $10 cover, rsvp to discotecaparty@gmail.com, 21+, make it happen.