It's a massive night of big parties, so let's get down to business, west to east. Despite some great parties, the pick of the night was pretty easy.
Funk You Burning Man IV
sees the return of Chicago ghetto house legend DJ Funk to the Bay Area. I really can't think of a better way to spend the last night of summer than with a night of booty music, insane drunkenness and embarrassing debauchery. Funk is joined by the
Frisco Disco
bols (
Richie Panic + Jefrodisiac
), who never sleep, and the band Hot Tub on the decks. Oh my G-d, San Fran, are you ready for this? Are you ready to bounce dat ass? Pound for Pound will be there in spirit, you need to be there in person. Hopefully,
you've RSVP'd like we said
during week. However, there's over 1100 people interested on the going.com site, so you need to get their EARLY if you want to guarantee entry. Don't worry about your hair looking great, it's only going to get messed at some point tonight. Again, get to
The Rickshaw Stop
(155 Fell St.) early, then go crazy. Free, 18+, they've saved the best night of summer for the last possible moment.
-Speaking of returns, the most excellent Sunday night weekly in LA,
Le Disko
, returns to its original site, Safari Sam's (5214 Sunset Blvd).
Daniel of LA Riots and Keith 2.0
have brought in guest DJ Treasure Fingers for this homecoming and it should be a great night. This is one-night only return, so get out there and celebrate the three day weekend the right way LA. 18+, free with flier til 10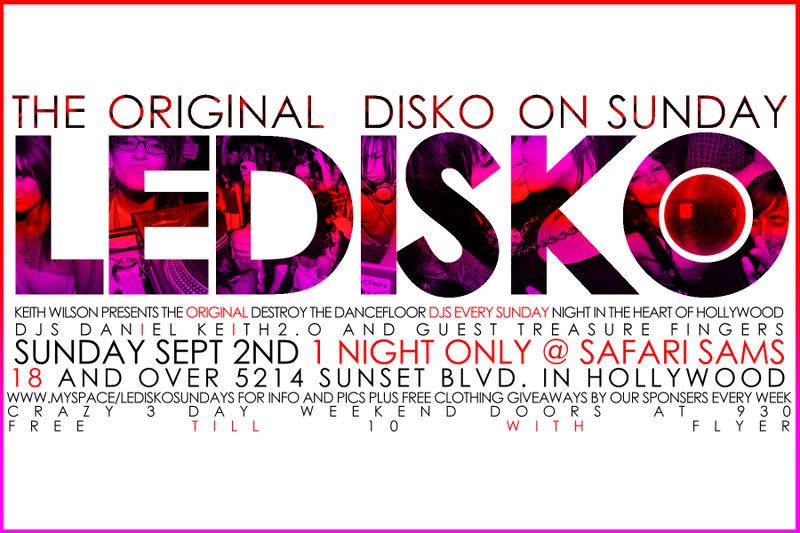 -Mang, another huge party in Chicago, as this time
Modular Records' Bang Gang DJs
come to the
Debonair Social Club
(1575 N. Milwaukee Ave.) to melt your face. These dudes have a new mix out of Modular, have their amazing podcasts and have been killing some of the best US parties for the past month. Tonight, they're joined by
Jordan Z
in the basement of Debonair, while upstairs the
Dark Wave Disco
dudes continue their domination. 9-2, not sure on the cost, but it shouldn't be too steep. This seems like a great one to close out an amazing summer, Chicago.
-It's always nice to hear something good coming out of D.C. Literally,
Will Eastman
seems to be one of the few people able to provide good news out of that city. He's doing his Drop Down party tonight with
Brian Billian
, a party dedicated to that Top 40 shit you know you love, the rap, r&b, pop, the radio hits that get you sing along and get the girls dancing and get everyone happy. Get to the Black Cat Backstage (1811 14th Street NW), $6, all ages, a really fun night out to those who go.
-Finally, we come to my current city, New York City, the town so nice they named it twice. First, there's a new weekly starting at
Darkroom
(165 Ludlow St.) tonight called
Yeah Yeah!
Now, I'm not complaining, but for anyone who has read this blog and/or received an email or text from me will wonder if that name is a shoutout to me or an homage. I don't know, but it's nice to see someone trying to make Sunday night a night to go out. Tonight,
Dances With White Girls, TKOmri of the East Side Club and DJ Neon Music
spin, not sure if they are gonna be there every week or what, but, as meditation has taught me, do not look to the future. Stay in the present. Can we do that NYC?
-Finally, let's end all of this on the craziest, most massive ending possible. Motherfucker in New York City!
Michael T, Justine D, Johnny T and Georgie Seville
are putting on a Labor Day edition that has a perfect line-up. First, you get a live show by
Kudu
at 11:30, maybe the best band in the city today. Then, in the Side Room, Moby is spinning an old-school rave set. I feel bad for the dude, as he's totally going to be overshadowed by Lauren Flax; go for the celebrity, stay for the real deal amazing DJ. Of course, Michael T, Justine D and
DJ Jess
will hold down the main room, all extremely talented DJs in their own right. In the basement,
Josh Styles, Lil Davey and William M
will spin some 60s soul, r&b and pop stuff. This one happens at Eugene (27 W. 24th Street btwn 5th and 6th Aves.) $15 with invite, $20 without, Red Bull and vodka open bar from 1o-11, lots of crazy kids and over-the-top personalities, but the amazing music more than offsets that. 18+, 21 to drink, that's the end of the post and of the summer.