There's too many great things going on for me to pick a top choice, so let's just start from where I am and expand outward. Lots to do in Williamsburg, especially since Fixed is back at Studio B (259 Banker St.) and Dave P and JDH are starting the Fall off with a bang. They've got the first stop on the
Boys Noize Oi Oi Oi tour
in support of his new album,
Oi Oi Oi
. I can't wait for this album, so obviously this is a definite stop in Brooklyn tonight. $12 at the door, 10-4, one of the best parties in NYC.
-You also need to make a stop at Glasslands (289 Kent btwn S. 1st and 2nd) to check out the Lolita Party presented by Brooklyn By Hand. You get live music from Purple Crush, Zambri and Lismore, plus a dance party later by Pound for Pound favorites Sweatshop Labor (Johnsville and Lucas Walters), all for just $6. Great space (esp with the cooler weather), great music, great DJs, great. Oh, did I mention free Sparks until its gone? I just did.
-Finally, make a stop before or after those two at Macri Park (462 Union) for the Livin' It Up party. I believe that this is a weekly with Lauren Flax, although I'm not 100% sure. Tonight, you also get a DJ set by FitForUse, guaranteed sick, twisted dance music all night.
-Down south, south Brooklyn that is, Good Foot/Pumps returns to The Royale (506 5th Ave) in Park Slope tonight. The monthly has Pase Rock, DJ Morsy and the excellent Jess Jubilee on the decks upstairs, Carmine P. Filthy and Vida in the basement. Put away the baby carriages, Slopers! It's a rave tonight!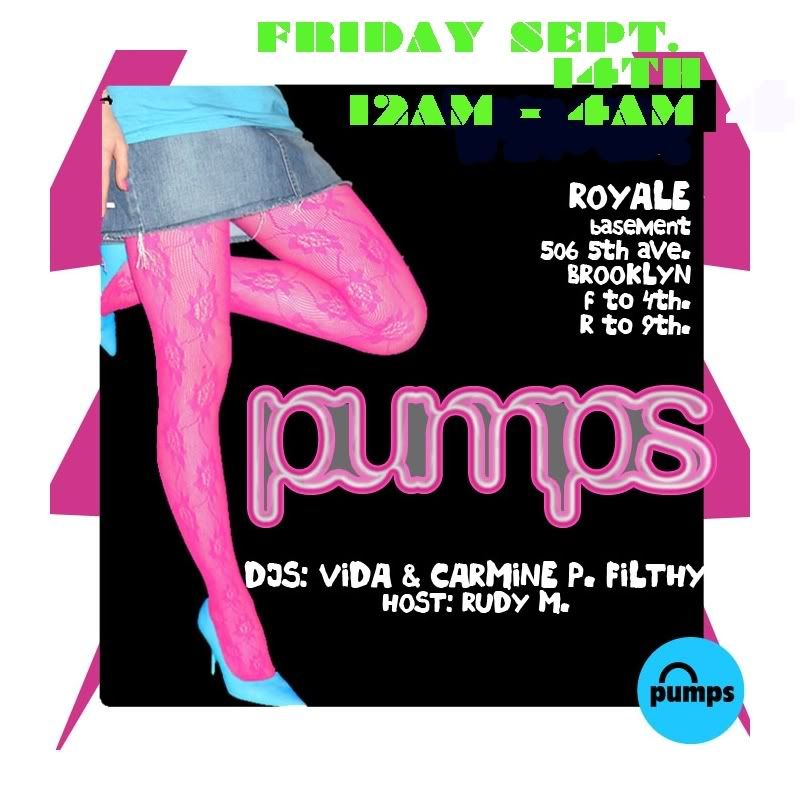 -Tonight's an Orchard Street night. There's no excuse not to be at The Skinny (174 Orchard St.) tonight where the Lewd ones are spinning. rekLES and Sean Mutthafukkin Roberts hold down that bar every 2nd and 4th Friday, tonight's their night. I've said it before and I'll say it again, these guys are gonna be huge, they should be synonymous with excellence and dancing and debauchery in your mind. No cover ever, 10-4, $3 well drinks from 11-12, late night specials, the music you want to hear, life. Sickest flier, more please.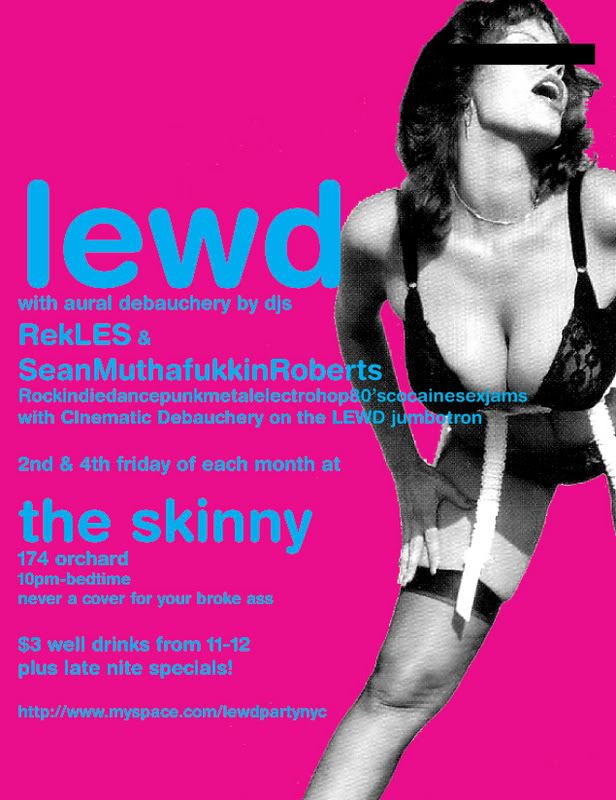 -Hit up Ruff Club at The Annex (152 Orchard) before or after. You know the deal with this party, always a good time with a young crowd, but tonight DJ Lauren Flax is a special guest, which should be the extra incentive. She's joined by mark Murphy from Australia and Dani Deahl from the URB party in Chicago, plus residents Spencer Product, Denny Le Nimh, Micprobes & 24 Court. Yea Orchard! Do it for Gus' Pickles and Kid Twist.
-In my hometown and the home of my heart and soul for life, more killer parties. The biggest is the return of JHN RDN and Ian St. Laurent's Crescendolls. This one's in the much bigger space of Level Room (21st & Market), a crazy three floor club club. The boys are joined by the Club Lyfestyle dancers for a rager in Center City. Should I seal the deal? Open bar from 10-11, free PBR and VW Vodka drinks. 11 on, the PBR is $2 and the VW vodka $3. Drunk and dancing is a good way to go through life.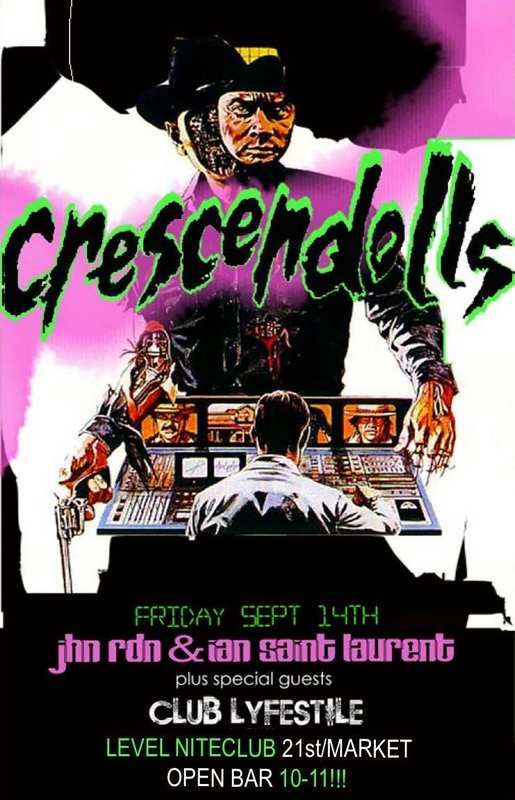 -Holy shit, just saw this one, a new party at Medusa called
Robotique
. The flier has Daft Punk on it, that means you have to attend. Mike T and Billy W are two of the city's best, Medusa is one of my favorite spaces anywhere for a dance party, it's free, it's a few blocks away from Crescendolls, life can't always be this simple and good, enjoy it when it is.


-Finally, for the late-nighters, head into South Philly after all of this for Frantic. I will simply say that this is at the American Legion Post 153 (24th and Passyunk btwn Oregon & Snyder), a party that only goes down in Philly. Love it! Free before 2, $7 after, lots of booty tunes from dev79 and Darrel Asbury, great night.
-Mang, Miami is like the heart of this blog, yet I never post up parties down there. I need to get on that, but in the meantime, here's a crazy one-night only jawn called Contrapalooza. To celebrate DJ Contra's birthday, everyone cool in the world is in Miami to perform. Seriously. Spank Rock and Amanda Blank and Juiceboxxx are live, DJ sets by Franki Chan, Turntable Lab's Blu Jemz, Egg Foo Young and Lloydski, plus DJ Induce and Matt Cash. There's mention of special guests, but I don't know who's left. There's gift bags from Virgin Mobile, drink specials all night, it's gonna seem like your birthday. It all takes place at PS14 (28 NE 14th St.), $10 to get in, 10pm on.
-Since it's a big night everywhere, you know it's a huge one in Chicago. It is. Smart Bar and Potty Mouth Music have brought Jesse Rose of Dubsided fame to town and you need to be there. Seriously. It's that simple, Smart Bar (3730 N. Clark St.), 21+, 10-late, $10 before midnight, $12 after.
-Also make sure to stop by the Threadless grand opening celebration at the Metro (3730 N. Clark St.) tonight. This is the newest t-shirt boutique in the Windy City and they've kicked it off with an all-day event. We're a late night blog, so we're picking things up at the evening event. Live music by Office, White Hot Knife and The Assembly, most importantly the Life During Wartime DJs - Bald Eagle and Mother Hubbard - are in the house for the dance party. $18, starts at 10:30, whoa, it's at the same address as the previous one. Perhaps this is the nexus of the universe, where great parties are on top of each, time and space are smashed together by bass and synths. Or one's above the other in the same building. Either/or.
-We don't get a lot of events in San Diego, but here's a start. LA Riots are headlining the
Danger danger party at Airport
(2400 India St.) tonight. They're joined by residents (?) Corey Biggs, Adam Salter and Erick Diaz, plus the Shark Attack DJs. Don't know much about this one, but you know I love the LA Riots, so it should be a fun night. 21+, can't find cover charge info, sorry.
-Wow, a huge night in San Fran, headlined by the Robot Rock gala. Richie Panic and Jefrodisiac are starting this monthy jawn to bring in the best live acts around and they are not fucking around. Check this line-up out, as the VHS or Beta/Walter Meego tour combines with the Institubes Hooligan Disco Tour. Like whoa, right? It goes down at Mezzanine (, doors open at 9pm, $15, a not-to-missed superevent.
-Sleazemore and Rchrd Oh!? will take care of your dance party needs. Lights Down Low is back after a three week hiatus and they are clearly rested and ready for domination again. The guys are joined by the Gemini Disco Club - Le Dinosaur and Chris McVick - just wrapped up a Beauty Bar residency, legendary party crew in the Bay Area. There's also a guest set from Mikkee Lixxx from Chicago, to go with the heat the residents throw at you. As always, it goes down at the 222 Club (222 Hyde and Turk), phots by Parker Day, lots of birthday girls, get there and realize how good it is to have Lights Down Love back. Yeah!