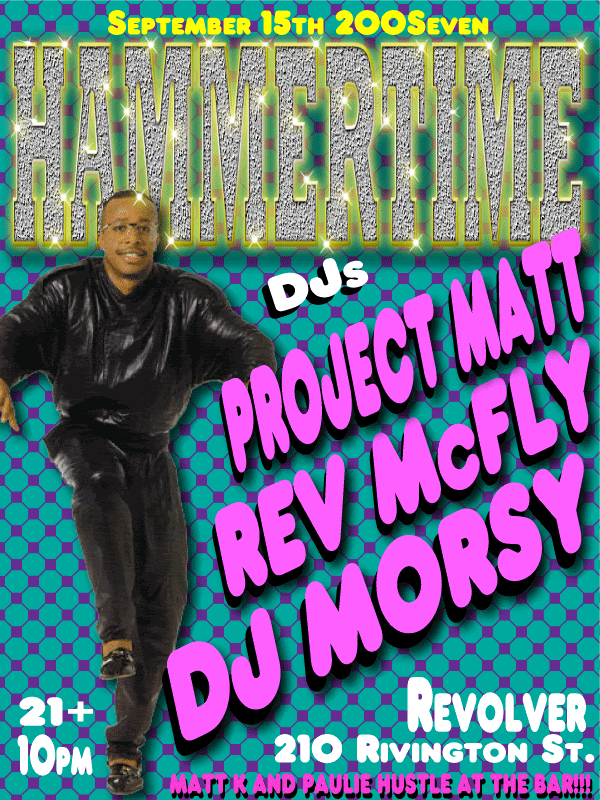 It's so chilly out (in NYC, keep it shut Californians and Floridians). What time is it? Well yeah, it's Fall, but it's also Hammertime! After a few week hiatus, Project Matt is taking over Revolver on Saturday night again to give you what you want and need, i.e. a drunken party with the best rap, reggae and miscellaneous jams. He's joined in the DJ booth by Rev McFly and DJ Morsy all night. No cover, 21+, this really should be one of the best parties in NYC. It should be a stop for anyone in Manhattan tonight (or any future Saturday).
-Do you dare cross 14th Street? Tonight is as good a night as any, as Cheeky Bastard and GBH present Robot Rock and the official afterparty for Simian Mobile Disco's concert at the Gramercy. My dudes
Dave P and JDH
, who killed it last night at Studio B, are the main draws, as they will destroy Highline Ballroom with dance music. Add in DJ Alex English, an early live show by The Mood,
make it free with an RSVP
, and leaving downtown doesn't seem so hard, does it?
-If a party has no no flier, does it make a sound in the forest when it's cut down? Yes, it does. DJ Dimitry is spinning at Beauty Bar all night, while Dances With White Girls of Throne of Blood and Jess Jubilee of Modular hold it down at Don Hill's.
-What is Hi-Tops and Hearts? While it may be the title of my first young adult fiction book, it definitely is the name of a great party going down at Royal Oak (594 Union Ave.) in Williamsburg tonight. This one is brought to you by the amazing clothing label Love Brigade and my dude DJ Tiny Pants every month. This month, Kelly Green is the special guest DJ, the music will cover all kinds of ground with a focus on the stuff that makes you dance. No cover, 21+, a ton of drink specials (see flier), 10-4.
-A little further north, the FUN party returns with its super-cool roller skating party at Studio B (259 Banker St.) Take it back to the 70s and 80s, break out your roller skates and tight clothes. I mean, seriously, how much fun does this sound? Best of all, residents DJs Eamon Harkin and The Bangers will spin disco all night for optimal skating. They'll be joined by special guests Negroclash for a great line-up. It's BYOSkates or pay a $3 rental fee, 18+, 21+ to drink, 10-4, $12 at the door, $7 with RSVP. Shout out to Radnor Rolls!
-Finally, one last stop in Williamsburg, as the Sweatshop Labor bols - Johnsville and Lucas Walters - do their thing at Macri Park (462 Union Ave@Metropolitan), as they do every first and third Saturday at the newish jawn near Union Pool. No cover, great tunes, good drinking environment, a perfect stop before or after Royal Oak, yeah!
-The Midwest heats up tonight in a big way. It doesn't get bigger than Diplo and Switch in the same room. I mean, seriously, Diplo and Switch. Game over. Possibly two of my favorite producer/DJs in the world, touring together. Not speechless, but only enough speech to tell you it's at Metro (3730 N. Clark St.), James Amato of Potty Mouth also spinning, 18+, $20 at the door, starts at 11.
-You're also gonna wanna make time for something a little darker, like Dark Wave Disco at Sonotheque (1444 W. Chicago Ave.) Residents Trancid, Mark Gertz and Greg Corner have brought in two special guests from opposite coasts - LA's Keith Wilson of Club Moscow and Le Disko fame and NYC's Mark Verbos. Hosted by Paul In Chicago and CT Couture, 21+, 9-3, $7 before 11, $12 after, $3 Goose Island 312s (?), yes yes.
-Happy first birthday to the Too Much Love party in Minneapolis! For the special occasion, they're getting the band back together, as all the original DJs are in the house. Soviet Panda, DJ Bach and Jonathan Ackerman & Scott Butters will spin great dnace music all night long. Head to First Avenue (701 First Avenue North) to celebrate one of the best weekly dance parties anywhere, $3, 18+, mazel tov boys!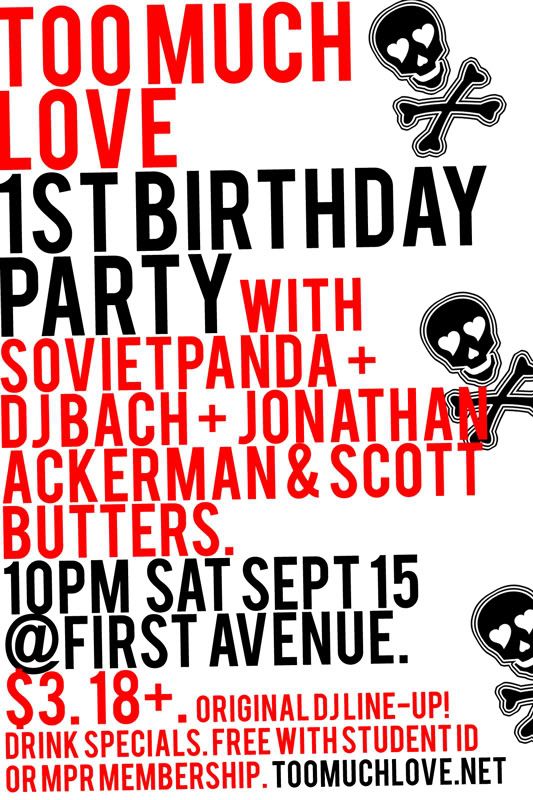 -It's a huge night in Lawrence, Kansas as Baltimore's own Tittsworth comes to town for Bump City. He joins the residents Tactic for a night of booty and breaks in the center of the country. It's happening at Fatso's (1016 Mass), 21+, open Bacardi bar early early, so you'll want to get there around 9 or so and take advantage.
-It's a special Frisco Disco tonight, a sort of American Idol for aspiring DJs if you will. Richie Panic and Jefrodisiac have invited two up and comers to compete head-to-head on the decks, Star Search style. Short Shortzz vs. Jesse Jamz, a winner must emerge. I don't want to influence the proceedings, but I'm gonna throw my support behind Short Shortzz solely on the fact that her flier has kittens on. That's the flier of a winner. Get to The Transfer (198 Church) and decide for yourself.
-Wow, a huge night in LA, as an epic clash is going down at The Echo + Echoplex (1154 Glendale Blvd). Check Yo Ponytail vs Hang The DJs vs Institubes Paris Terror Club. Main room downstairs features VHS Or Beta, Walter Meego, Protokoll, Dia Frankel, Edie&Maurice, De La Falaise and the birthday girl Scarlet Casanova (happy birthday). Room 2 upstairs features Para One, Surkin, Curses!, DJ Orgasmic and LA's own Franki Chan and Paparazzi. Like whoa. Photos by the amazing Shadowscene, 18+, doors at 9:00, $17 at the door, amazing.
-Finally, Greyscale in LA is another good choice, as Troublemaker, Sean Patrick, Dirty Dave and Miklala do it up big at Temporary Spaces (5100 Fountain Way@Normandie) Free vodka from 9:30-10:30 makes this a perfect start to the night, although you may not wanna leave once you get settled (the pics show lots of beautiful people have a great time, fyi). No clue on the cover, but if the past is any indicator, it shouldn't be too much.