Tonight, LA is the center of the Pound for Pound universe, because of this awesomely awesome Awesometown. Anne Lee and Shadowscene are doing the official afterparty for the !!! show at the Avalon, and they are doing it up right. Justin from the band will spin, as will Desert Eagles, Damager from Rockognized and Ross Angeles from Shoot Out The Lights, should be a good night of rock and lots of Daft Punk for the rock kids. RSVP for free entry, which will also allow you to skip ahead in the line. Shadowscene stays on the steady grind with the photos, 21+, 10-2, $3 Dewar's drinks all night long. Yeah! Blow Up LA! !!!! FYI, that last one is actually me yelling out the band's name, just FYI.

-Hmm, I love the name of this party, Databass. I'm assuming it's an ode to the legendary Detroit ghettotech label of the same name. Since the good dudes behind the amazing Missing Toof blog are behind it, I feel confident in that assumption. Ahh, but who gives a shit about my music nerd trainspotting? This is a party with girls and alcohol! Yeah! Resident DJs Disaster and Basura, plus guest DJ Jeff Jagged, are spinning lots of indie and electronic music and stuff that falls in the middle. It happens at The Blank Club (44 S. Almaden Ave.) in downtown San Jose, starts at 9, 21+, $2 cover. San Jose, stand up!

-If you are in San Fran, I recommend getting to The Ambassador (673 Geary St.) tonight where DJs Vin Sol and Jefrodisiac are gonna be spinning lots of disco. Disco, great DJs, fuck a flier, just do it.
-205 Club (Chrystie & Stanton) keeps making moves, lots of great parties and DJs at this spot. Like I said, once you bring in Stretch Armstrong for a weekly, everyone needs to take note. Legend, blah blah blah, dude is sick DJ NOW! He has killed everytime I have had the good fortune to hear him spin, now we all get the privledge every week, as he joins Eli Escobar for the Soundsystem party. Tonight's the night to get on board, as they've invited DJ Ayres from The Rub and Tittsworth as the special guests. I mean, whoa! It's gonna be insane down there, no genre is safe. When it gets to hot and sweaty down there, head upstairs for the HeartMe! party in the airconditioned main room. DJs June D, Marc-Alan Grey and Coco Martinez will take care of you all night as well. Doors at 11 for both, 21+, no cover, awesome.
-I think that this is a new party at Happy Ending (302 Broome St.). It's new to me at least, and since I'm ragingly self-absorbed, that makes it new to the world. Somebody Gonna Get Pregnant features three of the best up and coming DJs in NYC - Rev McFly, Morsy and Teen Wolf. I've had a chance to hear the first two a handful of times recently and can say that I haven't seen many DJs kill it like they have. Lots of classic hip-hop, some new shit, this should be a really great night, one of the underrated spots in the city too. No cover, 21+ and 2 for 1 drinks from 11-12.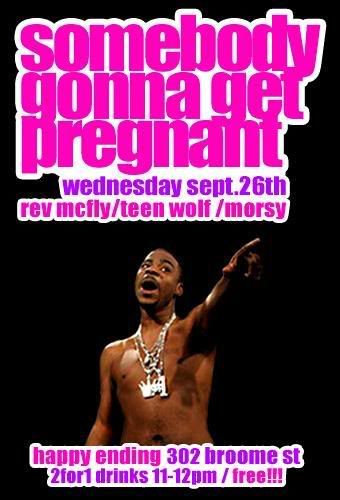 -I've been getting into TV a little lately, after a few months of not watching it at all. I think I may put up a post on that, but in the meantime, hit up the G Spa party tonight at the Gansevoort Hotel (18 Ninth Ave.@13th Street) for the premier of a new show on ABC called Dirty Sexy Money. I'm a little pissed, as that was going to be the title of my autobiography, but hopefully they will step it up and live up to that name. You also get DJ Ted the Dillinger, a chance to hang out in a gorgeous, fancy spot that you would never go to otherwise and a unpretentious party.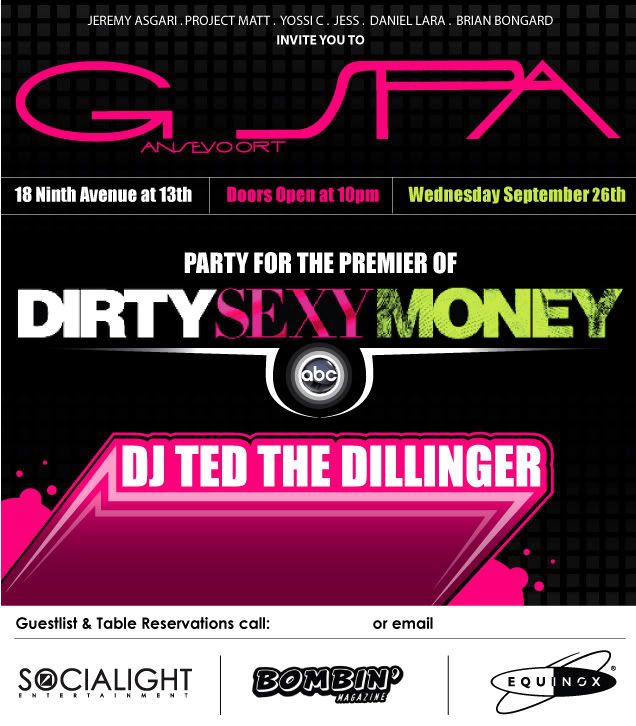 -Finally, the Diplo & Switch tour lands in Philly tonight. If you live in that city, the greatest of them all, you need to go to this party. Trust me. There are special surprises for those who show between 8 and 10 at the Starlight Ballroom. Do not stay in! Do not sleep! Wednesday is the new Friday!