The fast is ended, 25 hours of no food. Why 25 and not 24? Because I can, that's why. This has been a monumental 10 days, on some serious shit, like all awe all the time. I'm talking like Martin Buber stuff here, so focused right now, just wow. Tonight's the time to celebrate life and there's some amazing parties going down to help you do just that. First up, happy birthday to
Will Eastman's Bliss party in D.C
. Anyone who has ever thrown one party knows how hard that is, now try doing that every month for seven years. Respect. The party is happening at The Black Cat Backstage (1811 14th Street NW), with Eastman and
DJ Stereo Faith
on the decks, doing it just like it's been going down for all of these years. Again, love the youtube fliers, so nice to see creativity and thinking outside the box. Mazel tov Will, here's to 7 more years of Bliss!
-Yeah! More Pound for Pound favorite linking up for maximum raveage. This one's a Midwest conference of dance music dons, DJs Soviet Panda and Life During Wartime's Bald Eagle. It goes down on Panda's Minneapolis turf, a special edition of his Too Much Love Party at First Avenue. 18+, $3, Minnesota, do not sleep. This is one of the best parties anywhere, this one's gonna be extra dope.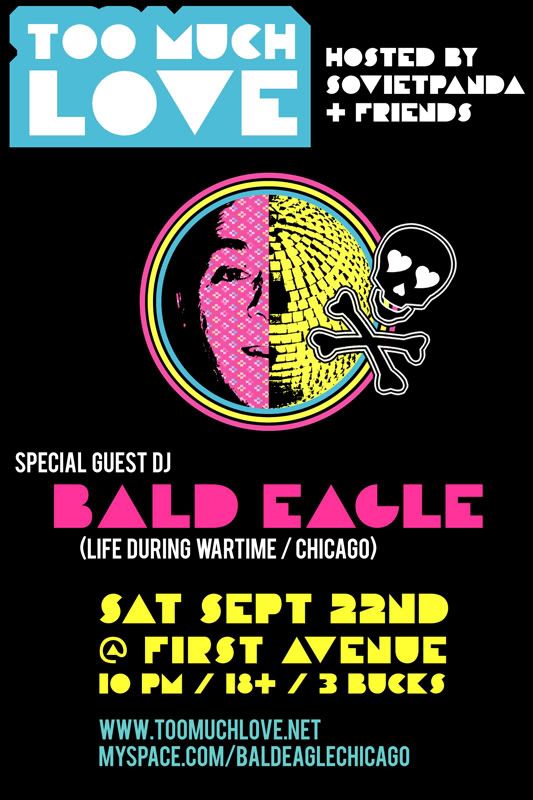 -Back in Bald Eagle's city, Chicago, Blacklisted presents a night of live music and some of the best DJs anywhere. Go Motion! is the live band, Dark Wave Disco bols Trancid & Mark Gertz team up with Vyle of Flosstradamus and Trouble & Bass to rock the 1s and the 2s. It goes down at the Darkroom (2210 W. Chicago Ave.), no cover before 11, $5 after 11, so get there early! 9-3, here's your entire Saturday night Chi-town.
-More Midwest goodness and more anniversary goodness.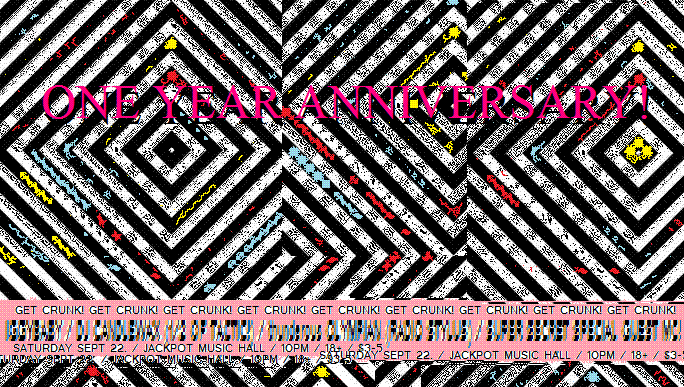 -A little quiet in New York City tonight, but that just means that this new weekly (?) at Don Hill's (511 Greenwich@Spring) is your choice. Dances With White Girls of Throne Of Blood and Jess Jubilee of Modular will rock you until you forget that you're in the West Village. You also get Cede and Nicolas Kratochvil, not sure the details on cover and whatnot, I'm assuming that this is the replacement for Misshapes. Basically, I don't know much more than the flier says, so hit it up and tell me everything you know.
-All the way over on the opposite side of the country, Frisco Disco lies in wait for unsuspecting partygoers and young men and women who have yet to experience the dark side. Fortunately, my readers know all about this epic party and the dark side, so there should be no problems. Get to The Transfer (198 Church@Market), let Richie Panic and Jefrodisiac make this Saturday night the best one ever, until next Saturday.
-Finally, Modular did its pool party this afternoon, Franki Chan and IHeartComix picks the ball up and runs with it tonight at The Echoplex (1154 Glendale Blvd). A massive line-up with a Boys Noize and Simian Mobile Disco 1-2 punch. Add in a DJ sets by Dave P & JDH, Mr. Chan and Paparazzi and it's fucking knockout. Photos by Shadowscene, $20, 18+, things get started at 9 pm. Remember to pace yourself though, as you'll also...
-Keep the fun going until the wee hours with Blow Up LA. Ms. Anne Lee and Ms. Shadowscene present the latest edition of the party and it's massive. DJs are Simian Mobile Disco, Dave P & JDH, Star Eyes of Trouble&Bass, C-Town, Louisahhh and DJ S!n. Cash bar all night, including late night, 18+, $5 before midnight if you RSVP at the Urb Magazine site, $10 otherwise, 10-5am, just remember to pace yourself.