Updated with more LA and Chicago ish
Wow, there's lot of good stuff, but the top choice was an easy one. The legendary D.I.R.T.Y. party from Paris is in New York City, joining forces with the People Don't Dance No More to create one of those events that I truly am excited to attend. Just look at the names involved: the Dirty Soundsystem, My Cousin Roy of Wurst Edits, residents David Bruno and Robot Blair and special guest Lauren Flax! Yeah! That's a who's who of some of the best DJs in the world
-You're also gonna want to make sure to hit up the
Fashion Indie Magazine launch party
at Boucarou (64 E. 1st St.) It's Fashion Week in NYC, but leave that crap above 14th where it belongs. Head to the East Village to check out the amazing clothing that
Williamsburg's Love Brigade
have been making, as they do a runway show at midnight. You're gonna be talking about these designers in a few years and trying to get into their parties in the Meatpacking District, get in now at the ground floor and say you were there when. Even better, my bol
DJ Tiny Pants
(where ya been?!?) will spin for the dance party later. Oh, did I mention that there's a 3 hour open bar, as well.
RSVP at the going.com site
; a warning though: there's over 2000 people interested in this event, so get there early or you may want to roll through late. Just FYI.
-For the fashionable, it makes sense to hit up the weekly Trash party at Rififi (332 E. 11th St.), where everyone looks hotter and cooler than seems possible. DJ Jess and Alex Malfunction host the Editors afterparty, this one will be the typical packed house with go-go dancers and indie rock/new wave goodness, free before 11, $5 after, 21+. Shout out to my bol Jules Dassin.
-For those of us who get the shakes when we cross into Manhattan, there's two cool events going down in the hood (or my hood at least) that are highly recommended,. First, the FUN party returns from a week vacation with a serious night of dancerockelectro. Yuksek are playing live, along with Dandi Wind, Fluo Kids and Brodinski are guest DJs, Rok One of the Bangers and Emon Harkin are the excellent residents, June D and Finger On The Pulse and Studio B (259 Banker St.) are the gracious hosts.
RSVP for free entry
, otherwise it's $10 at the door, 10pm, 18+, it'll be fun.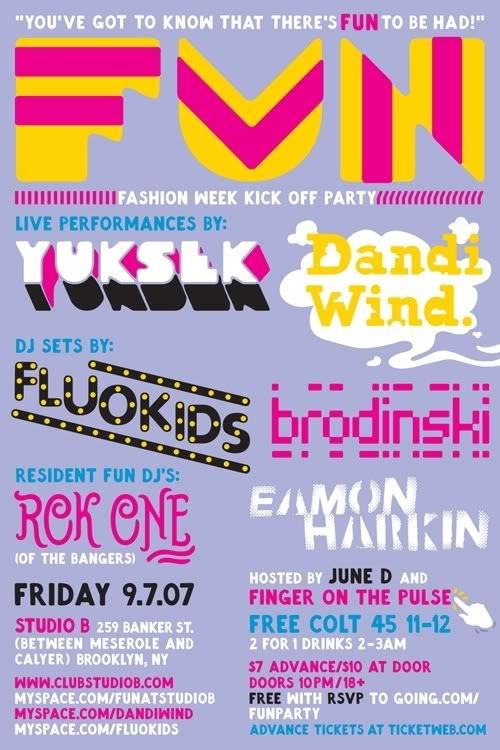 -macri
-Ahh, White Ts and White Belts, it's good to have you back here. I believe I missed a post the last Friday this one went down and that is a devastating omission. This is without a doubt one of the best parties I've been to anywhere. EMYND & Bo Bliz and Dan the Swede have put together one of those perfect Philly parties - great crowd, no pretensions, less-than-official venue, BYOB, actual rap music, all scenes, people dancing, g-d I miss it. It's got a new home at The Arts Garage (1516 Parrish St.), $10, free Vodka and Sparks all night (!!!!), but it's also BYOB if those two don't work for you or they work too well for you. It starts at midnight, goes til 4 AM.
-Before that, hit up Fluid Nightclub as The Rub is in Philly tonight! That's right, the legendary Brooklyn party featuring Cosmo Baker, DJ Eleven and DJ Ayres is doing its thing in the 6th borough, greater than the other 5 combined. RSVP here for the $5 reduced admission list. Don't believe me, perhaps you will take the word of
this brilliant writer for the Philly Metro today
.
-I'm running out of words to describe how impressive it is to look at what's going on in Chicago on any given night. Just look at the packed schedule tonight, from a crazy one-off to one of the best monthlies in the country to a great weekly, you've got it all. Okay, this isn't quite a one-off, it's the monthly
New Indie First Fridays Party at Sonotheque
(1444 W. Chicago Ave.) However, tonight's special guest DJs are an up and coming band called Bloc Party. That's right, the Vice/Dim Mak band is stopping by as this is the Hideout Block Party Afterparty, where the boys are playing. You also get sets by the resident Jordan Z, Erica from Office and Hollywood Holt. It's hosted by Jillian Valentino of Avant Trill, photos by Everyone Is Famous, rsvp ASAP to THE_NEW_INDIE@gmail.com for reduced admission. $3 Svedka cocktails and $3 313 beers all night.
-You're also gonna have to hit up the monthly I referred to above, as the Life During Wartime party hits the Darkroom (2210 W. Chicago Ave.) as it does the first Friday of every month. This is Bald Eagle and DJ Mother Hubbard's jawn and it's essential that you make it here. Great music, dancing, drinks, no cover before 11, so you can make this the early part of the night. You also get a guest DJ set by the Arcadias, i.e. Rob and Darren from The Changes.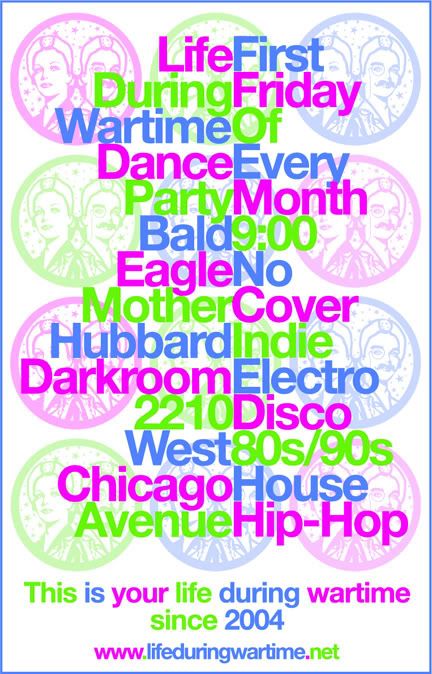 -Finally, Avant Trill (two parties in one night!) and Blacklisted bring you 1st Fridays at Debonair, featuring the new residents Trancid and Mark Gertz along with the normal residents Heather Doble and Ryan Paradise. Hosted by Scott Cramer and Jenny Shah, it's just another great option for Chicagoans, who are quickly getting spoiled. 10-2, $2 Colt 45s and vodka drinks, no cover (I think), 21+.
-Here's a late addition to the Chicago line-up: the Kampfire Killaz take over the Burlington (Fullerton & Kimball) Misa and Jay have Das Beats as special guests, you will dance, you will have fun. Head out now, as it's gonna be a busy night.
-Ooh boy, it's gonna be a fun night in San Francisco, as Tittsworth make his debut in the city for the Slap party. Brought to you by Blasthaus, they've brought in the Baltimore club DJ to you how things get done on the East Coast, as he brings his patented rapid-fire mixing to create an unrelenting set of booty and Bmore club and hiphop. You also get sets by Sleazemore of Lights Down Low and Shane King of At Large, who need no lessons. For real, this is gonna be an amazing night of dancing, music and DJs, so
rsvp at the going.com site for free entry
, it'll cost you $10 if you don't. Once you've done that, you just need to show up at Rx Gallery (132 Eddy St.) and these guys will take care of the rest.
-Wow, this flier seemed almost too dirty, which means it's excellent. The B-Sides party in Costa Mesa celebrates the birthday of Lady Lush and apparently the S+M scene of Southern California. Hit up the Avalon Bar (820 W. 19th St.) for all of the dirty fun with DJs Lady Lush, Ryan Esca, Dirty-Lo and Rob TV. This is a weekly jawn, so here's a good chance to check it out and make it a regular stop.
-LA, it's like an MTV show tonight. OMG! OMG! It's Sarah's 1st Annual Sweet Sixteen Party and it's got a who's who of LA DJ superstars - Keith 2.0, Daniel Le Disko of LA Riots, Dirty Dave, Young Americans, Royal Rumble, Scarlett of Hang The DJ, Louisahhh, Gina Turner, Cheyne of Gang of Neon and Stuart of Cinespace. It goes down at Cinespace (6356 Hollywood Blvd), it's $5, free if you bring a gift for Sarah, photos by cobrasnake, happy birthday Sarah!
-The Institubes Paris Terror Club heads out of the States tonight to commune with its French-speaking brethren in Montreal. You know the details and people, sickest flier ever! Siiiiiiccccccckkkkkkkkk!!!
-Finally, DJ Almost Tropical is back to rock your body and blow your mind. Berlin, get to KIM (Brunnen Strasse 10) immediately and begin to dance and get sweaty. She will knock that fucking wall down if it's still up!