It's interesting how different parts of the country make one of the non-Friday/Saturday nights theirs. Sunday is most definitely the night for the West Coasters, as some of the best parties anywhere go down on this night. The top event tonight, however, is a one-time only jawn, although I doubt any of us could handle this going down anymore than once.
Justice Over Vegas
is an afterparty for tonight's MTV Video Music Awards, brought to you by Vice and Rhapsody featuring a live performace by Justice. Will our boys win Video of the Year tonight? No, they will not, the Gym Class Heroes will win. But, who cares? We're slowly taking the world over. Head out to the Beauty Bar (517 Fremont Street) and celebrate the takeover. You also get
Busy P & So Me from Ed Banger
to complete the Parisian takeover, with LA's finest
Franki Chan and LA Riots
rounding out the DJ booth. RSVP to get in, this is required. Remember, what happens in Vegas stays in Vegas so go crazy when they annouce that Fall Out Boy win. We'll never know.
-Back in LA, Le Disko is the choice for those of you who aren't in Vegas. Hell, it's the choice for anyone in that city on a Sunday night, Keith Wilson's dance party at Spider Club (1735 Vine St.) DJs tonight are Keith 2.0, DJ (N) and Marshall Barnes, 18+, free before 11 with a flier. This is one of the ones that makes West Coast Sundays so dope.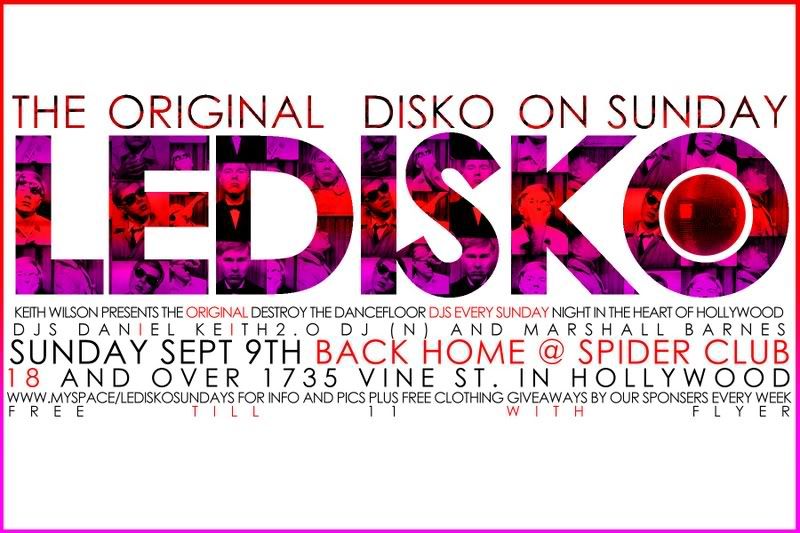 -Another one is Club Era, Riverside CA's best party. DJs S!n and Luv Tek have brought in DJ Klever from Atlanta tonight as a special guest and the DMC Champion will not fuck around. Neither do I, as I consistently get reports that this party is off the charts week in and week out (as are all of the S!n/Luv Tek jawns) Trust me, I will not lead you astray. Head to Sevilla Nightclub (3252 Mission Inn Avenue), get there early as it will fill to capacity and it's only $5 before 11.
-Up north, San Fran's weekly Sunday night party Propaganda goes down at Laszlo (2536 Mission) You're gonna want to make this a weekly stop, nothing better than disco and dance music to prepare for another horrible week of work. Hosted by Meleksah, no cover, dancing until 2 AM.
-Are you doing a Sunday night party on the West Coast? Let us know, as this is your night. Or even better, do you want to challenge my awarding of this night to the Left Coasters? Holler.