I wanted to get an early version of this one out, with later updates for non-East Coast jawns. As Ive been saying, Wednesday is the new Saturday, which I believe was the new Friday (or am I thinking of Shabbat). Anyway, I want to lead off with one new NYC party, one newish one here that I'm a big fan of and a few old-timers who always warrant a visit. The headliner is the new
Wednesday night weekly at 205
(205 Chrystie@Stanton) called
Soundsystem Wednesdays
. The resident DJs are
Stretch Armstrong and Eli Escobar
. I haven't had a chance to hear much of Escobar, but I cannot tell you how psyched I am to see Stretch doing a weekly jawn. The dude is a fucking legend, wikipedia his ass if you don't know. This party looks like it's gonna kill too, with lots of big name special guests covering all sorts of musical ground. This week, the dudes from indie band The Glass are in the house, spinning not playing live. In the future, you get The Rub's DJ Ayres with Tittsworth, Baltimore legend Scottie B and many more. The basement of 205 is a great spot, dark, hot, good room for dancing, this one has to immediately become a regular stop. No cover, drinks are decently priced, 21+, Stretch!
-Not too far away, the
Rezound+Workweek
dudes do their Wednesday night thing Moonwalk at Happy Ending (302 Broome St.) Here's another party that is getting its legs, bigger turnouts each week, better special guests (Adam Kesher and David Bruno last week, por ejemplo). In other words, don't sleep! The guys have invited two really excellent guests tonight, Robot Blair of the People Don't Dance No More and Music For Robots blog and Jess Jubilee of Modular. This is gonna be a mini-rave tonight in the upstairs, dance music bangers all night. No cover, 21+, 2 for 1 drinks from 11-12, every first and third Wednesdays.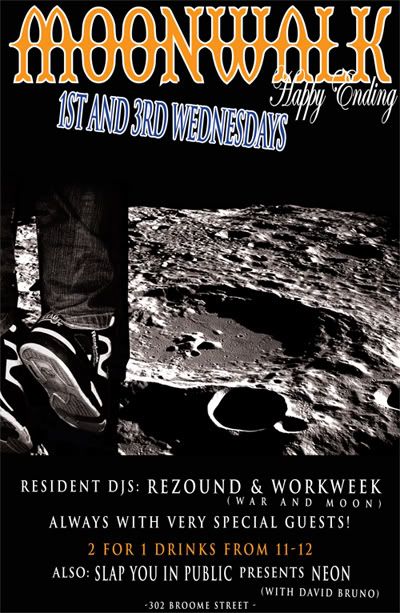 -What more can I say about High Voltage? Everyone loves it, famous people show up, young people dancing, Zygo open bar from 11-it's gone, no cover, one of the best weekly parties in New York City. Tonight, S. Valentine of the Ruff Club is the special guest DJ, along with Annette of Vice magazine. This one's so good, they're even having special host(esses) with Cameron and Romina! Next level, people! 200 Orchard,
rsvp at the going.com site
, you're only young once. Hell, I'm not even that anymore!

-For those of you sick of my Lower East Side fixation, here's something far uptown on 13th Street. G Spa goes down every Wednesday at the seriously swank Gansevoort Hotel (18 Ninth Ave@13th St). DJ Peter Paul and Sophie Fatale are the DJs tonight, lots of good people hosting like Project Matt and Cipha Sounds, doors at 10pm, take your partying up to the next level with this one.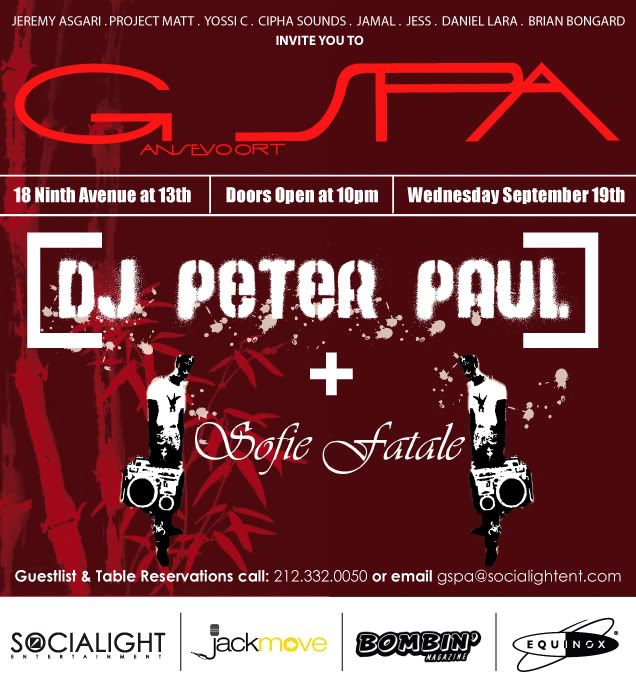 -When I think of snowboarding, I think of two cities - Chicago and Los Angeles. Actually, that's a lie. But, nonetheless it does tonight, as the Burton Snowboards opens a flagship store in the Windy City and celebrates with a cool afterparty at Sound-bar (226 W. Ontario) featuring two of LA's best DJs - Steve Aoki and Them Jeans. You also get Pase Rock spinning, plus tons of famous snowboarders who probably will walk right by you all night. Say 'Dark Wave Disco' at the door to gurantee entry, 21+, 9-2am.
-Back in LA, Pound for Pound favorite and Finger On The Pulser
DJ Never Forget
has left the safe confines of Williamsburg to rock the shit out of La La Land at the
Rooftop Hang party
. He joins the most rad residents
DJs Dirty Dave and Daisy O
for a night of indie dance magick in the Purple Lounge at The Standard Hollywood (8300 Sunset Blvd), no cover. Awesome flier, fyi.
-There's also the Club Moscow jawn at Boardners (1652 Cherokee), the 18+ weekly for the more indie side. You get DJ sets from Keith 2.0, Daniel Le Disko, Mr. Sleep and Chris Holmes, live music from Pink Enemy, The Squares and X-Rayor. That's a lot of music and it's free before 10:30 with a flier.
-Finally, the
Ruff Gemz party
goes off in Seattle tonight at The Baltic Room. How great is this party? They don't need a flier because everyone already knows about it, ya feel me? Free before 11, $3 after, DJs Fucking In The Streets and Sam Rousso Sound System, special guests and it's Bettina's bday.