Listen you can make fun of the fact that this new-rave band is doing its afterparty at Rebel on W. 30th Street or you can lose the attitude and appreciate the epic line-up for this party and have a good time. Spank Rock and Santo Gold live, which is most assuredly a better show than the one happening at Madison Square Garden tonight. Even cooler, Mark Bell of LFO is spinning, lending some rave credentials to the mix. You also get DJ sets from Steve Aoki, the Mystery Jets, The Bangers, Alex English, TKOmri and RKid. Get in for
free with RSVP at going.com
, Absolut open bar from 11-12, 21+, giveaways from Skullcandy, it's a Monday rave, Dave!
-Another edition of Blogger's Delight at The Knitting Factory, this one is curated by Idolator, which is also celebrating its first anniversary as a web entity. Congrats to them, they're bringing in NYC's My Teenage Stride and Baltimore's Monarch to celebrate in style. Things kick off at 9 pm, no cover, definitely a nice new party on the scene.
-A really nice party tonight in Philly, it's called Simply Dillaful, a tribute to the legendary hip hop producer J Dilla, who was taken from us much too soon. It features local DJs Jay Ski of the Scratch Mekaniks and Statik of the Ill Vibe Collective, along with special guest House Shoes from Detroit. It's going down at Fluid (613 S. 4th St.), 21+, $5 before 11, $7 after, a wonderful night for a wonderful artist.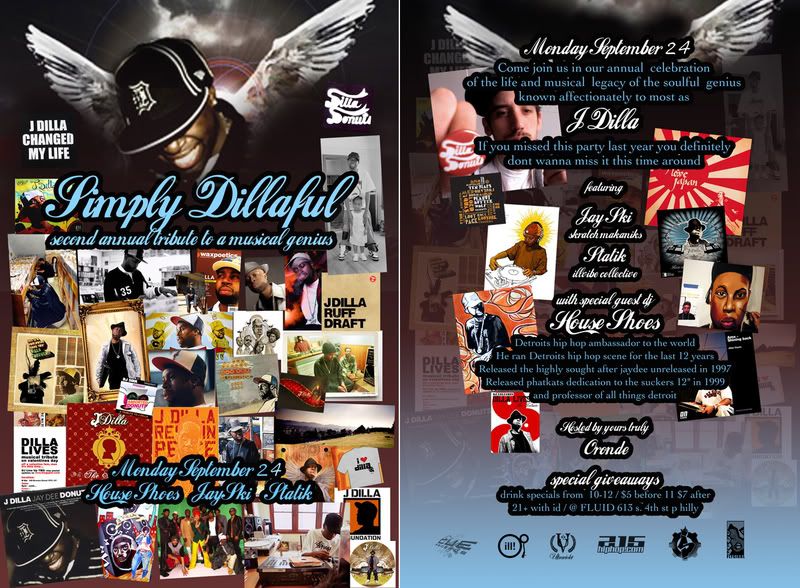 -Opposite coast, more indie rock afterparty goodness. The Editors afterparty goes down at the Get Famous party. The band will come through to hear resident DJ HIGHspeedDUB and guests Fembot and Daisy O. rock the dancefloor at the Boa Lounge (8462 Sunset Blvd).
Check the going.com site for flicks
from previous editions and realize that everyone in LA, including the fucking DJs, are way better looking than me. Ms. Shadowscene will take your picture, so you, you wear something special tonight.
-Of course, there's also Club Genre at Cinespace (6356 Hollywood Blvd), the weekly party featuring DJs Luv Tek, S!n, Joaquin and Zendo. You know the deal already, great music, 18+, free before 10:30, $5 all night for ladies, should be a weekly stop for LA people.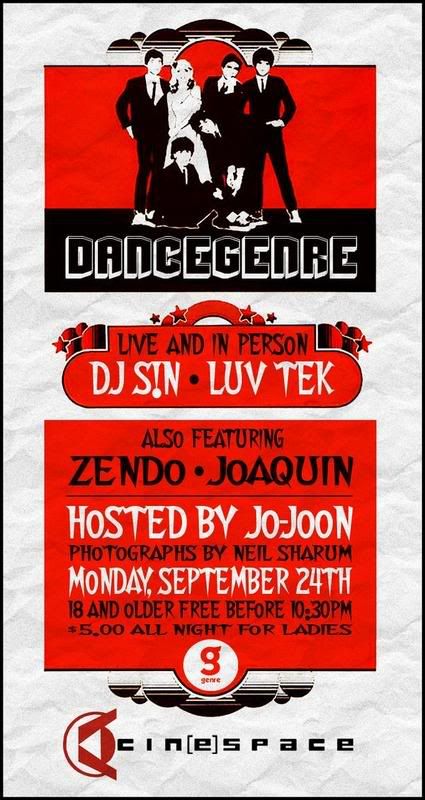 -Oh Paris, you just won't let me be, will you? You keep calling me. Here's a sick party going down, presented by 33HZ and Dither Down Records, celebrating the release of the Paris, Texas single with Teki Latex of TTC and Devin the Dude. 33HZ play live, Teki Latex will DJ, along with Orgasmic, the Fluokids, In Flagranti (!!!), DJ Raze of Geneva and the Gentleman Drivers. This madness happens at Le Paris Paris (5 Avenue de L'Opera), will try to get the details about the single out this week.