There's nothing I love better than to see some of my favorite DJs from different parties come together. It's even better when it means different cities come together. As you can imagine, I'm ecstatic at tonight's Debonair Thursday as the Dark Wave Disco bols Trancid and Mark Gertz have brought in my bol Dimitry from High Voltage as a special guest. Add in the Kampfire Killaz and it's like the blog coming to life. While the headliner isn't a friend of the blog, I can't recommend LA's Them Jeans enough, as it's a great chance to check out two of the best DJs from opposite coasts. I can't recommend this party highly enough, get to Debonair asap, no cover, 10-2, dancing mandatory. The Pound for Pound army will destroy your city next.
-Chicago, you also need to check out the Fly By Night V: The Re Launch, as it promises to be a fcking blast too. Live music from Miss Fairchild, DJ sets by Willy Joy and Capcom of Fly By Night, plus Sammy Bananas from Certified Bananas, all at Empire Liquors (1566 N. Milwaukee). This one's free too, starts at 9, 21+, your Thursday night is pretty set I'd say.
-Back in New York City, the Common Folk are taking over. Well, not literally, as commoners aren't welcome Manhattan, ballers and douchebags only. Except at a few select spots, like Home Sweet Home for Common Folk with Sweatshop Labor NYC. Tonight, the boys are joined by Rage Mountain and special guest DJ Dan Frantic. I've been saying that this party needs to be on your radar, tonight's a good starting point. You will get drunk, you will have fun, you will hear good music, you may or may not get laid. Free Zygo vodka from 10:30-11:30, no cover, 21+.
-What else do I love? I love when parties have guest DJs from Philly! My boys at Even Further have invited Monica Sharp up from the greatest city on Earth for a night of techno in the basement of Happy Ending (302 Broome St.) Carmine P. Filthy and Rudy Mungi will be on top of their game too. The question is: will you?
-It's Thursday so you know that Hiro Ballroom will have some great party going down. Cheeky Bastard do it every week, tonight's no exception. Spank Rock's DJ XXXchange is the special guest, along with Throne Of Blood's Dances With White Girls. Weirdly, there had been mention of a live show from Plastic Little, which would have made this a serious contender. It might still be happening, just seems to have disappeared from the flier. I mean, no complaints, top DJs, Lucky Beer open bar from 10-11, 2 for 1 vodka drinks from 10-11 and 2-3,
RSVP to get on the guest list
for free entry.
-In my hood, the Chicken Coop returns to Savalas (285 Bedford Ave.) in Williamsburg. That means the Hot Hens and Cousin Cole & Pocketknife will hold it down with music from all sorts of genres until 4 am. No cover, 21+, I really like this flier.
-I wish that you could see the pictures for the Swerve party in LA that I'm seeing. Beautiful women, laughing, smiling, looking like they never look when I'm around in essence. Is it in the water at the club? Or is it DJ Daniel LeDisko of LA Riots, is he the key, as his amazing DJ skills, good looks and charm just make women flock to his gigs? You'll have to hit up Scorpion (6679 Hollywood Blvd) every Thursday night to find out, I'm confident that the experiment is well worth your time.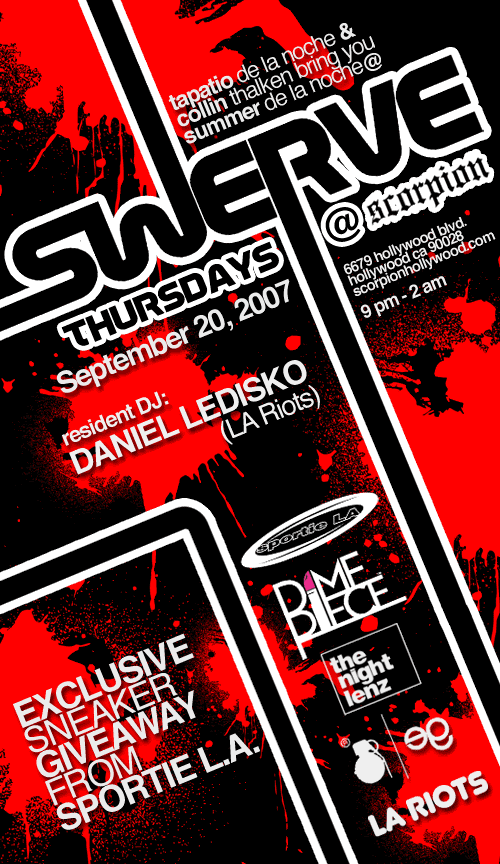 -Finally, our neighbor to the North is in for a serious battle. Catchdubs vs. Canada. For three nights (2 now), Nick will attempt to conquer our unruly neighbor with rap, dancehall, pop sweetness and whatever else it takes to teach the country that America will not be pushed around anymore. Tonight, he's in Montreal at Academy (4445 St-Laurent) with the Peer Pressure DJs.