Hmm, it's oddly quiet for a Saturday night, I'm guessing that this weekend blew its wad on Friday. There may not be a lot going on, but everything is top notch. Nothing I love more than making Philly the focal point. The only city still doing crazy, cool events on the regular, this one might be the craziest, coolest of them all. The Bang Gang Deejays are in town, they have joined up with the Broadzilla crew, who seem to be back and kicking again. They are throwing their party at a frat on UPenn's campus. This is no ordinary frat, though, it's PiLam (3914 Spruce St.), the gnarliest, most fuckedup anti-frat ever. This is gonna be a rave, Dave, I wish I could tell you some of my times spent at the PiLam house back in my Penn days. Alas, those will remain secret; here's your chance to make your own memories. I predict keg stands, one of the Broadzilla DJs smashing some annoying folkie's guitar to pieces on a stairwell, face-melting, dancing, peace, love and happiness. $5 donation, BYO, enter from Delancey, the street behind the house, one block south of Spruce.
-You're also gonna want to hit up the Khyber tonight for Hip Replacement, the monthly party that is like a Pound for Pound musical wet dream. As their bulletin says, "Think Chicago Detroit 1987 Sleaze Sweat Body Jackin'" Boys, I do every single minute of the day I'm not thinking about sex or boobs. Stepchild, Mike T and Billy W put this one together every month, tonight's the Back 2 Skool edition. 10-2, no cover. You need this in your life, Philadelphians.

-The good folks at Minneapolis' Too Much Love party have decided to do a Back To School edition for all of the returning students. Remember, everything you ever need to know you learned in kindergarten or on the dancefloor of a great party. Resident DJs Soviet Panda, Naughty Wood and Nyteowl will give an aural lecture on the joys of house, the brilliance of indie dance and the beauty of a 9 minute disco freakout. Class starts at 10, takes place at First Avenue (701 First Ave. N), 18+, $3. BTW, I absolutely love the use of exclamation points on the flier! We're big fans of that particular punctuation, love to see others are too! Yeah!
-Another sick Chicago party. A few points: 1) great flier 2) amazing DJs 3) disco does fucking rock. Disco Rocks is a 4 DJ tag team extravaganza at Lava Lounge (1270 N. Milwaukee Ave) featuring heavyweights Trancid, Mark Gertz, Ryan Paradise and Heather Doble. It's $5, it's 21+, it goes from 10-3. 5 hours of disco is exactly what we all need at least once a week.
-It's Saturday, San Francisco. You know what time it is? It's Frisco Disco time! Richie Panic and Jefrodisiac have been killing it lately, they seem to have their hand in everything cool going down in that city, the pics coming out of their parties are filthy, sweaty and not safe for your work computer. This is their main party, the weekly at The Transfer (198 Church) where things are extra intimate. The boys are joined by the birthday boy Johnatron in the booth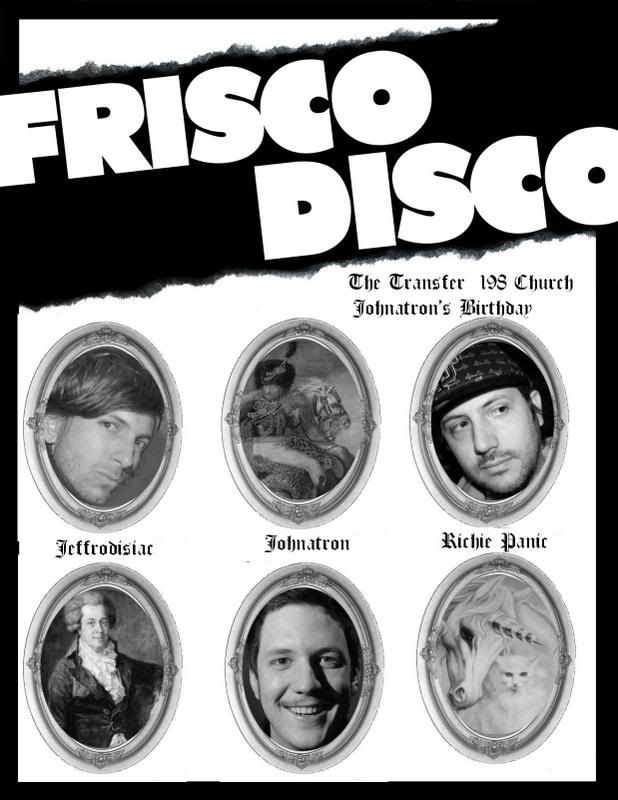 -Finally, ghettotech legend DJ Godfather is spinning tonight in Belgium. Krakrock presents The 'Ilicious Deluxe at the Sporthal College (Kasteelstraat 12) in Avelgem. There's three rooms, one for drum'n'bass, one for reggae and one for booty and house, which is where you'll want to be. 10-13 euros to get in, it goes til 5 am and there's an afterparty nearby. Europe, you know how to throw parties.