Apologies for last night's post not going up, I thought it had posted but it seemed to have saved instead. I believe that blogger just could handle my focus, sabotage us. I may have missed a day but the city of Chicago just keeps on rolling. For real, the place is just nice right now. Here's a new crew/party to add to the mix, Smash and Crunch. They're combining with Avant Trill tonight to bring the first stop of another French invasion. This time, it's the dudes from the Fluokids blog, the best thing this side of Pound for Pound in the blogodome. They'll be spinning, the amazing band Yuksek will play a live set, Brodinski will spin and Pharrell
-Chicagoans will also want to head over to the Dance Party Magic jawn at Empire Liquors (1566 N. Milwaukee Ave.) This one features Chicago indiedance LMNOP live, along with DJ sets by E6 & Matt Roan and B$. RSVP right now to DPM@crossfaderking.com to get in for free and you're all set. Free Red Stripe from 9-10, photos by Everyone Is Famous. Ahh, but that's not the end Chi-town...
-There's also the ole' reliable weekly Debonair Thursdays, for those of you like to show your support for those doing it week in and week out. Trancid and Mark Gertz do that for sure every Thursday at Debonair Social Club (1575 N. Milwaukee Ave.) and tonight their fellow Dark Wave Discoer Greg Corner is back from touring with the Velvet Revolver and Alice In Chains to join in for a full-on Dark Wave experience. That's not all, as there's also special guest DJ Shaka 23 in from NYC to make this another jam-packed night in the Windy City. 21+, no cover, it's gonna be a fun night out there.
-Back here in New York City, there's lots going on. The monthly Modular Records party is getting top-billing because it has two of my favorite DJs in the world as special guests, Dave P and JDH of the Fixed party at Studio B. Combine them with the Bang Gang Deejays and you have yourself a rave, Dave. It all goes down at 200 Orchard (btwn Houston & Stanton), 10-4, no cover, great spot, good times.
-Nearby, you'll also want to hit up the Common Folk party at Home Sweet Home (131 Chrystie St.), as the boys - Johnsville, Lucas Walters and Pizza & Piano - welcome all of the students back to the city to help teach them the ways of debauchery, good music and bad choices. They've got Rok One as guest DJ as well; yikes, I'm worried for these kids. Free, nice flier, great DJs, young girls. Win, win, win, win.
-Finally, make your weekly stop over at Happy Ending (302 Broome St.@Forsythe) for the Even Further party in the basement. This week Carmine P. Filthy and Rudy Mungi are joined by the lovely Vida, who will ironically play dirty, ugly beats. We're gonna have more on this crew next week, as they've got some fun stuff going down and a mix to put up. Prepare for that by hitting up the basement tonight. Yeah!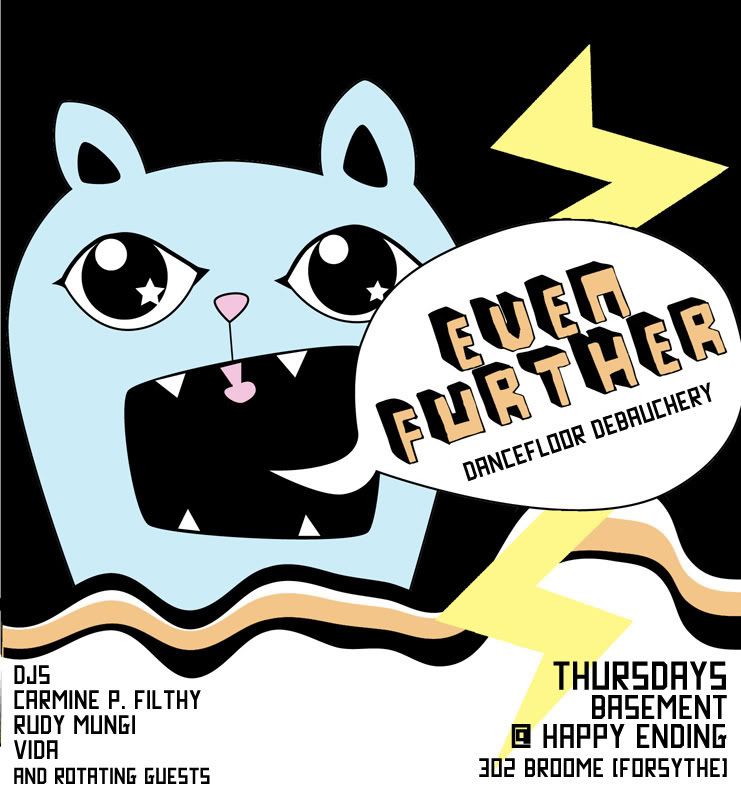 -For those who like to stay right by the L, you know where to be, the Cheeky Bastard Thursday night weekly at Hiro Ballroom (371 W. 16th St.). These guys put together an amazing line-up every single week with big names; tonight's no different as this one's the Peter, Bjorn & John afterparty and the boys will spin a DJ set later that night. The real reason you need to go though is to hear MR. Stretch Armstrong on the decks. Dude is a legend, dude is one of the best DJs I've heard, dude. You also get a live show by Bloody Social early in the night, while Johanna Fateman of Le Tigre will spin at some point as well. Head to the
going.com site to RSVP for free admission
. Free, people, for all of this, no charge. There's also a Svedka open bar from 10-11, plus vodka drink specials from 2-3, this is highway robbery people!
-The Wurst monthly at APT, that's all I need to say I think. I also don't have a flier for it, so I'm hiding that fact behind my hipster pretentiousness. You love me, don't you?!?
-Finally, I saved the best for last. In the ATL, the Fuck Yeahh party goes down at the Drunken Unicorn (736 Ponce de Leon Place) This is the monthly first Thursday party that Le Castle Vania and Treasure Fingers are putting on in their hometown. Dudes are spinning everywhere in the world at this point, but they still looking out for their people. Tonight's edition is sponsored by Vice and Colt 45, has free Colt from 12-2, indiedance bangers from 12-til whenever this thing ends. It's 18+, $5 for 18+, free for the 21+ people. All Atlanta people should be super psyched for this one, sure to be an essential part of your month.